Sunnei goes to outer space for S/S 2022
Milanese label Sunnei staged a disruptive show experience for its S/S 2022 show, in collaboration with experimental interdisciplinary agency 2050+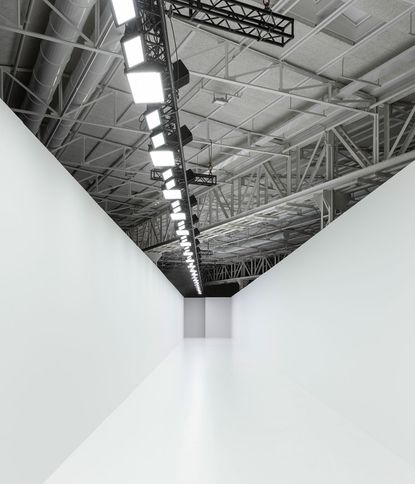 (Image credit: press)
Welcome not just to the whirling world of Milan Fashion Week, but outer space too. For S/S 2022, Milanese label Sunnei took guests on an immersive, disruptive voyage, staging a deep space-inspired runway show in a 7,000 sq m warehouse in south-west Milan, designed to disrupt and interrupt its audience.
For S/S 2022, guests have entered a host of ornate palazzos, universities and museum show spaces, but for Sunnei an otherworldly palette cleanser was essential. After entering a stark, industrial space, the audience was greeted by a long white tunnel, conceived in collaboration with Milanese interdisciplinary agency 2050+, founded by former OMA partner Ippolito Pestellini Laparelli in 2020, which covers exhibitions, research, films and building, including the curation of the Russian Pavilion at the 2020 Venice Architecture Biennale.

'We met in our garden over a coffee, no previous brief or communication. We exposed our initial ideas and Ippolito and his team immediately caught on,' Sunnei founders Loris Messina and Simone Rizzo say of their brand's collaboration with 2050+. 'It was clear something impactful would be bred. It didn't take many meetings or a long back and forth before landing on the final project. We are not fans of useless frameworks or heavy processes.'
On entering, guests picked a Sunnei-branded cotton bag, inside of which was a pair of the label's latest sunglasses, the chunky 'Prototipo 3', which secure around the head with a goggle-like elastic strap. Standing within the bare structure, washed by dim light, they donned their eyewear and awaited the start of the show.
It began to a pulsing, throbbing soundtrack and a hit of bright white light, as models strode in colourful, experimental designs: 3D knits and bold stripes, voluminous silhouettes, and densely tasselled, chunky accessories. A voiceover blared, 'What you are about to witness is extraterrestrial', while lighting throbbed in purple and blue hues.

'Over this year of isolation, we worked in what seemed like a hyperbaric chamber and we wanted to stress this feeling and re-create it in a way that could feel both ethereal and disruptive at the same time,' Rizzo and Messina say of the show concept. 'Moreover, we wanted to create a moment of rupture, to convey our growth and reformed direction. To bring this metaphysical concept into real life, we decided to construct a space within a space to shake guests and confuse them, to then shock them with an abundance of lights, patterns and sounds. All of which could only fully be experienced through a special lens we provided the guests with upon entry. A metaphor of the filtered, digital world we live in nowadays.'

At the show's finale, models gathered in a long line along the stark tunnel, illuminated by light, and luxuriating in their bright, otherworldly, eclectic silhouettes. As the spectacle ended and guests descended from the tunnel back into the vast, shadow-swathed industrial space, their perspectives distorted and shifted. As they re-entered the roads around Milan, blinking in the sunglight, they immersed themselves not just in the home city of the label, one so associated with contemporary creative community, but also within its vision of the future.