Miuccia Prada and Raf Simons rove the digital realm for S/S 2021
'Technology is a part of humanity itself' said the duo of their live streamed S/S 2021 show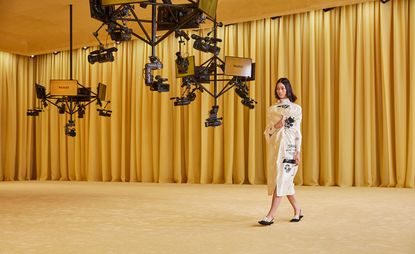 (Image credit: press)
Back in February, journalists in Milan, agog at the news that Raf Simons was joining Miuccia Prada as co-creative director of the historic house, speculated over espressos as to what the duo's debut show would bring. But no one imagined that their first S/S 2021 show would not be physical – but live streamed worldwide without an in-person audience – to journalists, buyers and Prada fans alike.

The Covid-19 pandemic has forced us to deepen our relationship with the digital world, and Simons and Prada touched on the importance of today's online universe, stating 'technology is a part of humanity itself', in S/S 2021's show notes. As anticipatory fans live streamed the show from their iPhones, laptops and tablets, models strode within an all yellow curtain lined space lined with plush carpet – designed by regular show set collaborators OMA/AMO. The ceiling hung with monitors – today's utilitarian take on the decorative chandelier. Usually, post Prada shows, journalists scramble backstage to listen to Miuccia Prada's take on her designs. For spring, this audience was opened up, with Prada and Simons staging a Q+A post show, answering questions submitted worldwide from online guests from Kiev to Nara.

In S/S 2021's show notes, Prada and Simons described the collection as 'a creative conversation in progress.' Exploring the concept of uniforms (an attitude to dressing that has resonated with designers for spring), it featured facets of the duo's design heritage. Simons' streamlined silhouettes, and focus on streetwear shapes and typography, and Prada's subversively feminine shapes and exploration of colour. Fifties pleated skirts were paired with hoodies, emblazoned with slogans designed by Simons' regular collaborator Peter de Potter. Icky archive prints from A/W 1996 and S/S 996 were used as canvases to print onto and the Prada logo was reimagined in a soft padded triangle, the only embellishment on pared-back nylon vests and trousers.
RELATED STORY
Prada and Simons spoke of 'garments are drawn around the body, held by the hand' and in a well-known Miuccia-ism, models clutched moire opera coats and technical mackintoshes around their chests. Hybrid design was also a focus, with shawl coats featuring in-built bags and mini skirts, with soft pouches. The designs spoke of a duality between utilitarian and elegance – paradoxes integral to Prada's design DNA.
As part of Prada and Simon's Q+A, Celia Thomson asked: 'Is anything authentically "new" anymore or is everything regenerated'? In response, Simons mused: 'The new just for the sake of doing new, doesn't sound like the most important word.' S/S 2021 saw a rejection of the superfluous, an evolution of heritage and a collaborative approach to design. They're tenets that will always trump novelty.
INFORMATION
Receive our daily digest of inspiration, escapism and design stories from around the world direct to your inbox