Milan Fashion Week A/W 2021: designers riff on romp and relaxation
Milan Fashion Week offered a wardrobe for life after lockdown, by brands including Fendi, Prada, Salvatore Ferragamo, Valentino and Giorgio Armani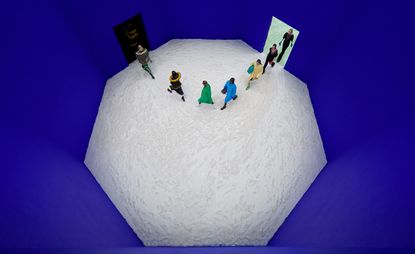 (Image credit: press)
As fashion journalists spend another season taking in fashion shows remotely, through a screen, there's been much chatter behind the scenes regarding how they might emerge style-wise next season, when there's a chance of shows being staged with a live audience. There's the suggestion of a new Roaring Twenties, which will see people around the world glammed up as they emerge from lockdown, wearing bold outfits and eschewing loungewear and flat shoes for evening looks and stilettos. There's also the parallel concept that after a year of yearning only for cosy silhouettes, we may simply never want to dress up again.

As in New York Fashion Week and London Fashion Week before it, Milan's designers mused on these concepts for autumn, creating collections and tying together 2021 trends that swung between romp and relaxation, extravagance and ease. Authenticity was also integral to a host of Italian brands, conscious that when consumer attitudes shift towards spending once more, people will be keen to buy from brands with long-lasting aesthetics.
This concept was paramount to Kim Jones, who presented his heritage-nodding debut women's collection for Fendi, following his first, Bloomsbury Group-themed haute couture collection for the Roman house earlier in February. Jones looked to the archival designs of Karl Lagerfeld, who was creative director of the house for 54 years, and the wardrobes of the five Fendi sisters, with a collection brimming with elegant, ladylike and luxurious silhouettes. Think cappuccino, khaki and midnight-tone slip dresses, tuxedo jackets, tailored coats and body-hugging knits, in luxurious fabrics including marbled silk, double cashmere and organza, and adorned with details of the past, such as Lagerfeld's 'Karligraphy' monogram and the embossed stitching of the brand's 'Sellaria' bags. The show's accompanying set, an evolution of its haute couture set-up, also alluded to the past, featuring F-shape transparent vitrines, with crumbling columns resembling Roman artefacts inside.

Max Mara's signature camel tones have reinforced its reputation for timeless, trend-subverting dressing, a concept that resonates strongly today. For the brand's 70th anniversary collection, creative director Ian Griffiths celebrated the classic house tones with an offering of elegant yet easy Italinate pieces, such as caramel teddy bear-fur coats, outdoorsy quilted gilets, loose knits and pleated skirts. Griffiths also applauded the ascendant nature of the women that wear his clothes (back in 1951, in contrast, the brand's founder intended them for 'the wives of the local notaries and doctors'). In a playful twist, the collection referenced the stylings of the British aristocracy off duty in the British countryside, featuring flat caps, foulard headscarves and oversized retro sunglasses.

Brunello Cucinelli also celebrated natural tones, broadcasting his brand's show live from its home village Solomeo. The offering luxuriated in creams, beiges and browns, featuring relaxed yet sumptuous silhouttes, including 1980s-inspired suiting, textural knitwear and robe coats.

Post-pandemic, as people consider their fashion choices, many will desire eye-catching silhouettes that still retain the ease of lockdown dressing and the luxurious nature of its fabrics. For A/W 2021 Loro Piana considered this requirement, with an offering that catered to work, leisure and beyond. Think shearling coats, uniform-centric knitted two-pieces, sharp overcoats and double-layer parkas in a spectrum of rich hues, from bottle green to chocolate, merlot to mustard.

This sense of comfort was also reflected by Tod's Walter Chiapponi, who served up a collection of soft, bourgeois-meets-sportswear shapes, including frilled puffer jackets, jumbo-corduroy trousers, padded dresses and pleated skirts. Similarly, Missoni drew on movement and the comfort of its knitwear heritage, creating sparkling-stripe pleated dresses and chevron-stripe knitted flares and cardigans – for looking and feeling good in.
For Prada's Milan Fashion Week menswear show back in January, co-creative directors Miuccia Prada and Raf Simons mused on the restrictions encountered during the Covid-19 era, as well as the liberation from conventional routine that lockdowns have also brought. The brand's women's show evolved this concept with an offering that considered polar opposites, and 'the point between simplicity and complexity, elegance and practicality, limitation and release'. In the same OMA-conceived show set (myriad graphic interconnected rooms lined with tactile fake fur) models sported pieces that alluded to Simons' and Miuccia's design canon, like oversized nylon MA-1 bomber jackets with retro jacquard linings, faux fur and sequin wraps clutched around the shoulders. Standard dressing codes were subverted, with tailored peacoats imagined in paint-box hues, body-hugging evening gowns replaced with knitted all-in-ones and conversative tailored skirt suits spliced to reveal the body. There was an exuberance and ostentation to the collection, which shimmered with paillettes among shaggy faux fur and bold upholstery prints.

Where Prada subverted and played with the parameters of dressing up, so No 21's Alessandro Dell'Acqua celebrated them in all their going-out glory. Dell'Acqua is clearly ready to shake off his sweatpants and, for A/W 2021, created a collection that swapped bedroom comforts for something a touch more boudoir. For women, there were fringed dresses that revealed lace knickers, leopard-print pencil skirts and stomach-baring sweaters. Dell'Acqua brought together ultra-mini 1960s skirt lengths, shrunken peacoats and platform shoes, and paired them with grungey separates, like plaid shirts that were slung on top of revealing bodysuits.
RELATED STORY
At MSGM, Massimo Giorgetti also made a case for going-out gear, with a collection that celebrated the underground nightlife of Milan, featuring latex pencil skirts and puffer jackets, rib-knit velour dresses, paint-cracked denim and holographic roll-necks, all in vibrant tones. Dolce & Gabbana, too, was in the mood for club-kid fashion. While the brand's A/W 2021 menswear collection nodded to the exuberant e-boy fashion made famous on TikTok, the women's kaleidoscopic offering addressed the e-girl, and abounded in 1990s raver silhouettes, with graffiti-splattered puffer jackets, foil jeans and shaggy leopard-print knitwear. The collection also alluded to the body-cinching shapes that Dolce & Gabbana was renowned for in that decade, with ruched dresses, bodysuits and form-flattering, double-breasted jackets.
Across fashion cities, designers have mused on the new requirement to create clothing to be viewed digitally, through a screen, rather than in person. At Marni, Francesco Risso's imaginative runway shows – resembling other-worldly greenhouses or forestscapes formed from paper – are a way of welcoming his fans into his art-inflected, ecclectic world. For A/W 2021, he used Instagram to invite show watchers to three Zoom events, a breakfast, lunch, and dinner. Here, he presented clothing that was a hyperbolic, larger-than-life interpretation of designing for digital, with oversized puffer jackets swathed in shaggy fake fur, crochet two-pieces and tie-dye knitwear. Ruffles, ruching and multicoloured prints, along with bags blown up to XL proportions, appeared larger than life no matter how small the computer screen.

In 2020, Giorgio Armani was the first designer to cancel his fashion show on the final morning of Milan Fashion Week, due to the increasing threat level of Covid-19. As regions around Milan began to close their borders, journalists travelling home or straight on to Paris began questioning their safety and considering the reality of a European lockdown. On Giorgio Armani's A/W 2021 catwalk, there was a fluid relaxation to the silhouettes. The collection includes relaxed suiting in velvet and explosive floral jacquards and gowns in wispy transparent fabrics. There was an optimism in the bold blue and turquoise hues that accented the offering, which riffed on powerful 1980s tones.

The 1980s was a decade that also inspired Valentino's Pierpaolo Piccioli. He referred to his decision to stage his A/W 2021 show in the empty auditorium of the historic Piccolo Teatro di Milano, which has been shuttered since the pandemic hit, as 'punk'. This attitude was echoed across a solemn, largely monochromatic collection that featured ultra-short 'scissored' skirt lengths, shirting and slick tuxedo suiting. Elsewhere, DIY and punk elements came in spliced knitwear, slashed into Argyle shapes or cut out into floral motifs; stompy biker boots festooned with rose petals; and boxy, studded accessories. The austere nature of the collection was emphasised by models walking to the sounds of the Milanese symphony orchestra.
Salvatore Ferragamo is a label familiar with operating during hardship. Its founder famously innovated with materials due to resource restrictions during and after the Second World War, incorporating tree bark, hemp and fish skin into his shoe designs. For A/W 2021, creative director Paul Andrew was focused on shapes and fabrics for a new world, presenting Future Positive, a science fiction-inspired film, with ultra-modern menswear and womenswear silhouettes. Andrew looked to a range of cinematic references during the collection's development, including Gattaca, Until The End Of The World, and The Matrix. Suiting was deconsctructed and bold, outerwear imagined in transparent plastics, metallics and leathers, and footwear had a motocross-meets-astronaut feel. Andrew innovated with materials across the collection, which included accessories made from upcycled pre-consumer offcuts and recycled pre- and post-consumer wool and cashmere, a dress made from recycled polyester, and footwear soles formed using pre-consumer TPU (thermoplastic polyurethane) and metal-free leather tanned with plant-based materials.

Sportmax also operated with futuristic intent, looking at inspirational female figures across history, spanning statues of mythological figures and Annie Lennox, to create a forward-thinking fashion statement. The brand's collection featured models striding in parachute-volume taffeta gowns, The Matrix-worthy leathers and sparkling silver dresses, paired with shield-like sunglasses and thick soled wader-centric boots.

Ferragamo dedicated its collection 'to all those who must walk' – citing its founder – 'at a time when we must be united in our determination to reimagine, rebuild, progress', it summed up the impetus behind Milan Fashion Week A/W 2021 as a whole.