London Fashion Week A/W 2021: the future of post-pandemic dressing
London Fashion Week's first digial only-offering imagined a wardrobe for life after lockdown, by brands including Burberry, Simone Rocha and Priya Ahluwalia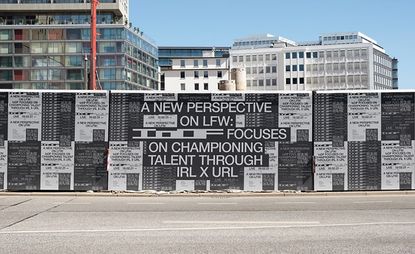 (Image credit: press)
Wallpaper* Newsletter
Receive our daily digest of inspiration, escapism and design stories from around the world direct to your inbox
Thank you for signing up to Wallpaper. You will receive a verification email shortly.
There was a problem. Please refresh the page and try again.
Two weeks before London Fashion Week kicked off its first fully digital-only men's and women's showing, a group of fashion insiders, from Paul Smith to Roksanda Illincic, wrote an open letter to Boris Johnson and the British government detailing the incredible hardship experienced by brands post-Brexit. In the wake of the United Kingdom leaving the EU in December, brands have been left floundering in the face of ascending import and export chargers, customer dissatisfaction and new expenses encountered from producing within their home country.

With the UK currently in its third lockdown, labels are also still grappling with the ongoing effects of the Covid-19 pandemic, with brands operating with revolving skeleton teams in their studios, or from their homes through Zoom. Brands big and small are also grappling with whether to present their collections according to London Fashion Week's official calendar, or simply later when their collections are naturally completed. In the wake of this new informality, fashion week schedules are overlapping for the first time, with Tom Ford's A/W 2021 show in LA (part of the New York Fashion Week schedule) taking place after London Fashion Week has begun.
Despite a deluge of socio-political drama, the concept of community remained a focal point of the A/W 2021 London shows. Nothing showed off this sense of unity more than the Institute of Digital Fashion and Soho boutique Machine A's, A New Future project, which allowed the public to view the latest collections from brand's including Richard Quinn, Eftychia and Martine Rose, through an AR Instagram filter, replicating a shop floor. Scannable QR codes were plastered on billboards around the city, from Shoreditch to Peckham, Notting Hill to Camden, alerting Londonders on their daily constitutional of the technology.

'In a time where the fashion calendar feels very flat and with the industry questioning what fashion means today, we wanted to elevate the voices of talents, dissecting just that,' says IoDF co-founder Leanne Elliott Young of A New Future. 'An important part of our work and mission is to democratise the fashion landscape, evaluating how tech can be used to push past some of the archaic structures that the fashion industry as a whole is transfixed upon.'

One designer who finds the streets of a city essential to her output is Molly Goddard. She references the stalls of Portobello market or Japanese street style in her designs. 'Usually I go to the library, pull research from everywhere, go to markets,' said Goddard. For A/W 2021, she embraced a more concise development process from home, pulling from her own archive research folders and oft-referenced books including Tina Barney's Europeans, David Douglas Duncan's Goodbye Picasso and Terence Conran books featuring stylish people in wonderfully designed spaces. Her collection had an exuberance, optimism and ease, that celebrated British fabrics and mix-and-match thrift store eccentricity, featuring her signature mille-feuille tulle dresses, Pink herringbone tweed mini skirt suits, tartan kilts and Fair Isle sweaters, and also revived its recently launched menswear.
Optimism was also essential to Milan-and-London-based label Colville, which since its inception has embraced an effusive melting pot of references, and created covetable, well considered clothing that evolves each season. For A/W 2021, founders Molly Molloy and Lucinda Chambers created fluid silk dresses in vibrantly marbled and Arts and Crafts prints, sleeping bag coats, graphic floral shirting and chunky costume jewellery. 'We start from a position of what we love and put on,' Chambers explained. 'No one needs another black handbag.'

Colville's collection also tapped the 2021 fashion trend for a wardrobe we'll want to revel in when the world emerges from lockdown. This is a mindset adopted by the doyen of dramatic dressing Michael Halpern, who created a glamorous collection suited to how many see themselves emerging on 21 June, when the UK is purported to be loosening all of its Covid-19 restrictions. The designer's signature 1970s flares and mini dresses shimmered with sequins and bodysuits were swathed in leopard print. On the Fashion East catwalk, Nensi Dojaka also embraced an exuberant mindset, bringing, for the first time, flecks of fuschia to her underwear-inspired, and body-celebrating designs.

Erdem Moralioglu also posited on our post-pandemic wardrobes, with a collection that fluctuated between lounge and formal wear. In a balletic show video, the designer paired 1950s pleated skirts, round-shoulder jackets and bejewelled shirting with grey ribbed garments like leggings, sleeveless gloves and cardigans and silk pyjamas. There was a soft protectiveness to fabrics, like flows of feather trim and mohair knitwear, and models carried soft blankets instead of handbags.
'Unashamed self-expression' inspired designer Harris Reed, who before his first show at London Fashion Week after graduating from Central Saint Martins, had already created custom clothing for Harry Styles in American Vogue, released an Instagram filter and a MAC Cosmetics make-up collection. Reed's gender-fluid and form-celebrating collection of demi-couture pieces embraces the decadence and glamour of early Noughties fashion, and featured twill tailoring frothing with ombre twill and gowns with layered petticoats, worn by male model Momo Ndiayen.

In London, designers unpacked the concept of isolation and liberation in equal measure. Eftychia's 'Life Before Birth' video, lensed by Polly Brown, which featured an office attire-clad woman stuck indoors in a seemingly endless creative tailspin or purgatorial state of writer's block, a take on the designer's struggle with spiralling low mood during lockdown. Bianca Saunders' collection of shrunken silhouettes and water splashed-suiting, inspired by Jean Cocteau's experimental black and white film The Blood of Poet, which considers the role of the artist and influence to unnerving uncanny effect. Roksanda celebrated the power of familial companionship, shooting three generations of women, Vanessa Redgrave, Joely Richardson and Daisy Bevan, in voluminous brushstroke-swathed gowns and sleek tailoring, enganging in moments on union and solitude against the backdrop of their countryside home during lockdown.
RELATED STORY
At Burberry, Riccardo Tisci was fascinated by the concept of freedom, even sending a branded picnic chair for guests to take a seat in while watching the brand's show from their homes. Tisci's menswear-focused offering – presented in a sleek gallery-inspired setting at the brand's Regent Street flagship – touched on the unrestrained expression, featuring deconstructed trenchcoats and duffle coats and gender-fluid kilts and pleated tennis dresses. Tisci was also inspired by the nature-inclined mindsets of Arts and Crafts artists, incorporating wild motfits into his designs, photographic feather and fur prints to leather trainers with uppers resembling hooves.

As Tisci reintrepreted the outerwear codes essential to Burberry's DNA, so Tod's also dived into its own design history. The Italian luxury specialist used London Fashion Week as the platform to showcase its Legacy project, a collaboration with Central Saint Martins, which saw its signature codes, from its 'T' logo to its Gommino stud, reinterpreted by 35 students. The research and development results are part of a digital exhibition.
Priya Ahluwalia – the London-born menswear designer who launched her label in 2018 – was awarded 2021's Queen Elizabeth II Award for British Design (in recent years an accolade won by Alighieri, Bethany Williams and Richard Quinn). There's a fierce finesse behind her steetwear-inflected garments, which for A/W 2021 were presented in a film by Stephen Isaac-Wilson. The collection featured colourful sportswear with spraypainted prints, corduroy suiting and patchwork denim, and incorporated upcycled and eco-aware fabrics including bamboo silk and deadstock shirting. Ahluwalia was inspired by Home Going, Yaa Gyasi's 2016 novel about two half-sisters born in the 1700s and separated at birth to dramatic socio-political effect, thinking about the symbology of migration maps, and the nature of aesthetic elements plucked from different places. Colours in her collection also evoked the vibrant tones in art works by Kerry James Marshall and Jacob Lawrence.

Ahluwalia is one of a group of emerging designers with a strong interest in repurposing fabrics. For A/W 2021, fellow Queen Elizabeth II Award for British Design winner Bethany Williams created a gender neutral capsule collection of coats exclusively for Selfridges, crafted from colourful recycled blankets, sourced around the United Kingdom. For his third collection, Bulgarian designer AV Vattev presented a retro-futuristic vision of landing on the moon, inspired by 1970s silhouettes and the style of David Bowie and Grace Jones. Fifty percent of the fabrics in his collection are sustainable, including upcycled Bulgarian Halishte.
For his sophomore outing on the Fashion East line-up, Maximilian Davies also looked to the futurism of the Sixties and Seventies. The designer looked to family photographs from when his grandmother emigrated from Trinidad to Manchester, combining the Sunday Best aesthetic of her dressing for church with a Space Age Courrèges-centric spin. Davies A/W 2021 offering featured psychedelic print bodysuits and mini skirts, silk satin body-hugging suiting and round-shouldered leather jackets, that took the notion of Sunday Best but for going to a nightclub. Davies also nodded to the beach-to-party outfits sported by his sisters in Trinidad, like swimming costumes and feathered head pieces. 'What comes to mind when you think of the sixties and seventies fashion with the mindset of Carnival? Showgirls,' Davies explained. 'I wanted to take what exists, but make it my own. I'm reclaiming these iconic moments and references for the Black community.'

'The fragile rebel' is how Simone Rocha described the woman behind her A/W 2021 offering: part punk part pretty, representing both the soft and thorny facets of a rose. 'I wanted to explore new ideas that had clarity and identity,' added the designer of the collection which incorporated shorter skirt lengths and leather, like cocooning biker jackets and poufy tulle and lace mini skirts. Despite not showing her collection to a physical audience, Rocha was keen to adhere to the usual narrative pace of her collection, which flowed from harder and more protective shapes into softer silhouettes and back again. 3D roses and floral embroidery were a focus, whether trailing along the lengths of patchwork day dresses or bringing structure and volume to ruffled tulle jackets. Conscious that her collection would first be viewed through a screen, Rocha was keen to bring even more adornment and attention to detail to designs, so when they are finally viewed in store, their embellishments will astound 'I wanted to push through the screen,' she said.
Receive our daily digest of inspiration, escapism and design stories from around the world direct to your inbox