Simone Rocha S/S 2020 London Fashion Week Women's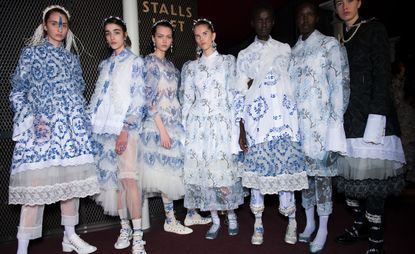 (Image credit: Jason Lloyd-Evans)
Mood board: Rocha's Irish Chinese heritage is bound up in her design output. When the designer curated an issue of A Magazine last year, it featured contributions from Seamus Heaney and the first female Irish Prime Minister Mary Robinson. 'The Irish Wren Boys would traditionally hunt the wren on St Stephen's day,' said Simone of the inspiration behind her S/S 2020 collection, referring to the tradition of boys dressed in straw suits going from door to door on 26 December asking for money. Rocha drew not just from 'strawboys' folkloric costumes, but also from the chintzy, fading interiors of the houses they knocked at. Her signature gauzy, ruffled dresses were imagined in Delph prints embroidered onto ivory tulle, or broderie anglaise stitched with daisies, dress coats were overlaid with weaved wisps of raffia and silk jackets were imagined in detailed upholstery-like brocade.

Scene setting: Folklore, faded grandeur, beauty and something subtly sinister were all elements in Rocha's show. The designer emphasised the theatricality of the wren boy tradition by holding her show in a recently restored Victorian theater at Alexandra Palace, complete with gold walls and cornices, high ceilings and a heightened sense of time-lost splendour.

Team work: Last season Rocha was applauded for her knockout casting, which included Chloë Sevigny and Jade Parfitt. For S/S 2020 she recruited a cast of Irish characters, including theatre actresses Olwen Fouéré, Jessie Buckley and Simone Kirby.