London Fashion Week S/S 2023: Ahluwalia to Martine Rose
Though slimmed-down, London Fashion Week nonetheless provided the moments of creative expression the city is known for – from Ahluwalia's ode to Africa to Martine Rose's much-anticipated runway return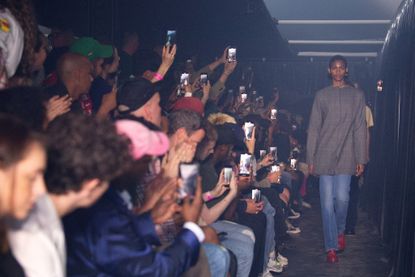 (Image credit: press)
Despite a slimmed-down schedule, London Fashion Week S/S 2023 – this season co-ed, replacing the early June spot previously taken by London Fashion Week Men's – nonetheless demonstrated the energetic creative expression which has long defined the city. It also marked the first iteration of the event without restrictions since before the pandemic, giving a glimpse of how London Fashion Week might look in seasons to come.
A diverse array of designers – many of which are part of the British Fashion Council's Newgen incubator scheme – demonstrated a wide-ranging vision for the season, whether Ahluwalia's ode to the continent of Africa, Labrum's 'borderless' tailoring (soundtracked by musicians from Freetown, Sierra Leone), or Robyn Lynch's love letter to hedonistic teenage holidays. Elsewhere, off-schedule, Martine Rose made a much-anticipated return to the runway with a sexually charged collection shown in the railway arches of Vauxhall, a neighbourhood home to one of London's longest-standing – and most resilient – queer communities. Here are the standout shows of London Fashion Week S/S 2023.
London Fashion Week S/S 2023: Robyn Lynch
A trippy souvenir T-shirt from Mallorca, purchased by Robyn Lynch's mother in 1983, provided the starting point for a playful collection that referenced seaside ephemera and first holidays without parents ('an all-inclusive resort that's somewhere very hot and very cheap' as the notes described). The Ireland-born designer said she trawled eBay for the 'ugliest, funniest, most charming' souvenir T-shirts for inspiration; as such, acid-rave smileys, cartoon crustaceans, and double-entendre slogans like 'I caught crabs in Brighton' were printed across the irreverent collection. Throughout, Lynch riffed on what she deemed 'mundane' menswear garments – a bright-red Aran jumper was sliced along the sides, for example, or cargo pants rendered in crispy, semi-sheer nylon. A play on beachside attire ran alongside: bouclé outerwear recalled the towelling ponchos used to dry off on the beach, while tiny yellow nylon shorts (the colour of 'mustard you might find baking in the sun on the terrace of the chip shop') recalled skimpy swimwear. A requisite pair of Crocs – custom, and colour-matched to the garments – completed the look. It made for perhaps the designer's most carefree collection yet. 'I felt like this was the right time to focus on my own creative expression,' said Lynch. 'So I wanted this season to be injected with just as much fun as it is with fine textiles and carefully-crafted silhouettes.'
London Fashion Week S/S 2023: Labrum
Labrum designer and founder Foday Dumbuya flew over musicians Freetown Uncut, Drizilik and DJ Rampage from his native Sierra Leone – Dumbuya was born in the country, before growing up in Britain where he continues to live and work – to provide the soundtrack for a celebratory outing that celebrated the concept of a 'borderless society… different cultures living side by side'. As such, he chose the title 'Freedom of Movement' for the collection, mining archival family photographs sourced from each member of the Labrum design team as inspiration for the eclectic collection (the photos spanned Europe, South Asia and West Africa). Tailoring remained Dumbuya's focus in the S/S 2023 collection – foppish double-breasted suits, diamond-cut blazers, tailored boiler suits – in shades of muted blue, green and brown, inspired by the works of Mark Rothko and the way colours blend in the American artist's oeuvre (a metaphor of sorts, the designer said, for his own borderless vision). Alongside the collection, Dumbuya collaborated with charitable organisation Choose Love on a version of the slogan T-shirt originally created by Katherine Hamnett – here, it featured taping that read 'Designed by an Immigrant'. 'If the world were borderless and we were all free to move,' asked the collection's notes, 'what would we choose to do?'
London Fashion Week S/S 2023: Ahluwalia
The remains of London Wall in the City of London, first built by the Romans almost two millennia prior, provided a suitably dramatic backdrop for a wide-ranging collection that was an ode to the multiplicities of Africa. Titling the collection 'Africa is Limitless', creative director Priya Ahluwalia – herself of Nigerian-Indian heritage – wanted to celebrate 'the magnificence and beauty of a culture, often hidden from view' while providing a riposte to cultural depictions of the continent as one homogenous mass ('the subject of misinformation, myths, and brutal exploitation in a world that prioritises whiteness'). The designer, who collates research fervently in the run-up to a season, admitted she had enough references for several more collections; nonetheless, the tightly edited outing brought together elements from Rwanda (beading), Côte D'Ivoire (colourful graphics inspired by vintage album covers from the country), Algeria (tones of blue and cream in reference to those found on the country's Notre-Dame d'Afrique church), Somalia and Kenya (twists in dresses, akin to those found in traditional saris), among others. The elements were melded with her own effortless signatures for what she deemed a 'visual tapestry', 'the vast and indelible marks of a culture and its inhabitants not stripped and repackaged, but blended, woven into the very core of the garments'.
London Fashion Week S/S 2023: Lueder
Fire was the starting point for an immersive offering from Royal College of Art graduate Marie Lueder, who invited guests to dine on a cornucopia of food – from beetroot baked in shells of salt to charred yellow heads of corn in a scene evocative of a Renaissance still life – before viewing the Belgium designer's S/S 2023 collection. Displayed hanging from a series of chains, in a short film, and in a series of blown-up images by photographer Hendrik Schneider, 'Synthetic Fire' was 'a collection supporting a feeling of safety inspired by a scent for communion, fire', as the designer described ('it can be uplifting, soothing, dark, physical, gathering, forgetting, warm bodies, instincts, letting go', she added). Indeed, the clothing has Lueder's instinctive approach: often raw-edged, and hewn from organic jersey, recycled jersey, and regenerated nylon, her designs this season played with tailoring cut on spiral-shaped lines for new silhouettes she said were primed for modern-day survival.
London Fashion Week S/S 2023: Martine Rose
Martine Rose noted after her S/S 2023 show – a return to the runway after several seasons – that her collections are always about sex, here iterated in the black latex curtains which ran around the hazy space, and the choice of location, Vauxhall. Rose noted that the south London neighbourhood is one of the few thriving queer communities left in the city; indeed, the railway arches where the show was held have hosted gay nightclubs, fetish clubs and saunas for decades (afterwards, the designer invited guests to the Royal Vauxhall Tavern, across the road, a gay pub open since the 1950s that recently avoided closure). Thematically, Rose said she had been thinking about this through constriction, so pieces were often shrunken to the body, or zipped up entirely, providing new riffs on the subcultural garments (leather jackets, tracksuits, sportswear) to which she'd long been drawn. Playful elements – earrings still on their cardboard backing, clanking chains of keyrings, dresses purposelessly left unzipped along their back – met a resolute feeling of toughness and resilience in the collection, which received an avid reception from the gathered guests, pleased to see one of the city's most influential designers return to the schedule.
Jack Moss is the Fashion Features Editor at Wallpaper*. Having previously held roles at 10, 10 Men and AnOther magazines, he joined the team in 2022. His work has a particular focus on the moments where fashion and style intersect with other creative disciplines – among them art and design – as well as championing a new generation of international talent and profiling the industry's leading figures and brands.