Mud pits to giant flowers, the best runway sets of S/S 2023
The most transporting show sets of the S/S 2023 season, from Demna's pit of mud at Balenciaga to a giant fibreglass anthurium flower at Loewe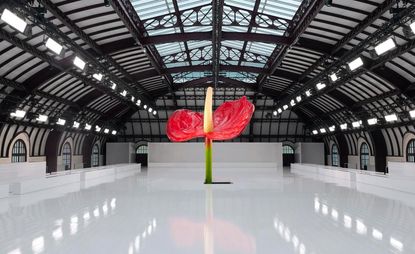 (Image credit: Courtesy of Loewe)
Flowers, piles of mud, a cardboard grotto – an eclectic array of show sets provided a transporting backdrop for this season's runway shows, which culminated earlier this week in Paris. Spanning fashion capitals, Wallpaper* selects the best S/S 2023 show sets and venues – from Loewe to Balenciaga.
The best S/S 2023 show sets
Loewe (top)
The invitation for Jonathan Anderson's latest Loewe collection was a single red anthurium flower, delivered to attendees in a slim white box. On arrival at the show space – housed in the equestrian arena of La Garde Républicaine – guests were greeted with that same anthurium flower, here looming over the runway in blown-up fibreglass. 'A product of nature that looks like an object of design, and treated as such,' said the designer of its visual appeal. As such, it reappeared in various forms – as a corsage, sprouting from a shoe – across a collection which saw Anderson explore silhouette and form. 'A focus on line, colour and shape,' said Loewe. 'The reality of clothing, in tension, with precision.'
Balenciaga
A vast mud-filled pit provided an unexpected runway for Demna's latest Balenciaga collection, a collaboration with Spanish artist Santiago Sierra (the natural smell was enhanced with a scent by longtime collaborator Sissel Tolaas, inspired by decomposition). It set the scene for a defiant collection from the Georgian designer, who has been playing with dystopian tropes in recent seasons. This time, he said the set was a metaphor 'for digging for the truth and being down to earth' – part of a collection which explored the battlefield of individualism. 'Every day becomes a battlefield to defend [your] unique identity,' he wrote in a letter prior to the show. 'The more you try to be yourself, the more you get punched in the face.'
Acne Studios
This season, Acne Studios celebrated ten years of showing in Paris with what creative director Jonny Johansson called a 'twisted wedding party'. 'The most iconic event I could come up with is the wedding. For me, it's the kickstart to a lot of aesthetic choices – what's the most interesting event that people are used to participating in, to celebrate something?' he told Wallpaper*. As such, the all-pink show space – housed inside the 'emblematic Paris institution' Palais de Tokyo – featured beds with rumpled satin sheets and shell-encrusted candelabras created by nail artist Sylvie Macmillan. It set the scene for a collection which played with the kitsch archetypes of romantic nuptials: 'from the tablecloth to the chandelier, the wedding-night bed sheets, the bride's shoes, the bows, and the cute flowers,' said Johansson.
Bottega Veneta
For his sophomore collection at Bottega Veneta, Matthieu Blazy collaborated with 82-year-old Italian designer, artist, and architect Gaetano Pesce on the set. Comprising a poured resin floor and 400 chairs – each entirely unique, featuring naive hand-drawn motifs from smiley faces to cartoonish handbags – it was an example of Pesce's humanist style, which rallies against repetition and mass production. 'As a designer, I make originals, not standardised series, that's the old way – this is the new way,' said Pesce. 'This space is a tribute to diversity. It is about the human being; we are all different. We are all different and this is our defining quality – otherwise, we are just a copy. We are all originals, and this is one of the themes of my design.'
Gucci
Halfway through Alessandro Michele's latest runway show for Gucci, the central wall rose up to reveal that two identical fashion shows had been happening at once – all the way down to the models, which were identical twins. Titled Twinsburg, after an Ohio town that hosts an annual gathering of twins (where most of Gucci's models were scouted), the show space itself featured a portfolio of images by Canadian photographer Mark Peckmezian of duplicated faces in various expressions. 'A reflection on how identity is comprehended through the presence of another,' said Gucci of the images, which reflected the exploration of individualism that ran throughout the show and collection. 'It's the illusion of similitude,' said Michele. 'The game of illusion of a cracked symmetry. Twinsburg plays this game, providing tension in the relationship between original and copy.'
Prada
Earlier this year, Prada backdropped its menswear collection with a vast rendering of a paper house, complete with cut-out windows and doors (in its simplicity, it was reminiscent of a child's drawing). For their womenswear show, a darker, more unsettling mood – the white paper had been inverted to black; through the windows, strange videos glowed. These short films were a collaboration with filmmaker Nicolas Winding Refn – who also collaborated more generally on the show's mise-en-scène – and captured domestic scenes, from a woman taking off her shoes to the underside of a mattress. 'Although the collaboration is around the show, rather than the collection, we have been inspired by the collaboration, by his perspective on Prada,' said Raf Simons, co-creative director of the house with Miuccia Prada. 'There's a mirror of cinema in the collection, of witnessing fragments of a larger whole. Different bodies of work, within a single body of work – shifting between disparate form languages.'
Louis Vuitton
A 'pulsating monster flower' (as the house described) provided the backdrop for Louis Vuitton's latest collection. Created by Algerian artist Philippe Parreno, the vast, tent-like construction featured rows of flashing light bulbs and slowly rotating mirrors – the effect something akin to a funhouse hall of mirrors. It was a reflection of the collection itself, which played with proportion and scale, from blown-up versions of the house's monogram and hardware (zippers, eyelets and the like) to supersized accessories. 'It's a stylistic exercise that re-evaluates the proportions of clothing and its adjuncts, one in which the codes of femininity unsettle scale,' read the collection notes. 'The infinitely large and the infinitely small come together on silhouettes, inviting a second look.'
Miu Miu
This season, Miuccia Prada collaborated with Chinese artist Shuang Li on the show's set, creating a darkened space lit with digital screens which played repeated short films reminiscent of computer screensavers or stock imagery (glowing wind turbines, rotating planets, a bouncing 3D shark). The work was a comment on the idea of the fallacy of the 'wireless cloud', which is in fact supported by 'thousands of kilometres of undersea cabling which populates the ocean floor' (indeed, the cylindrical black seats were reminiscent of these cable's pipe-like design). 'Shuang Li's work explores this tension between the material and immaterial and the obfuscation thereof,' said Miu Miu in a statement. 'The messages lost in transmission do not just disappear but rather, imagined here, can take on another form, punctuating the sky.'
Chanel
The cinematic inspirations behind Virginie Viard's latest collection for Chanel were two-fold – first, Coco Chanel's costumes for Alain Renais' Last Year at Marienbad (the nouvelle vague… the night, feathers, sequins, heels'). Second, contemporary actress and house muse Kristen Stewart, who Viard said 'is the closest to Gabrielle Chanel, at least to my idea of her'. 'She understands Chanel, its clothes. And with her, it becomes even more modern.' The two combined in a short film by Inez & Vinoodh starring Stewart, which sees her emerge from art house Parisian cinema Champo after a screening of Last Year at Marienbad. In the vast show space – housed inside the Grand Palais Éphémère – floor-to-ceiling screens immersed guests in the film, looping around the audience in a dramatic celebration of the power of cinema.
Hermès
This season, Nadège Vanhee-Cybulski imagined her woman for S/S 2023 at a 'rave in the desert' – 'the sounds radiating from behind the hill follows the drift of the dawn: she's never felt anything so beautiful'. The show set itself was evocative of a desert scene – albeit in typically luxurious style, with an expanse of beige carpet evocative of sand – its central point a recreation of a sand dune, around which models looped. As the show went on, it shimmered to life with trippy-coloured projections. 'The colours from the landscape came alive and began to move,' the collection notes described. 'To shimmer as though liquefied.'
Dior
Maria Grazia Chiuri's latest Dior show set saw the designer continue a tradition of collaborating with international women artists. This time, it was Eva Jospin – a French artist known for her intricate sculptures in card, which often feature elements of bas-relief – who created an intricate cardboard 'cave' evocative of Baroque grottos which ran down the centre of the runway. The collection itself looked towards the Baroque stylings of Florentine noblewoman Catherine de Medici who brought Burano lace, the corset, and platform heels to France through her marriage to King Henry II – elements which Chiuri reinterpreted through a 21st-century lens.
Courrèges
An annular sand-covered runway – evocative of a beach – provided the setting for Nicolas Di Felice's latest Courrèges collection, which he said was about 'elapsed time, looking forward, glancing backwards' (the collection's designs forged a link between the Belgian designer's sensual minimalism and the futurism of the house's eponymous founder). As such, sand streamed from the ceiling onto the runway below; the effect was something like being suspended in a giant hourglass. 'To look at the past as we look to the idea of the future,' read the collection's accompanying notes. 'As a way to create for the now.'
Jack Moss is the Fashion Features Editor at Wallpaper*. Having previously held roles at 10, 10 Men and AnOther magazines, he joined the team in 2022. His work has a particular focus on the moments where fashion and style intersect with other creative disciplines – among them art and design – as well as championing a new generation of international talent and profiling the industry's leading figures and brands.