In Memoriam: Issey Miyake (1938 – 2022)
We remember fashion designer Issey Miyake, who has died aged 84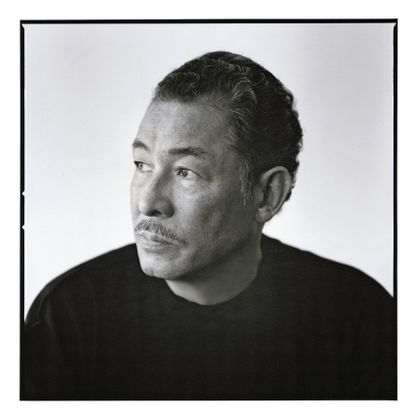 (Image credit: Brigitte Lacombe)
Issey Miyake, designer and founder of the Miyake Design Studio and the Issey Miyake Group, has passed away aged 84. In a statement released by his eponymous brand this morning, it was announced that Miyake died in Tokyo on 5 August 2022, surrounded by close friends and associates. The cause of death was hepatocellular carcinoma.
Issey Miyake's work was defined by a dynamic approach to design, which combined boundary-pushing technical innovation with a deft use of colour and silhouette. His pieces were often sculptural in shape, Miyake manipulating fabric into variously dramatic forms, from bouncing 'flying saucers' of signature polyester micro-pleats to garments which, inspired by the art of origami, could fold entirely flat in a moment. 'The body, the fabric covering it and a comfortable relationship between the two,' Miyake said of the focus of his work, which despite an avant-garde approach was instilled with a feeling of pragmatism and utility (he preferred the word 'clothing' to 'fashion').
Born in 1938 in Hiroshima, Japan, Miyake was seven years old when the atomic bomb was dropped on the city in 1945, an event he witnessed but rarely discussed ('when I close my eyes, I still see things no one should ever experience,' Miyake wrote in an op-ed for The New York Times in 2009). In 1965, he graduated from the Tama Art University in Tokyo after studying graphic design; that same year he travelled to Paris – three months after fellow pioneering Japanese designer Kenzo Takada – where he would study dressmaking and tailoring at l'École de la Chambre Syndicale de la Couture Parisienne (Takada studied the course alongside him). As part of the programme, Miyake became an apprentice at Guy Laroche and Givenchy, working under the Parisian houses' eponymous founders to create original sketches of the collections.
It was a journey to New York, though, in the late 1960s that was perhaps most influential in the founding of his label; there, he worked under American designer Geoffrey Beene, while also being immersed in the world of art, meeting Christo and Robert Rauschenberg (art would intersect with Miyake's work throughout his career, as he collaborated with various artists and institutions, including Paris' Fondation Cartier pour l'Art Contemporain and The National Art Center, Tokyo). With new energy, he returned to Tokyo in 1970 and founded the Miyake Design Studio, showing his first collection in 1971 in New York. Notably, the collection featured tattoo-style prints of Jimi Hendrix and Janis Joplin, who had died the previous autumn, created by textile designer and artist Makiko Minagawa (who later joined the Miyake studio).
In 1973, Miyake moved his runway presentations to Paris, where he would continue to show his collections twice a year during his lifetime. 'East meets West' is how he defined this cross-continental approach, fascinated at once by the richness and pragmatism of Japanese craft, Western youth culture, and the flair of European couture (in particular, he drew inspiration from French couturiers Madeleine Vionnet and Madame Grés, the latter known for her own pleated garments). In 1978, Miyake released a book titled East meets West – then the only retrospective of a living designer – introduced by American Vogue editor Diana Vreeland. 'Paris has a heart for those who are productive, tasteful, and who give the utmost from their hearts and minds,' she wrote. 'Issey has been most welcome in Paris.'
In his wake, a slew of other Japanese designers chose to work in Tokyo and show collections in Paris, notably Rei Kawakubo of Comme des Garçons and Yohji Yamamoto, who would go on to become the designer's contemporaries. Numerous other designers, from Giorgio Armani to Jonathan Anderson, have noted Miyake's influence on their own work. Famously, Miyake created the black turtleneck sweater that became the distinct uniform of Apple's Steve Jobs.
Now spanning numerous labels under the umbrella of the Issey Miyake Group – including Pleats Please Issey Miyake, Bao Bao Issey Miyake, 132 5 Issey Miyake, among others – Miyake's work remains immortalised by the great image-makers of his time. Most notably, American photographer Irving Penn, whom the designer met in 1983. Though Penn never attended Miyake's shows, and Miyake never attended the photographer's shoots, the resulting images encapsulate the essence of the brand in its purest form: bodies in movement, vivid textures, undulating forms.
'Without Penn's guidance, I probably could not have continued to find new themes with which to challenge myself, nor could I have arrived at new solutions,' said Miyake of the unique collaboration, which was celebrated with an exhibition 'Irving Penn and Issey Miyake: Visual Dialogue' at 21_21 Design Sight in Tokyo in 2011. Numerous other exhibitions have celebrated Miyake's work, including 'Is Fashion Modern?' at MoMA, New York; 'Manus x Machina: Fashion in an Age of Technology' at the Metropolitan Museum, New York; and 'Radical Fashion' at the V&A, London; as well as a major retrospective at The National Art Center, Tokyo.
Since 2020, the various collections in the Issey Miyake Group have been designed by Satoshi Kondo, who will continue as artistic director. 'It's important to work with people who are not necessarily from fashion or design worlds,' Kondo told Wallpaper* on his appointment in 2020. 'I remember Mr Miyake telling me to look at many, many things, not just related to my work but on a larger scale. We design clothes – but the message goes beyond fashion.'
Jack Moss is the Fashion Features Editor at Wallpaper*. Having previously held roles at 10, 10 Men and AnOther magazines, he joined the team in 2022. His work has a particular focus on the moments where fashion and style intersect with other creative disciplines – among them art and design – as well as championing a new generation of international talent and profiling the industry's leading figures and brands.