In memoriam: Christo (1935-2020)
We pay homage to the artist who wrapped the world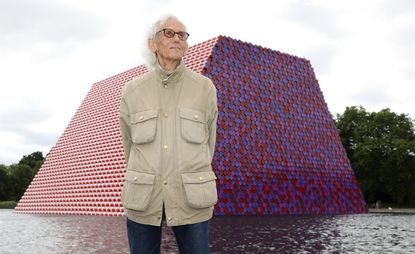 (Image credit: Tim P. Whitby/Tim P. Whitby)
Christo – the Bulgarian conceptual artist who, with his partner in life and work Jeanne-Claude, cloaked iconic landmarks and offered art to the masses – has passed away at the age of 84.
Born in Gabrovo, Bulgaria, in 1935, Christo Vladimirov Javacheff's early life was spent wrapped in ideas, culture and constant movement. This was a period also veiled by politics and unrest. He witnessed his country's invasion by the Nazis, later the Soviets and during his evacuation during World War Two, the artist became entwined with natural forms and his outdoor environment.


Christo's predilection for art saw him take up studies at Fine Arts Academy in Sofia in 1953, where the curriculum focussed on the restrictive government-mandated Soviet Socialist Realism. He worked in theatre design in Hungary, but amid fears of further Russian suppression, fled to Vienna as a railcar stowaway. There, he studied fleetingly at the Academy of Fine Arts and moved again to Geneva and later Paris.
In 1958, he wrapped his first object: an enamel paint can enveloped in a resin-soaked canvas. Wrapping would become his signature, a commentary on the 20th-century obsession with packaging, and an examination of the three-dimensional qualities of objects. Much like his Nouveau Realisme contemporaries, Christo began experimenting with everyday, found objects including beer cans and road signs.


In the same year, he met his future wife and collaborator Jeanne-Claude Denat de Guillebon. Though equal partners, the pair originally worked under Christo's name, a deliberate creative decision made to increase their chances of success in a time of prejudice against female artists. In 1994, Jeanne-Claude was revealed as the other half of the process, and all installations were credited to Christo and Jeanne-Claude, even following Jeanne-Claude's death in 2009.

Controversial, often political, and endlessly ambitious, the duo's work intervened in urban and natural sites, radically transforming the appearance of iconic landmarks and landscapes, what Christo referred to as 'gentle disturbances' that were hulking in scale and received with mixed reviews. Their first collaboration, in 1961, saw them wrap and stack barrels in an installation at Cologne Harbour. From then, projects swelled in ambition, impossible feats became reality and the barrel remained a recurring motif.

In 1964, the couple moved to New York City, where Christo built storefronts to scale to fund larger projects. With ambitious ideas come massive costs, but Christo and Jeanne-Claude were steadfast in refusing grants, scholarships, donations or public money for their projects. Instead, concepts were financed through the sale of their work, alongside preliminary drawings of projects. Many of their ideas were realised in a backdrop of bank loans, zeal and pure determination.
RELATED STORY
Christo and Jeanne-Claude were best known for site-specific work enveloping monumental landmarks and environmental sites in fabric.

In 1983, with a troop of 430 workers and 6,499,800 sq ft of floating pink polypropylene fabric, the duo surrounded 11 islands in Miami's Biscayne Bay, a work that was on view for only two weeks. They wrapped Berlin's Reichstag, the entire coast of Sydney's Little Bay (the largest single artwork of the time) and in 1984, obtained permission to wrap the Pont Neuf, which, completed in 1607, is the oldest bridge in Paris. Nine years of negotiations with the Major of Paris and 430,000 sq ft of sand-hued fabric later, the project was complete. In situ for just 13 days, The Pont Neuf Wrapped received more than three million visitors.
Aside from wrapping, Christo and Jeanne-Claude also turned their creativity, and diplomacy, to large-scale environmental works, which often urged public engagement. The Floating Piers, a series of walkways installed at Lake Iseo, Italy in 2016, comprising 200,000 polyethene cubes shrouded in bright yellow fabric. More recently, Christo floated an enormous stack of 7,506 barrels configured in a vibrant, pointillist arrangement on the Serpentine lake in London's Hyde Park.

Christo was an artist that never stood still. Even at the age of 84, he was still working towards wrapping up the L'Arc de Triomphe in 25,000 square metres of silvery-blue polypropylene fabric, a project that, in accordance with Christo's wishes, will still reach fruition in September 2021.

Christo's story is one of commitment to the ephemeral and vigorous perseverance. He valued transience and the raw physicality of his materials and subjects. For that, he will be forever a pioneer. His aptitude for diplomacy, negotiation and monumental creative innovation brought breathtaking art to the masses, and in turn, festooned their world in a new way of seeing, even just for a few moments.

As the artist told Wallpaper* in 2018, 'I have no stool in my studio; I stand for 16-17 hours a day. I do not know how to drive, and I do not like to talk on the telephone. I don't know a thing about computers. I sketch and devise and create because I enjoy the physicality of it. It's built in my system. Working makes me want to keep walking – even in the wind and the rain.'
Harriet Lloyd-Smith is the Arts Editor of Wallpaper*, responsible for the art pages across digital and print, including profiles, exhibition reviews, and contemporary art collaborations. She started at Wallpaper* in 2017 and has written for leading contemporary art publications, auction houses and arts charities, and lectured on review writing and art journalism. When she's not writing about art, she's making her own.