Artist's Palate: Christo and Jeanne-Claude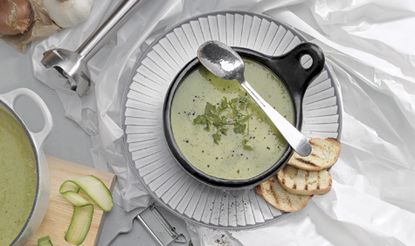 (Image credit: press)
For our Artist's Palate back page in the May issue of Wallpaper (W*122), global art superstar Christo and his wife and collaborator Jeanne-Claude whip up a courgette and garlic soup.
As any kitchen gardener knows, the courgette is the summer glut vegetable par excellence; blink and another three or four green phalli will have engorged under the spiky leaves. Turn your back for a few days and you will find marrows. Thankfully, it is easier to re-create a light, summer soup than it is to re-wrap a national legislature (Wrapped Reichstag, Project for Berlin), which took Christo something like 26 years from inspiration to execution.
Courgettes also reveal a little of the globetrotting artist's roots. This summer squash is very popular in Greece, Turkey and the Levant – the north-west of the region once controlled by the Ottomans – and so gives us a glimpse of Christo Vladimirov Javacheff, the little boy from Bulgaria who ran away to wrap the world. And make soup.
Courgette and garlic soup
3 large courgettes (about 625g), half the skin peeled off, quartered lengthways, sliced
10 garlic cloves, halved
2 small onions, finely chopped
1 green pepper, halved, deseeded, finely diced
90ml low-fat evaporated milk
1tsp salt
fresh chervil, to serve
croutons, to serve
Place the courgettes, garlic, onion and green pepper in a medium saucepan. Add enough water to cover three-quarters of the veggies and bring to boil.
Reduce heat to low, cover the veggie mixture and simmer till the mixture is well cooked.
Purée the vegetables, using a hand blender, adding a bit of the cooking liquid.
Add the evaporated milk and salt, and season with pepper. Blend again until smooth.
Reheat the soup, stirring constantly. Top with pepper and chervil. Serve with croutons.
INFORMATION
Recipe by Christo and Jeanne-Claude, from The Museum of Modern Art classic, Artists' Cookbook (Abrams)
Melina Keays is the entertaining director of Wallpaper*. She has been part of the brand since the magazine's launch in 1996, and is responsible for entertaining content across the print and digital platforms, and for Wallpaper's creative agency Bespoke. A native Londoner, Melina takes inspiration from the whole spectrum of art and design – including film, literature, and fashion. Her work for the brand involves curating content, writing, and creative direction – conceiving luxury interior landscapes with a focus on food, drinks, and entertaining in all its forms