Walking on water: Christo and Jeanne-Claude's Floating Piers on Lake Iseo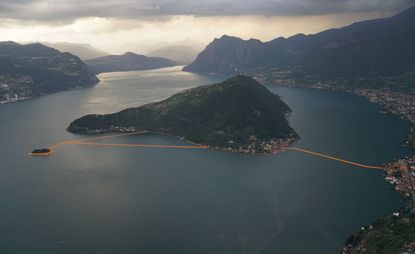 (Image credit: Wolfgang Volz)
Northern Italy's Lake Iseo just got even more idyllic. Amid the picturesque nature, artists Christo and Jeanne-Claude have laid down a new installation to take the meditative scene to the next level, facilitating some literal walking on water.

The Floating Piers is an immense three-kilometre walkway comprised of a whopping 100,000 sq m of yellow fabric. Keeping in tune with the lake's flowing waterways, they have scattered the sunshine textile over 220,000 high-density polyethylene cubes to allow people to kiss the surface of the water with their steps on the route, which stretches from Sulzano to Monte Isola, and on to the island of San Paolo.

The pair are known for wrapping materials around many of Italy's iconic locations, including the Medieval Tower in Spoleto in 1968. This more interactive project was originally conceived back in 1970, and it has been totally funded through Christo's sales of original works.

The dynamic install has taken months to prepare via water and air with commercial divers from France anchoring the piece from depths of up to 90m below the surface, and the felts transported by helicopters from above.

The Floating Piers' immersive qualities transcend the interactive. While visitors are able to appreciate the serene 'walking on water' experience, the visual is just as powerful. Up in the mountains above, people can observe the scorching mustard-hued snake running through the azure waters, creating graphic lines and cutting the colours of the landscape: 'The light and water will transform the bright yellow fabric to shades of red and gold throughout the 16 days,' Christo explains.
INFORMATION
The Floating Piers is on view until 3 July. For more information, visit Christo and Jeanne-Claude's website
Photography: Wolfgang Volz. Copyright Christo