Canada Goose and Central Saint Martins celebrate next-generation changemakers in new London exhibition
'Keeping the Planet Cold' – running from 17-21 February 2023 at London's Lethaby Gallery – celebrates exceptional BA and MA fashion students in the field of sustainable and purpose-driven design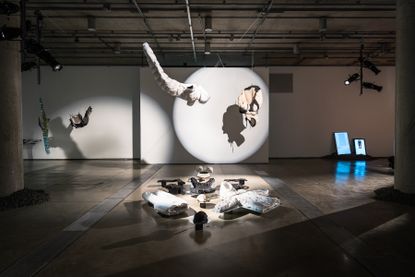 (Image credit: Courtesy of Canada Goose)
In partnership with Canada Goose (opens in new tab)
'Keeping the planet cold and the people on it warm' – so goes the mission statement for Canada Goose, the Toronto-founded brand best known for the enveloping down-filled parka jackets it has been producing since 1957.
It's also the driving force behind the brand's new London exhibition, 'Keeping the Planet Cold', which opens today (17 February 2023) in London to coincide with the arrival of fashion week in the city. Hosted in partnership with Central Saint Martins, it will see the famed art school's Lethaby Gallery in Granary Square transformed with a series of immersive displays celebrating a new generation of changemakers for 'a story of how we can shape the world through creative action', according to the brand.
'Keeping the Planet Cold': a new exhibition from Canada Goose and Central Saint Martins
The exhibition continues a partnership between Canada Goose and Central Saint Martins which began in 2022, with the brand inviting students on the university's prestigious BA Fashion Communication, BA Fashion and MA Fashion courses to create unique pieces with a focus on sustainability and purpose-driven design. BA students were tasked with working in groups to create unique design objects utilising Canada Goose deadstock and warranty product, while MA students were asked to create capsule collections inspired by outfits worn by research scientists at Polar Bears International (PBI), a non-profit based in Churchill, Manitoba which focuses on polar bear conservation (PBI has been a long-term partner of Canada Goose since 2007, working closely on projects including an ongoing dedicated collection with proceeds going to the non-profit).
Among the many pieces on display at the exhibition, the capsule collections by MA students Arianna Ablondi Pedretti, Chie Kaya and Jacob Yakubu Stapleton will all feature, having been judged as exceptional by a panel in 2022. Each of their designs reflected a deep understanding of the project's aims and the utilitarian necessities of PBI scientists working in extreme polar environments.
Japan-born Kaya focused on female researchers, with elegant, ladylike riffs on Canada Goose's quilted garments featuring a number of modular elements. 'I tried to imagine myself as one of the researchers, and how I want to feel and wear as a woman,' she tells Wallpaper*. 'As simple as it is, I hoped that I could be looking good and professional on and off duty, and under the extreme weather conditions.'
Pedretti's capsule collection also concentrated on women researchers, drawing inspiration from pioneering – and oftentimes overlooked – female scientists. The Italian designer included a number of elements relating to the needs of women. 'I made trousers and a catsuit with a crotch opening to make women be able to go to the bathroom without undressing themselves completely, for example, or pockets made specifically for women – I asked my female friends what they would need them for – and padding to the hips and butt in order to be protected from the cold when sitting on icy surfaces,' she explains. 'I thought a lot about how, for women, functionality in clothes has been traditionally ignored.'
Stapleton, meanwhile, created playful layered forms which evoked the physical shapes of polar bears, his initial designs drawing from the dramatic limestone pillars in Stone City, Russia. 'A sculptural approach,' described the British designer of the way he addressed the project, which he said was energised by a trip to Perm, Russia in sub-zero temperatures several years ago. 'If it wasn't for that trip I think grasping the level of protection needed would have been difficult for me.'
Pieces from the BA students in the exhibition, meanwhile, will include a quilt, a swimwear collection and 'Nuna', a 'multifunctional earth creature and bag'.
'I'm delighted with the fantastic outcome of the project with Canada Goose,' says Fabio Piras, course director, MA Fashion at Central Saint Martins. 'The students of BA and MA Fashion and BA Fashion Communication have responded with creative provocation, debate and potential solutions across garments, media and objects that are as challenging as they are beautiful.'
'Keeping the Planet Cold' – which is free to visit and runs from 17-21 February 2023 – is part of Canada Goose's 'purpose platform' HUMANATURE, which unites the brand's numerous sustainably minded and value-based initiatives. Part of this is to commit to net-zero emissions by 2025, while the brand also went fur-free at the end of 2022. Such innovations are led by its Sustainable Impact Strategy.
'This exhibition is a true source of inspiration and a ray of hope for the future. There is so much potential this generation have to offer, not only in terms of creative talent but also their unwavering commitment to join us in helping to transform the industry to tackle climate change and protect our planet,' says Penny Brook, chief marketing and experience officer at Canada Goose.
'We are dedicated to keeping the planet cold and the people warm,' she continues. 'We have the passion and resources to set new standards, to take responsibility, to create impact beyond our organisation and we are passionate about teaming up with like-minded partners like Central Saint Martins to help shape tomorrow.'
'Keeping the Planet Cold' runs from 17-21 February 2023 in London's Lethaby Gallery, Granary Square.
canadagoose.com (opens in new tab)
Jack Moss is the Fashion Features Editor at Wallpaper*. Having previously held roles at 10, 10 Men and AnOther magazines, he joined the team in 2022. His work has a particular focus on the moments where fashion and style intersect with other creative disciplines – among them art and design – as well as championing a new generation of international talent and profiling the industry's leading figures and brands.