Optimism and pragmatism align at London Fashion Week S/S 2021
In a socially-distanced show season different to any other, LFW's designers offered images of hope, escapism and utilitarianism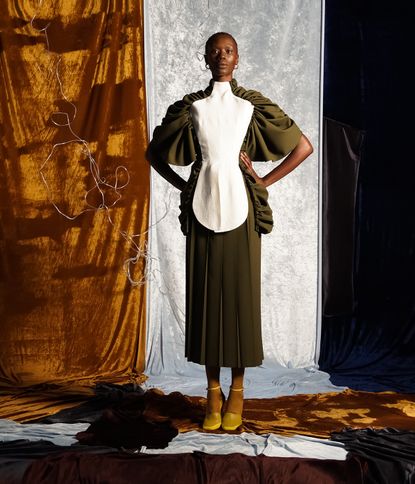 (Image credit: Richard Malone)
Wallpaper* Newsletter
Receive our daily digest of inspiration, escapism and design stories from around the world direct to your inbox
Thank you for signing up to Wallpaper. You will receive a verification email shortly.
There was a problem. Please refresh the page and try again.
Back in February, the blustery winds of Storm Denis were the main, outfit-ousting concern for attendees of London Fashion Week. As street style stars, paparazzi and journalists bundled from landmark locations in Bloomsbury and Bank, cooing at the A/W 2020 collections, the thread of Covid-19 had barely entered their brains. Now, the A/W 2020 shows – their twinkling venues packed with guests, international press and glamorous stars – seem part of a parallel universe.

In the seven months that have passed, the luxury landscape has changed beyond recognition. In July the British Fashion Council – based on statistics from Oxford Economics – warned the UK government up to 350,000 jobs could be lost in the wake of Covid-19, and that sales this year could fall from £118bn to £88bn. British brands have announced closures – Henry Holland went into administration in April, and Pringle of Scotland has been paused indefinitely.

But this tumultuous period has also been one of creative hope and innovation. In April, designers Holly Fulton, Phoebe English and Bethany Williams launched the Emergency Designer Network, a volunteer led enterprise created to support the NHS with PPE. Designers including Simone Rocha, Emilia Wickstead and Roland Mouret joined the initiative, and in July, 100,000 surgical sets had been distributed to 28 individual hospitals. Hosts of other British brands also supported the Covid-19 crisis, with Burberry fast-tracking the delivery of over 100,000 surgical masks to the NHS and mobilising its trench coat factory in Castleford, Yorkshire, to create non-surgical gowns and masks for hospital patients. The BFC also established an emergency Fashion Fund, an initiative granting financial support to 37 British brands, including Roksanda, Richard Quinn and Rejina Pyo, totalling over £1,000,000.
Amongst the uncertainty came the question of how to stage fashion week. In July, men's and couture fashion week moved online, and as part of this from-home era, the BFC announced London Fashion Week was to move to an innovative gender-neutral digital platform. In the midst of new Covid-19 restrictions in England, limiting gatherings and social events, S/S 2021 launched with 50 digital-only activations, 21 physical and digital, and a sprinkling of small, socially-distanced physical-only events. These activations included pre-recorded films, staged in locations like Epping Forest and a 19th century church in Yorkshire, intimate salon shows and collection appointments at venues including Hauser & Wirth and the Victoria Miro museum.

No stranger to spectacle, even in the era of social distancing, Burberry kicked off the proceedings with an otherworldly live show, streamed for the first time on Twitch, the live streaming service beloved of gamers worldwide. Chief creative officer Riccardo Tisci teamed up with German visual artist Anne Imhof, famous for 'Faust', her eerie 2017 performance piece inside the Venice Biennale's German Pavillion, which featured patrolling snarling Dobermans. For Burberry, Imhof devised an industrial circular stage setting in the midst of the British countryside, a symbol to Tisci of renewal. Models walked – accosted by The Matrix-centric minders, clad in suits and sunglasses – and they sported vibrant tailoring, logo-splashed sportswear, sparkling party dresses and deconstructed trench coats. Tisci spoke of devising a modern fairy tale, centred on a love story blooming between a mermaid and a shark. So models sported sou'westers, fisherman's coats and shirts with scribbled shark prints. The nautical theme nodded to the oceanic history of the house. It's famed for inventing waterproof gabardine, worn by the Navy and Arctic explorers in the early 20th century.
Unsurprisingly S/S 2021 had a strong socio-political pull. Michael Halpern – who spent spring making PPE at Royal Brompton Hospital – celebrated the heroines of the front line in a heart-warming film, dressing night tube drivers, nurses, bus station managers and gynecologists in his extravagant ballroom-worthy designs, like plumed puff ball dresses, tartan boucle gowns and polka dot pyjamas.

Socially-minded Bethany Williams has been collaborating with The Magpie Project since 2019. The Newham-based charity works with children and mothers who are homeless or at risk of homelessness – 80 per cent of who have no access to public funds (NRPF). An estimated 100,000 children in the UK live in poverty because their parents immigration status denies them access to the UK's welfare system. For S/S 2021's 'All Our Children', Williams included the families which are part of The Magpie Project, in a film celebrating the force of familial ties, with mothers and children sporting colourful hand-painted pieces created in collaboration with illustrator and artist Melissa Kitty. Williams worked with deadstock, organic and recycled materials, and the collection also features patchwork sportswear spliced from Adidas Originals swatches, corsets created in collaboration with Welsh designer Rosie Evans and lunch boxes and reading wallets woven out of book waste, developed with Tottenham-based Stevan Saville.
Out of crisis often comes optimism, and for Molly Goddard positivity came in collection pouring over with prismatic colours. 'When we first came out of lockdown and decided to do a show, I wanted to do something really pared back,' she explained. 'But as we returned slowly to the studio after months of working as a team over Zoom, I realised how dark and depressing the last few months had been and more and more colour crept into the collection.' For S/S 2021, Goddard proposed ruffled gingham skirts, frilled tulle crop tops, poufing parkas, and punky striped vests in tones of sea foam, scarlet and fuchsia. These colours nodded to papier-mâché Claes Oldenburg sculptures, found in the art collection of Guiseppe and Giovanna Panza. Goddard also unveiled a collaboration with Ugg, on a series of stompy flatform slippers and fluffy flats.

Emerging British-Asian designer Supriya Lele also saw optimism in embellishment. When she returned to her South London studio post-lockdown, she noted that each day her all-female team were adding glamour to their once dressed-down outfits. For the first time she added sequin to her fabric roster of light jersey and chiffon, creating gauzy wraparound pieces like mini dresses, camisoles and sarong skirts in vibrant tones, which nodded to the hues of her Indian heritage. 'I thought I'd inject a bit of sparkle into what I'm doing. I'm feeling a bit more optimistic in a way,' she explained. The collection also nodded to Lele's adolescence spent listening to heavy metal, featuring sequin skirts spray-painted punkishly with an Indian motif and sheer creased crop tops resembling faded band tees. Her azure blue, turquoise and magenta colour palette was inflected with moodier dark chocolate and slime green
RELATED STORY
For brands, so long bolstered to traditional modes of presentation, S/S 2021 also offered up a chance to experiment. Christopher Kane spent lockdown creating acrylic glitter glue images of women – humorously labelled his "brats" – and he presented his colourful spring offering in his Mount Street store alongside these escapist artworks. 'Painting during lock down replaced the void of making collections,' he explained. 'It became a way to escape my own mind - no rules, deadlines, or pressures.' Victoria Beckham too took time to reassess. 'Limitations can be liberating,' the designer explained in the introduction to her S/S 2021 film. Her streamlined collection featured easy fluid dresses with seductive cut outs, flared tailoring and denim. Beckham returned to the intimate salon-show format of her early presentations, showcasing her spring looks at the Victoria Miro museum.
In a year, when lockdown may one be our sole collective recollection, designers were also fascinated by the concept of memory. At Preen, designers and partners Thea Bregazzi and Justin Thornton decamped to their home in Suffolk during lockdown. There they discovered the belongings of its former resident, an American art critic. These trinkets informed a collection which Preen worked on with their daughters - one inspired by fragments of memory, featuring floral patchwork dresses and panelled trench coats, created from deadstock fabrics, elements of the brand's own history. Richard Malone was also fascinated by the concept of time, when considering how to design for 'real life' when it's been altered irrevocably. During lockdown, he read I'm Thinking of Ending Things by Iain Reid, and Doireann Ní Ghríofa's A Ghost in the Throat, both works which deal with a contortion and curvature of time. His resulting collection offered up 'rigorous comfort' with voluminous draped dresses and high-shouldered tailoring, imagined in silk-like wool crêpe and velvet which Malone hand-washed in his own bath.
Having spent most of the year indoors (and possibly next year too), practical wardrobe solutions were also on the S/S 2021 agenda. For Roksanda Illincic who staged her presentation inside the Gasholders penthouse she designed last year – a space populated with soft tones and pieces by Charlotte Perriand and Lina Bo Bardi – recycled cashmere tracksuits bought a new ease to her aesthetic. Her set-up reflected the reality we've all faced since spring, featuring mis-en-scenes of lockdown life, like mothers and daughters lying in bed, and women washing up. Church's also offered practical footwear solutions. The Northampton-based label, which usually presents its latest designs at Milan Fashion Week, debuted Dear Thomas, a film inspired by The Talented Mr Ripley, featuring modern twists on classic silhouettes, like sandals with tank-tread soles and a heeled version of its Dee Dee slide.
Simone Rocha also spoke of 'looking for comfort and security in the extreme'. Her collections often denote feminine forms of protection, with models swathed in gauzy organza, layered silhouettes and resplendent ruffled embellishments. At her stripped back presentation at Hauser & Wirth, models strode within the stark gallery space, sporting voluminous designs that riffed on historical courtly elegance, like floor-pooling dresses in bias cut silk, taffeta knot detail gowns and metallic jacquard coats with emphatic waistlines. Beaded bralettes which tied with ribbon were designed to anchor the escapist silhouettes, and accessories placed emphasis on ergonomic design, like ballet shoes with rubber platform heels and net shoppers strung from sparkling beads.
For the last half decade, Margaret Howell has designed according to the tenets of timeless design. She spent lockdown at her home near the Suffolk coastline, gaining a renewed interest in sketching. The main design difference she noted was the inability to try on each piece in her S/S 2021 collection, which features oversized shapes like slouchy blazers, utilitarian pleated trousers and drop waist dresses in Swiss cottons and silks. Howell often revisits pieces in her archives – which look as contemporary today as they did when they were debuted – and blew up a polka dot print for spring. 'My work has always been about trying to remain true to myself; it is a consistent style with subtle changes,' she told Wallpaper* back in March. Howell's approach epitomises the importance of clothing that can withstand unprecedented lifestyle changes, balancing utility and luxury and resonating with shoppers whatever the season.
Receive our daily digest of inspiration, escapism and design stories from around the world direct to your inbox