Staying power: Sportmax, Paul Smith and Margaret Howell's milestone anniversaries
Fashion has long been defined by upheaval, constant change. Now, as the unsoundness of the industry's fundamental engine – ring up demand for the new and novel – becomes clear, fresh challenges lie ahead. For lessons in resilience and innovation, we look to three brands that have survived and prospered over the decades and are celebrating their half-century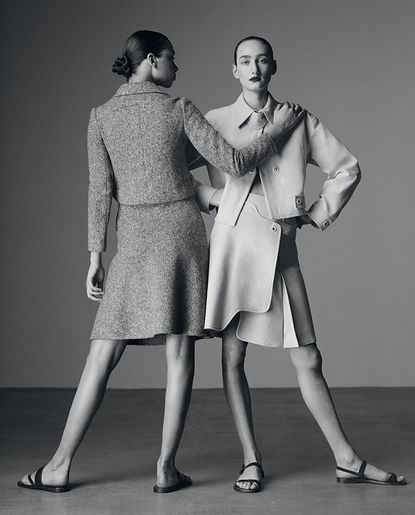 (Image credit: Casper Kofi)
Sportmax
Established in 1969, Sportmax speaks of the vitality and liberation of the 1970s. In uenced by his trips to New York, its Italian founder Achille Maramotti envisioned the brand as the urbane, go-ahead sister of Max Mara, which he had launched from a small factory in Re io Emilia in 1951.

'The genesis of Sportmax was taking the idea of sportswear and introducing it into daily life,' says Maria Giulia Prezioso Maramotti, US retail director of the Max Mara fashion group and granddaughter of the founder. Achille Maramotti, alongside Cacharel and Sonia Rykiel in Paris, forged the business of 'ready-to-wear'. But where his vision really shone was in Sportmax's focus on style-savvy, fuss-free, mix-and-match separates that could be worn seven days a week.

The collection (first shown as a catwalk presentation in 1976) struck a chord with a generation of women newly entering the workplace. Fifty years on, the team at Sportmax pursues the same ethos, introducing new techniques, hybrid garments and innovative fabrics. Over the decades, the brand (steered by Luigi Maramotti since the 1980s) has employed creative collaborators such as Jean-Charles de Castelbajac and Guy Paulin, but never revealed 'names'. The anonymity allowed the brand to be the centrepiece.

This spring, a 15-piece anniversary capsule collection that riffs on core styles hits stores. Pieces are finished with Sportmax's shaded topstitching, creating a signature lightweight feel and deconstructed look. The relevance of Sportmax proves that through the wildest fluctuations in trends and societal shifts, there is poetry to be found in everyday style.
Paul Smith
Life's mishaps have a way of opening up new pathways. If it weren't for a calamitous accident at the age of 18, amateur road cyclist Paul Smith might have pursued his sporting dream. Instead, post-recovery, he found a community of art students at the Bell Inn pub in Nottingham, and learnt the principles of couture from his Royal College of Art-trained girlfriend (now wife) Pauline Denyer.

Opening his first store in Nottingham outshines knighthood as one of his proudest moments. It's here that Smith, all chiselled good looks and quick wit, learnt how to make customers feel at ease in a con ned space, deploying curios collected from his travels as icebreakers to his burgeoning line of natty suits and shirts. Collecting (dominoes, stamps, cycling memorabilia, ceramics) continues to be a cherished idiosyncrasy. During the design boom of the 1980s, Smith became a national hero known for his 'classics with a twist', establishing a network of stores, a vibrant design language and a reputation for comfortable yet smart suits.

Combining the classy and the unexpected – perky, coloured linings, the famous stripes – the brand suggests wit, individuality and that very British quality of self-deprecation. Collaborations with the likes of Leica and Carl Hansen & Søn have boosted Smith's taste-making clout, while his athlete's mindset has kept the brand in the fast lane. In an era when overproduction weighs heavily, Smith's insistence on creating quality products with a difference is an inspiration.
Margaret Howell
'My work has always been about trying to remain true to myself; it is a consistent style with subtle changes,' says Margaret Howell of her half-century run. Having graduated in Fine Art from London's Goldsmiths' College in 1969, she was rst inspired by a pinstripe shirt found at a jumble sale. She set up a workshop in 1973, and her line of shirts caught the eye of retailer Joseph Ettedgui, who helped her open a menswear store four years later.

At a time when style was dominated ato one end by 1970s amboyance, and at the other by English formality, Howell excelled in meticulously detailed, 'lived-in' pieces. 'I wanted to make items feel contemporary through the proportions, softness and lightness of the fabrics – linen, corduroy, tweed. People responded,' says Howell. By the 1980s, she was creating men's and women's collections and had signed licensing in Japan, a venture that proved a lifeline through the turbulent decade. The brand's success rests on Howell's hands-on approach, and what she leaves out (loud colour, extraneous detail) as much as what she includes.

The trend-defying durability of her designs, including an unlined linen shirt jacket dating from the 1970s, and a button- through skirt based on a trench coat, are testament to Howell's enduring, resilient vision. By introducing photography and 20th- century furniture in her store, Howell also quietly pioneered lifestyle retailing; her stores in London, Paris, Florence and Tokyo remain a lure for collectors and browsers alike.
INFORMATION
sportmax.com
paulsmith.com
margarethowell.co.uk