Eva Rothschild creates original artworks for Roksanda at London Fashion Week
In this Q&A Roksanda Ilinčić and Eva Rothschild discuss their artistic collaboration for Roksanda's A/W 2022 show at London Fashion Week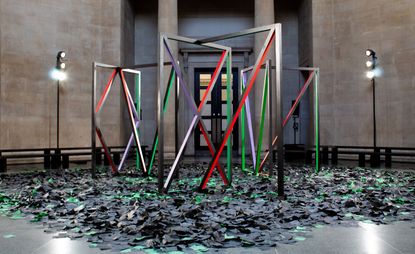 (Image credit: Roksanda)
Roksanda and Eva Rothschild's shared focus on a bold use of colour and striking geometrical silhouettes is encapsulated in original artworks for the designer's A/W 2022 show at London Fashion Week. Here, they reveal the inspiration behind the installations.
Wallpaper*: How does Eva's work here complement the vision you have for this collection?
Roksanda Ilinčić: Eva's work is always challenging preconceived notions we may have, whether on construction or geometry or colour, it's all about subverting the eye. For this collection I wanted to explore the duality and contradictions within us of being grounded in our new reality but still wanting to dream. I think that underlying dichotomy is really mirrored and reflected back in Eva's works.
W*: What narrative is created between the collection and artworks?
RI: I took inspiration from Eva's works to form the basis of my exaggerated gowns of padded amorphous and unusual patchworking. I used colour-blocking, married together in silk taffetas, silk satins, cottons and sand-washed silks to bring new volume and tactility and defying pre-conceived notions of construction.
W*: What parallels can you draw between Eva's emphasis on bold geometric outlines and an eclectic range of materials?
RI: Both Eva and I explore construction in our own ways but at the same time we have quite a similar approach to our ethos. I gravitate towards her boldness and use of colour and geometry as something I recognise in my own work.
W*: Why did you want to work with Eva on this design?
RI: Eva and I have been friends for a long time and are always in dialogue with each other, sharing ideas and inspirations. There is a synchronicity in our work, and a mutual appreciation. I liked the idea in these times of creating new conversations with old friends.
W*: Hi Eva, how has Roksanda's collection inspired this artwork?
Eva Rothschild: I have followed Roksanda's work for many years and her use of colour and her sculptural way with fabric forms and the body has always had a real resonance with my own interests. The works I am presenting here pre-exist this current collection, but were originally created to be used with dancers, so placing them in the active context of Roksanda's show is really exciting for me.
W*: What inspired you here?
ER: The forms are created to make an active environment for the body to negotiate. The splitting of colours across the different plains of the frames creates a visual confusion about the structure of the pieces. I am always interested in making sculpture that engages both the body and the eye in an active form of looking that makes us aware of the relationship between the object and ourselves.
W*: Your pieces play with subversive geometric silhouettes - how have you built on that with these strong shapes?
ER: Geometry is subversive in itself, as it contains both the clearly known reliable forms of architecture and modernism, and the more arcane geometric confusions of mandalas, pyramids and labyrinths. In using geometric form within a sculptural practice it is always interesting to combine these two elements, and that is what I have been working with here.
W*: What role does colour play in these works?
ER: Colour defines different plains within the structure of the pieces. The structural elements have a job to do, they have to get the object to actually stand up. The colour is not bound by this and it can jump across the structures creating a visual impression that may even be at odds with what we know is structurally necessary. It enhances and re-defines prosaic structure. And of course colour adds beauty, excitement and visual delight.
Hannah Silver joined Wallpaper* in 2019 to work on watches and jewellery. Now, as well as her role as watches and jewellery editor, she writes widely across all areas including on art, architecture, fashion and design. As well as offbeat design trends and in-depth profiles, Hannah is interested in the quirks of what makes for a digital success story.