Roksanda composes a vibrant penthouse in the Gasholders
The Penthouse by fashion designer Roksanda Ilincic at Gasholders will be open for guided tours during London Design Festival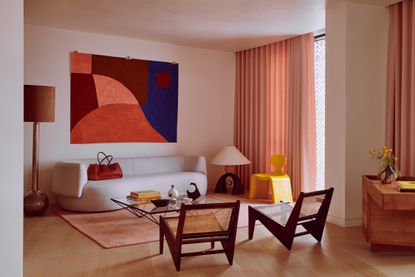 (Image credit: Michael Sinclair)
When fashion designer Roksanda Ilinčić was first a resident in Kings Cross, it was tumbleweed town – 'there was literally a petrol station and that is it,' she says. Who would have thought back then that the London-based creative would now be presenting her first interiors project inside a penthouse suite in the Grade II listed 19th century Gasholders.

This full circle makes the project particularly personal, a trait that the Serbian-born designer likes to use in all of her works. 'You can spot many details that are really personal, colours, choice of artist. It is the kind of matching that I have at home and presents how I am communicating to the world: my dress, my bag, my jacket.'

Filled with natural light, thanks to the angular rooms concocted by architect Wilkinson Eyre during its redevelopment, the apartment is a composition of colour. Tonal pinks like draping Kvadrat/Raf Simons fabric curtains soak up the sun, while surprising elements of yellow in a playful fibreglass chair and custom red dyed 1996 TriAngle tables by Aldo Bakker reveal Ilinčić's clever palette pairings.
A lover of vintage, the designer rooted through bookshops to ensure the accessories were complimentary to the many 1950s and 1970s treasures found peppering the space. She focused on female creative energy for literature; find tomes on Eva Rothschild, Barbara Hepworth, Anni Albers, Marina Abramovic and more. In the furniture too, there are odes to modernist female lynchpins Charlotte Perriand and Lina Bo Bardi, while Perfumer H scents muster in the bathrooms.

Perhaps the most powerful work comes courtesy of Swiss artist Caroline Denervaud. Setting up camp for the week one of the other Gasholders apartments, she took on an 'artist in residence' approach while creating a mural in the kitchen and screens at the entrance. The striking geometric prints harbour circular shapes, also a theme in the interiors – an ode to the iron gasholder shape. Sculptural moments arrive in the form of Roksanda X Linck ceramics vases, originally commissioned by Nick Vinson for MatchesFashion.com, who collaborated with Ilinčić on sourcing for the penthouse.
As a trained architect herself, Ilinčić's apartment unfolds as a blending of creative worlds - 'I am one of those designers that gets inspired by those other disciplines quite a lot, art, architecture. I love to reach out to others and collaborate with them.' Through this she seeked to create a welcoming sanctuary: '[it's] like a second skin. The moment you open the door you almost feel like you are in you are home.'

Among the rooms that include master bedroom, sun room, study, and sunken courtyard, it is the unnamed room that is her favourite. 'When I first came here I thought it was strange as it connects two bathrooms, what is this going to be? A space that you can reflect on your day and life, and the time we are living in. That room has a sense of tranquility.
INFORMATION
he Penthouse at Gasholders, £7,750,000