Rural grain store buildings inspire a minimal extension in the British countryside
A simple house extension designed by Folkstone-based architect Jonathan Burlow combines mimimal expressions, a concrete platform, and stacked clay bricks – all inspired by local rural architecture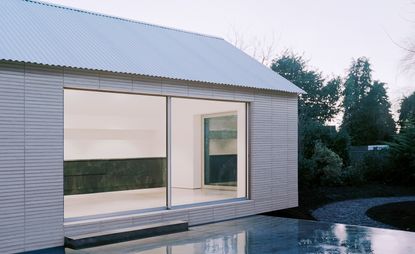 (Image credit: Simone Bossi)
British-French architect Jonathan Burlow has designed a minimal extension to a house in Hythe, Kent. With its large windows, neat brick exterior and pitched roof the extension follows and abstracts surrounding houses, yet has also been inspired by 18th century rural grain store buildings found in the south of England.

Burlow, who founded his studio in 2018, echoed the properties of grain store buildings through the design. Just like the traditional grain stores that were raised upon saddle stones to protect grain from vermin and water seepage, Burlow raised the extension up onto a concrete platform, which extends into the garden to form a simple patio.

This decision expresses the extension is an independent volume – slightly separated from the main house, with a small cantilever over the immediate landscape. While the exaggerated traditional 'house' elements such as the pitched roof also unite it.
The neat exterior of white stack-bonded clay brickwork is a minimal response to how grain sacks would be stacked in the grain storage buildings. Inside, minimal expression continues with a wide, open and airy interior space with a polished concrete floor. Here, the space has been left clean and simple to allow objects and furniture inside the space define the character of the owner.
INFORMATION
jonathanburlow.co.uk (opens in new tab)