Fendi to Dior: A/W 2021's standout menswear shows
Join us as we delight in the A/W 2021 menswear shows, featuring digital catwalk collections from brands including Fendi, Prada, Dior and Louis Vuitton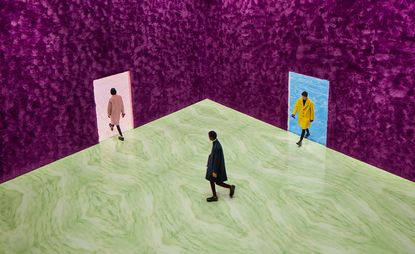 (Image credit: press)
As the Covid-19 pandemic continues to wreak havoc on our physical lives, this month's A/W 2021 menswear shows are taking place largely online. But a lack of a physical audience doesn't make for a lack of creativity, and designers continue to evolve using alternative digital mediums. Here, we round-up the brands that are catching our attention, and determining the fashion trends of 2021, from Pitti to Paris.
Prada
The show's AMO-designed set - a series of rooms swathed in shaggy faux fur, marble and resin - reflected the starting point of the collection: 'The need to feel, the pleasure of tactility.' Raf Simons and Miuccia Prada's sophomore creative outing centred around a star piece - the intarsia knit long john - which as a second skin, was layered under pinstripe suits, paired atop of shirts and roll necks, or popped beneath brightly-hued oversized coats. The effect nodded to the odd style rituals we've picked up in the post pandemic world, like the Zoom meetings attended in smarts and slacks or evening wear paired with indoors shoes. Silhouettes were simultaneously concealing and revealing, swathed or stood away from the frame, like XL MA-1 bomber jackets (a Simons favourite) imagined in fuschia leather and all-in-ones swathed in retro patterns. 'Juxtaposition of colour, juxtaposition of softness and hardness, to express the reality of the world,' Simons explained of the collection, as part of a Q+A after the show's live stream, featuring questions from students around the world.
Fendi
Creative director Silvia Venturini Fendi turned techno queen for A/W 2021, not only designing the brand's menswear offering, but creating the vocals for its soundtrack too. 'Hello, it's Silvia. I just wanted to tell you about normality. What is normal today?' she said at the opening to Fendi's runway film-come-music-video, which featured models striding through a mirrored tunnel, illuminated with neon tubing, designed by Bureau Betak. The chromatic collection was a nod to the new silhouettes that suit our at-home, comfort-focused lives, from robe coats to quilted silk boxing shorts, cable knit salopettes to suits with piped pyjama hemlines. An unexpected artistic collaboration came courtesy of Noel Fielding, who created scribbled dreamscapes, which were emblazoned across outerwear and knitwear.
Martine Rose
Peering from our windows across urban streets, where its inhabitants are largely confined indoors, we've gained new insights into our neighbours lives, like their home workout rituals, their morning routines or what time they walk their dog. This intimate sense of voyeruism was reflected in Martine Rose's A/W 2021 offering 'What We Do All Day', which was presented as part of an interactive digital presentation, allowing viewers to access a simulated housing block from their screens, before sneaking Through the Keyhole-style into its different apartments. Viewers were treated to a series of domesticated films, watching Martine Rose-clad home-goers across the globe, from Nairobi to Toronto, enact their every day routines. The virtual tour was created in collaboration with experience studio International Magic – who recently worked on an AR project with Judy Chicago. The most famous guest in the housing block? Drake, tuning in from a recording studio in Toronto, clad in Martine Rose football shirt.
MSGM
Struggling to adapt to the shifts in today's new normal has been dizzying, a feeling that the Italian label's founder Massimo Giorgetti has so identified with, he titled his autumn offering 'Vertigine'. Giorgetti was searching for something steadying as inspiration, settling on the peace and reassurance he takes from snow-topped landscapes. His collection of Nineties-inspired alpine wear features jacquard fleece gilets, lug-soled boots, cornflower blue puffer jackets and check cargo shorts, styled alongside bowling shirts and jackets with retro ski resort-centric prints, inspired by 1930s postcards from Chamonix, St Moritz and Courmayeur. Giorgetti also mined his archive for inspiration, reinterpreting a motif into a 'trees on acid' print, inspired by the feeling of lying on the ground and staring into a tree-filled sky.
Ermenegildo Zegna
'We all are experiencing a new reality concerned with new needs, which lead us to previously unseen lifestyles and attitudes. It is precisely at a time like this, when everything is under discussion, that we, at Zegna, have decided to (Re)set,' said the Italian label's artistic director Alessandro Sartori. In a film directed by Mattia Benetti, models strode through different rooms of a luxurious, caramel-toned home – passing others playing chess, eating pasta, or reading the newspaper - clad in Sartori's organically-hued take on indoors dressing. Cashmere suits were slouchy with robe-inspired jackets, shirts were swapped for shawl collared sweaters and slippers were crafted from hand-cut jersey. Zegna's 'wfh' look is infinitely comfortable and luxurious, two essential tenets for the contemporary man's wardrobe.
Tod's
For A/W 2021, creative director Walter Chiapponi took viewers to the Villa Ronchi in Vigevano, designed by Giuseppe De Finetti in 1936, for a film starring young actor Lorenzo Zurzolo, who we meet spending seven days alone learning lines for a script. Familiar themes for today, Zurzolo muses on the notion of time and the experience of isolation during his stay, musing on the 'parallel reality' he finds himself in. As part of the film, viewers witness Zurzolo assessing different outfits in a three-part mirror, which reflect Chiapponi's take on today's relaxed yet sophisticated mood. Cue quilted jackets and overcoats, college sweatshirts and cardigans, all imagined in a subtly retro colour palette of greys and greens. The hero accessory of the collection? An XL 'T' logo shoulder bag for stowing all your shopping.
Woolrich
'Functionality, comfort, versatility' - three words that represent not only the brand DNA of the American outerwear label, but also the essentials of our clothing. Woolrich's A/W 2021 collection ticked all of our dressing boxes, with the brand presenting the three elements of its collection, 'charming versatility', 'authentic comfort' and 'iconic performance' in a cinematic film, which saw technicolour models juxtaposed against grayscale urban and rural landscapes. To encourage optimism, we'll be opting for pieces in purple, olive and burnt orange, which are rain-resistant, windproof and modular in their design.
Sunnei
Brands from Balenciaga to Gucci have got their game faces on it recent weeks, celebrating collection launches through their own interactive gaming landscape or through platforms including Pokémon Go. For A/W 2021, Sunnei got in on the arcade-inspired action, inviting fans to feast their eyes on its latest offering through a gaming format. Here, players were able to select their chosen avatar and runway look before entering a combat situation, which required throwing rubber dipped hoop earrings at their opponent. The gaming platform taps into the interactive element behind Sunnei's offering: 'Sunnei Canvas' allows buyers worldwide to adjust their orders through a digital platform, such as altering the shape, material and colour of the brand's Dreamy Shoes.
Hed Mayner
The designer - who spends his time between Paris and Tel Aviv - celebrated the performance of getting dressed, something many of us have lost touch with over the last twelve months. So, silhouettes were exaggerated and oversized, like Judo seam trousers that ruch at the ankle, double breasted jackets with large lapels and rounded shoulders and suits with dropped shoulders. For spring, Mayner's 'supple architecture' imagined in butter, rust, ivory and copper and places focus on the tactility of fabrics, including tweed, cashmere and English cloth. Standout pieces include tabards deconstructed into open front ponchos and slouchy leather boots that beckon to be tucked into with a trouser.
JW Anderson
The London-based brand tapped Juergen Teller to shoot the images for its A/W 2021 menswear and Pre-Fall 2021 womenswear collection. Shooting in Teller's studio last month, the photographer has transformed models, including actress and singer Sophie Okonedo into living sculptures, sporting exuberant and oversized silhouettes, including architectural trousers with XL side panels, long mohair tunics which tie at the waist and dresses with leg of mutton sleeves. Inspired by Dutch still life paintings, vegetables including carrots and butternut squashes are printed onto hoodies and shearling bodices are dyed bold hues by hair stylist Anthony Turner. Like the uplifting and immediately collectors' item printed matter Jonathan Anderson created last season to accompany his spring collections, the designer created a poster book of Teller's images, produced in collaboration with OK-RM, annotated by Teller himself with confusing conceptual effect, and posted it to global guests in cardboard triangular mailing tubes .
Homme Plissé Issey Miyake
Issey Miyake attracts loyal fashion fans, who once they've felt the soft folds of its signature silhouettes, opt to wear nothing else. For Homme Plissé Issey Miyake's A/W 2021 collection, the Japanese label celebrated its signature fabrics and shapes, whilst positing on how to launch them into the future. In a film directed by Kyotaro Hayashim, models moved to the rhythm of the brand's mythic pleating machines, sporting slouchy pieces in newly developed fabrics. This included trousers pleated using a fabric woven with yarn-dyed polyester which resembles the texture of tweed, printed cagoules inspired by the shapes of hand woven baskets, relaxed jewel tone pleated suits in raspberry and cerulean and shapes formed from the brand's signature pleated polyester, but in 100% recycled form.
Rick Owens
Owens chose a poignant reference to reflect the purgatorial state the world finds itself in - the Garden of Gethsemane, where Jesus prayed the night before the crucifixion. The designer always errs on the apocalyptic, peppering his collections with Biblical and pagan overtones, and his A/W 2021 silhouettes were shaped to protect its wearers from the end of days, featuring skinny ribbed knitwear with oddly shaped holes, cropped puffer jackets and religious robes reimagined as recycled cashmere sweaters and leather leggings. The collection was severe and seductive, revealing and rebellious. The most devilish of details? Models strode in tighty wighty briefs with 5 point pentagram-detail flys, paired with thigh high cow hide over-the-knee boots. He described the combination as reflecting 'unhinged male energy.' Sound familiar?
Louis Vuitton
Pioneer of democratization and diversity, Virgil Abloh has worked to change the stereotypical image of the fashion designer - white, bourgeois and working from an ivory tower. For Vuitton's A/W 2021 collection, Abloh was fascinated by archetypal characters, like the 'drifter' and the 'architect', and how we shape meaning and impression from the dress codes associated with them. In a runway film-come-music video, directed by Josh Johnson, models strode in an indistinguishable setting, resembling an airport lounge or art gallery, clad in thickly grained green marble, sporting styles that satirized definition, like hoodies and denim overlaid with tartan drapes formed from Ghanian Kente cloth, and trompe l'oeil jackets that resembled architectural models of Paris and New York.

The collection asked viewers to free themselves from definition and restriction, and Abloh drew on James Baldwin's 1953 essay Stranger in the Village, which focuses on the parallels between Baldwin's experiences as an African-American man in a Swiss village and his life in America. Saul Williams and Yasiin Bey (Mos Def) both provided spoken word overtures as part of the performance. 'Take down the walls. Deconstruct the narrative,' Williams commanded.
Dior
Kaws, Raymond Pettibon, Hajime Sorayama, Daniel Arsham, Amoako Boafo: a whole host of artists have worked with Kim Jones to bring his street-smart yet haute couture technique-celebrating vision to Dior. For A/W 2021, Jones teamed up with famed Scotland-born figurative painter Peter Doig, whose artworks were transposed onto the maison's collection, and pieces balanced the pomp of ceremonial attire with a contemporary mood. Militaristic frock coats were reworked with star motif buttons and paired with side stripe detail trousers and wellingtons, painterly jacquard camo cagoules and cargo pants were teamed with snow boots and bowler hats, and thick ribbed jumpers were pinned with twinkling brooches resembling military medals of honour. The look was luxurious yet laid back, flamboyant but with Jones' signature sporty flair, with painterly pieces imagined in Doig-esque tones, like vibrant orange and lemon yellow and moodier purples and greens.
Paul Smith
Unable to visit museums or exhibitions, Smith thought back to the subcultures that have passed him by over the last half decade of his career. His A/W 2021 collection moves through mod, skin head and punk and nods to Northern Soul, featuring an array of relaxed and refined silhouettes, from sharp four button suits in tartan flannel to ankle skimming trousers, painterly floral print overcoats to striped knitwear. Smith thought back to Northern Soul obsessives, who after a night dancing came to his Nottingham store the next morning, testing out the movability of floral Hawaiian print shirts by doing backflips. 'I used to import boxes of Hawaiian shirts from America,' he says. 'Usually 20 were good and 30 went straight in the bin.' The other references he drew on? Sharp double-breasted blazers or a 'posh person's jacket,' paisley print denim jeans and jackets inspired by 'uniform dressing for a night out' and the louche lockdown wardrobe of someone popping from home to the shops - silk pyjamas with a merlot pea coat popped on top.
Lemaire
There's always been a luxe practicality behind the Parisian label's aesthetic, which focuses on expertly crafted designs for everyday living. These tenets resonate today more than ever, and its founders Sarah-Linh Tran and Christophe Lemaire, described the brand's A/W 2021 offering as 'concise' and 'essential'. In a film which saw models including composer Jaakko Eino Kalevi and electronic DJ and producer Elena Hauff stroll round a darkened space, models walked in pared-back city essentials in organic hues, that touched on oversized Eighties suiting and utilitarian silhouettes, which could be layered and paired together in versatile ways. There were degradé trench coats, soft puffer jackets and loose tailoring, soft cardigans and multi-pocket waistcoats. Pops of colour emerged in pillar box red suits, and accessories slouched and curved around the body, like oversized cross body shoulder bags and backpacks.
Hermès
One of the benefits of brand's presenting their shows digitally, is that away from physical runways, luxury houses have approached presentation with a more relaxed ease. At Paul Smith, models smiled to the camera and at Martine Rose, we saw them carrying out everyday domestic activities. At Hermès, menswear designer Véronique Nichanian teamed up with fellow Parisian Cyril Teste of Collective MXM on a live digital performance featuring seven split screens, allowing its audience to focus on different perspectives, as models talked and mingled on the stairs of the Mobilier National. For autumn, the mood was luxurious and laid back, and silhouettes were imagined in a spectrum of rich hues from mustard to petrol blue, lime green to raspberry. Models strode in ribbed knitwear and tactile jogging bottoms, untucked shirts and workman's jackets, all imagined in the brand's signature sumptuous fabrications, from cashmere canvas to calfskin.
Jil Sander
Unsurprisingly the home has featured as a domestic setting for many of A/W 2021's presentations and films. For Sander's autumn offering Lucie and Luke Meier, transported its audience to the dilapidated interior of Château de Franconville in France, with peeling walls and crumbling ceilings, in a film shot by Stephen Kidd. The tactility of the setting reflected the textural layers in the collection, alongside funnel neck pea coats, zip-detail suiting and tartan mohair jackets, featured chunky knit sweaters and silver jewellery. The latter formed a protective layer, with circular beaded necklaces stacked over roll necks and outerwear. Even more reinforcing were the laced wellington boots in sorbet shades, layered on top of trousers.
Ernest W. Baker
In a film inspired by dream sequences, and drawing on the surrealist tropes of Wim Wenders and David Lynch, Inês Amorim & Reid Baker presented their A/W 2021 offering through using distorted filmic landscapes. The label, which has a foundation in tailoring, looked to break free from its own signature silhouettes, responding to today's need for more relaxed shapes. There was a retro riff on pieces including Western jackets and tartan flares, robe-inspired coats and crochet scarves. Amorim and Baker both live in Portugal, in close proximity to where their collections are produced, but studied in Milan together: velour cheetah print pyjamas and coats nodded to the sartorial choices of old Milanese women they spotted out on the street. For autumn, the brand has also launched a series of organic cotton t-shirts, printed with its signature rose motifs, and evolved its cowboy boot range, in shades of silver and with bourgeoise quilted detailing.
Phipps
'We started looking at ice, and then the explorer Ernest Shackleton, whose boat got stuck the ice in the Antarctic for like two years,' says designer Spencer Phipps of the starting point for his A/W 2021 collection. 'I thought that was a pretty great metaphor for where we are at right now!' For autumn, the eco-minded designer created an impressively well produced, shot on the Skaftafellsjökull glacier, which was presented as a trailer for a feature film titled 'Endurance,' which documents the threat of earth's extinction. The clothing suited to his supporting actors? Items that mashed up different clothing archetypes, like overcoats beloved of metal heads, retro Nordic knits in recycled cashmere and Seventies skiwear like long johns and onesies. Up clothes, clothing had a twisted edge, like cute band tees with glitter pink typography, emblazoned with the phrase 'Save the fucking wales'. 'Very tongue-in-cheek but totally earnest too,' Phipps says.
Dolce & Gabbana
Lockdown has allowed designers to focus on trends which are not only emerging on catwalks, but on social media, including Tik Tok - think e-boys, e-girls, cottage core, grandma core. There were elements of these subcultures present at Dolce & Gabbana's A/W 2021 runway show, which in a democratic move, was live streamed not only on the brand's own digital channels, but through online retailer Farfetch too. This was a show that reveled in ostentation and exuberance, featuring clothing that would look stupendous through a screen: glitchy Technicolour knits, oversized metallic puffer jackets, shaggy fake fur robe coats and glittering paint-splattered denim. The brand also placed focus on its tailoring heritage, showcased patchwork pinstripe suits, paired with fluffy slippers and moon boots. We expect these items to be replicated on a Tik Tok Challenge any time soon.
Kiko Kostadinov
For Kostadinov's A/W 2021 collection, the designer didn't only take 30 traditional catwalk images of his offering (a classic way to distribute collections to media outlets), but also offered a further 60 silhouettes through a 'Projection' window on his eponymous website. The decision is a reflection of the collection as a whole – one that defies parameters or linear evolution, and has silhouettes which are open to interpretation. For autumn, Kostadinov looked to two texts, Christopher Priest's 'A Dream of Wessex' (1977), which delves into a future trapped within virtual reality, and Patience Grey's Honey From A Weed (1986), which charts the author's culinary adventures of foraging across the Mediterranean. What evolved was an offering in hothouse and coastal shades, featuring spliced jackets in bourgeois French tweeds, gardening aprons, V-neck knits and utilitarian trousers. Hybrid floral silks swathed sarong skirts and suiting and uniform silhouettes were layered to striking effect.
Receive our daily digest of inspiration, escapism and design stories from around the world direct to your inbox