Scene-stealing runway sets from A/W 2022 menswear shows
A Kubrickian space odyssey at Prada; a recreation of the Pont Alexandre III in Paris at Dior; and colourful, artist-created flags at Loewe: explore the best runway sets from the A/W 2022 menswear shows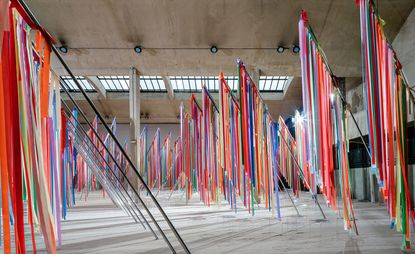 (Image credit: press)
Gilded nymphs! Giant balloons! Flagpoles festooned with rippling ribbons! The show sets of the A/W 2022 menswear runways were striking, dramatic and daring in their design. From Dior to Loewe, Prada to Hermès, brands bolstered their IRL runway presence ;with sets that, variously, evoked the illuminated spaceship tunnel of 2001: A Space Odyssey,;recreated a Paris landmark, and resembled the serene, house-dotted streets of suburban America. Here we round up the runway sets that nearly stole the show...
Best show sets A/W 2022 menswear
Dior
For A/W 2022, men's artistic director Kim Jones held Dior's show at the Place de la Concorde in Paris, but his inspiration came from a little further across the city. Inside, Dior recreated the Pont Alexandre III bridge, an icon of the city's skyline that stretches from the Grand Palais on the Left Bank to the Petit Palais on the Right Bank.
Named after Tsar Alexander III, the bridge was designed by architects Joseph Cassien-Bernard and Gaston Cousin in the Art Nouveau style, and features four 17m-high pylons. Gilt bronze sculptures of winged horses flank each pylon, representing Arts, Sciences, Commerce and Industry. The centre of the arched bridge features hammered copper nymphs, which were created to memorialise the historic Franco-Russian Alliance. These elements were recreated in gilded glamour on the Dior runway.
Louis Vuitton
The Parisian maison's poignant show featured the collection that Virgil Abloh was in the midst of designing before his death in November 2021, and which was completed posthumously by his design team. At the Le Carreau du Temple in Paris, the show set evoked a serene suburban scene; a quintessential street was lined with sky-blue 'dream houses', with red rooftops and inviting, warmly lit windows.
Abloh's first show for the Parisian maison eight collections ago featured a rainbow catwalk recalling The Wizard of Oz's Yellow Brick Road, symbolising a fairytale path about to be trodden. The emotive setting for his final, posthumous show was an emblem of a dream fulfilled, a familial location to mark a boyhood aspiration that came true.
Prada
By now, film clips of Jeff Goldblum walking onto the Prada runway from an intergalactic tunnel resembling a spaceship in 2001: A Space Odyssey have made it into the annals of viral video history. For the label's A/W 2022 show at its Deposito space in the Fondazione Prada, Milan, regular collaborator AMO created an illuminated mesh walkway, from which models strode onto a runway lit with a yellow zig-zag and lined with rows of retro brown cinema seating. The auditorium seating was a sublime set design detail, a nod to the host of A-list and emerging Hollywood actors that walked the runway, swapping the cinema for the catwalk, including Twin Peaks' Kyle MacLachlan, Moonlight's Ashton Sanders and Sex Education's Asa Butterfield.
Kenzo
For Nigo's debut, A/W 2022 show for Kenzo, the brand returned to the early 19th-century Parisian shopping arcade Galerie Vivienne, where its founder Kenzo Takada opened his first boutique, 'Jungle Jap' in 1970. Here, the runway set-up was stripped back, emphasising the mosaic-clad, corniced and gilded beauty of the location, and placing focus on Nigo's debut designs for the house, a collection rooted in authenticity, drawing on American staples and celebrating Kenzo's signature motifs, layering and mixing for a modern men's and women's wardrobe.
Etro
Italian label Etro is synonymous with the paisley print – it even has a perfume named after the pattern and a ready-to-wear collection dedicated to its signature swirling jacquard fabric creations. For the brand's A/W 2022 menswear show in Milan, the label blew up its paisley print into paintbox red, green and blue tones and created a carpet that snaked across its sizeable runway space at Bocconi University, which was lined with clear Perspex seating.
Loewe
Inside the Tennis Club de Paris, models left their footprints on sand, walking amidst Flags, Paris 2022, a rippling site-specific installation by New York-based artists Joe McShea and Edgar Mosa. This was formed from 87 faceless flags, made from nearly 4,000 individually cut rainbow-hued ribbons, which were mounted on 6.5m-long aluminium flagpoles.
The installation was a new iteration of the flag-focused works that McShea and Mosa have showcased in Ibiza and locations around New York, including Fire Island Pines back in summer 2020 and 2021. Inspired by the movement captured in Baroque frescoes and hyper-geometry, they are not intended to be symbolic, but to act as a mesmerising call to reflection. Creating a draped, fabric-focused forest, each flag was arranged randomly, and formed from shades to represent the full visible colour spectrum.
Jil Sander
Lucie and Luke Meier favour purist silhouettes, so it's serendipitous that their runway shows have taken place in religious locations, from Pitti to Paris. For A/W 2022, Sander held its show in the breathtaking American Cathedral in Paris, where stooled seating was dotted amid majestic pillars and the scene bathed in a yellow light. A giant balloon hovered about the catwalk, like a shining set above the stripped-back show set. The label's show invitation was also inflatable.
Hermès
At the Mobilier National in Paris, time-worn tapestries woven between the 15th and 19th centuries lined the Hermès catwalk. Artistic director of the maison's men's universe Véronique Nichanian was taken with the symbolism of these tactile designs and their depictions of landscapes and the passage of time, and fascinated by the idea of giving them new character by assimilating models into their backdrop.
One tapestry,Tenture des Mois ou des Maisons Royales, Avril, Versailles, commenced in 1673 and completed in 1680, touches on the months of the year, while other creations focus on humbler depictions of verdure or 'greenery'. Models became 'part of the landscape in which the collection's energy unfurls, and in which figures and clothing come into their own'.
Paco Rabanne
At the Palais de Tokyo in Paris, Paco Rabanne's show set was bathed in an otherworldly hue, which shifted in pink and purple tones, reminiscient of a James Turrell light projection. The brand's runway setting had a multi-sensorial, enveloping elan, reflecting the hues in the brand's A/W 2022 womenswear collection, like scarlett and bubble gum sequin dresses with voluminous ruffles.