In memoriam: Karl Lagerfeld (1933-2019)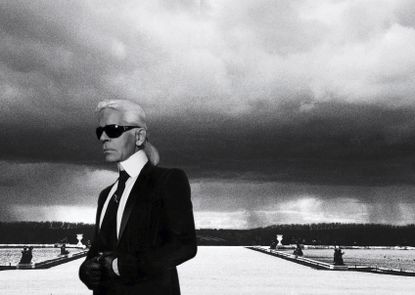 (Image credit: press)
Karl Lagerfeld has passed away at the age of 85. The legendary fashion designer was born in Hamburg, Germany in 1933. Lagerfeld was known for being at the creative helm of two leading luxury brands – he joined Chanel as creative director in 1983, and had been creative director of Fendi since 1965. A creative tour de force, Lagerfeld was a designer, illustrator, photographer, publisher and collector. He even guest edited an issue of Wallpaper* in 2009 (W*127).

Lagerfeld was renowned for his voracious absorption of literature, art and trends and his talent at filtering these influences into covetable ready-to-wear and Haute Couture collections that captured the zeitgest. Chic bouclé tweed suits and miniscule logo bikinis were both features on the Chanel runway, while at Fendi, the house was revitalised with its impeccably crafted 'Fun Fur'. Lagerfeld's white ponytail and starck personal colour preference, passion for Diet Coke and love for his cat Choupette also made him a mythologised figure in popular culture, a visage he honed throughout his career, whether toning his body builder physique, wearing a monocle, or opting for a host of silver rings and a pair of oversized sunglasses.

A student at the École de la Chambre Syndicale de la Couture Parisienne, Lagerfeld first rose to prominence in 1954, when one of his designs – a yellow wool coat with a buckled collar, won the Coat category of the inaugural Woolmark Prize. Lagerfeld's sketch was bought to life by Pierre Balmain, who offered the young designer an assistant position at his maison a year later. In 1959, Lagerfeld left to work for Jean Patou, staying at the house until 1962. After a period working as a successful freelance designer, honing his ability to design for a wide variety of brands and aesthetics, Lagerfeld began working for Gabrielle Aghion at Chloé in 1964. He moved from designing two collections for the ready-to-wear house per season, to designing its entire collections, and producing its first fragrance in 1975.
German fashion designer Karl Lagerfeld, 1984.
In 1965, Lagerfeld began collaborating with Fendi, transforming the Roman family-owned furrier and leather goods house into a major fashion world player. In 2008, he began collaborating with Silvia Venturini, currently the menswear and accessories director of the house, and the granddaughter of Fendi's founders. The two were renowned for taking a bow together at the head of the runway after every Fendi womenswear show.

Lagerfeld presented his first Haute Couture collection for Chanel in 1983. The show, presented in the rooms of the famed Rue Cambon atelier, was inspired by Chanel's silhouettes from the 1920s and 30s, and featured knee-length wool suits, wide lapel jackets, scarab-inspired jewels and ruffled organza eveningwear.

In his long tenure at Chanel, Lagerfeld was renowned for continually reinventing the skirt suits and bouclé tweeds synonymous with the house, imbuing his collections with a kaleidoscopic and humorous range of references. These ranged from surfboards, hockey sticks, or UFO-inspired accessories, to experimentation with Chanel's interlocking 'C' logo, garments inspired by feminist uprisings, the Gorge du Verdon, or airport terminals. 'I'm lucky that I can put it on paper and people can immediately see it and make the dress without asking too many questions,' Lagerfeld said of his design process in 2015. 'I don't change my mind because before I present an idea I throw 20 into the garbage bin.'


RELATED STORY
Lagerfeld gained a reputation for being not just a master designer, but also a spectacular showman. In 1978, the ostentatious wedding party he hosted for Paloma Picasso and Rafael López Sánchez, acted as a precursor to the awe-inspiring runway sets both Fendi and Chanel became renowned for. In 2007, Fendi held a show on the Great Wall of China, and in celebration of the house's 90th anniversary in 2016, it staged a runway set stretching across the Trevi Fountain in Rome. At Chanel, Lagerfeld transported guests from Cuba to Dubai, Texas to Edinburgh, and erected spectacular and cinematic show sets at the Grand Palais in Paris, resembling casinos, ancient Greece, a space station, and most recently, with a serene leaf-lined forest. Lagerfeld launched his eponymous line in 1984, and collaborated with brands including Hogan, Louis Vuitton, H&M and Vans. He also worked as a costume designer for a variety of productions and films, including 1984's Betrayal by Harold Pinter and the English National Ballet's Apollo in 2009. But it is more than just a fashion legacy he leaves behind. A passionate photographer, Lagerfeld lensed not only Chanel's advertising campaigns, but also shot a plethora of landscape and architectural images, some of which were captured in the 2007 book Konkret Abstrakt Gesehen. And in recognition of Lagerfeld's passion for image making, Chanel has partnered with Hyères Photography Festival since 2014. Lagerfeld was also an avid art and furniture collector since the mid 1970s, and sporadically auctioned pieces from his art deco, Memphis, Old Masters and French design collections. He also collaborated with both Orrefors and Cessina. Despite his monumental creative legacy, and starring roles in the stratospheric success of two of the most prolific houses in fashion history, Lagerfeld took little interest in his past designs. He preferred, instead, to look resolutely towards the future. And that is the true legacy of Karl Lagerfeld.