On tour with Pharrell at G-Star RAW's OMA-designed Raw Factory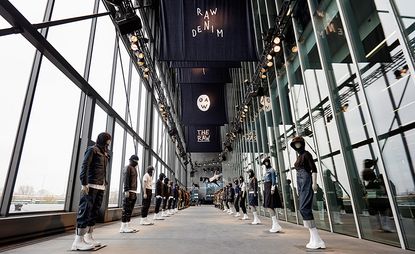 (Image credit: Courtesy G-Star )
Polymath Pharrell Williams has added another feather to his cap as G-Star RAW's new head of imagination, after becoming a co-owner of the 25 year-old Dutch denim brand earlier this year.

To celebrate the strategic partnership, last week Williams jetted into Amsterdam to greet his new G-Star family and lead a tour of the brand's impressive 'Raw Factory' HQ, purpose designed by Rem Koolhaas' OMA in 2014.

'G-Star is a brand that puts integrity and ideation first,' Williams said of his longstanding respect for the jean giant. 'Fashion is important to everyone,' he continued, 'unless you walk around naked, fashion is a reflection of what you think and feel. Period.'

With his title playfully embroidered on the back of his G-Star jumpsuit and his new office located inside a denim tepee, he added with a smirk, 'It's not a publically listed company, which means I'm not cuffed by established business practices. When I want to make a raw denim tepee we can do it!'

The superstar musician and entrepreneur first collaborated with the brand in 2014 on their sustainably minded Raw for the Oceans project. 'We feel like we have an obligation to innovate for a better world,' says chief marketing officer Thecla Schaeffer, who joined the walk about. 'When we met Pharrell we were like, "OK, let's do it. Let's make the first jeans in the world from recycled ocean plastic!"'

Together they have since produced four collections, with each utilising 10 forms of waste plastic – ranging from old lighters to Barbie heads. 'Last year we used 2 million bottles and collected 1,000 tonnes of plastic debris,' Schaeffer adds. 'The next step is integrating this Bionic Yarn into our main collection. It's a continual process of betterment.'

With a foundation rooted in functional, utilitarian design, everything at G-Star, including the brand's imposing concrete mega structure – located on Amsterdam's industrial outskirts and flanked by a freeway, car dealerships and a canal – has been designed to promote the cross pollination of ideas.

The headquarter's shifting facade was based on the blueprint of a lofty airplane hanger. The interiors have been designed to be similarly free-flowing and flexible; there are hardly any walls and the open plan, office-less workspaces promotes the seeding of new concepts.

The design core of the company is located in its basement archive stocked with over 25,000 articles of apparel, divided into key areas of design inspiration including: military, extreme weather, work wear, motorcycle gear, protective kit, knitwear and European and American sportswear from the last 50 years along with an abundance of vintage denim. Highlights range from more khaki than a military surplus store to the odd submarine escape suit. 'They are here not necessarily because garments are rare, but because they have something special about them,' says Ruud be Bruin, G-Star RAW menswear design manager.

Upstairs, the design team is busy in the denim laboratory testing new sustainable fibre mixes, washes and expanding the evolution of their famed 3D denim. The Elwood, which fuses workwear and motorcycle features, was designed in 1995 and has since sold 20 million pairs. The brand's new ergonomic denim launch for 2016 is the Staq jean, which crosses the Elwood's 3D approach with the classic chino, along with the women's 5620 Pouch that sees the jean's 5th pocket moved to a front pouch/hands-free clutch.

Always innovating, it's not just denim that's been given the 3D G-Star touch. Located within the ground floor's Raw Gallery are the brand's myriad crossover projects from a denim Land Rover to its Jean Prouvé by G-Star Raw for Vitra (opens in new tab) collection. The 17-piece office collection furnishes the workstations and meeting rooms of G-Star's 500 on-site employees. 'In the end this entire building is a prototype for the Prouvé office collection,' says director of 3D design Pieter Kool who worked with the Prouvé family to bring the range to market. 'The Jean Prouvé for Vitra sales tripled that year!' he adds proudly.

Here, financial records of the new pairing may be under lock and key, but there is certainly no lack of creative freedom, ingenuity or indeed imagination from the premises' Marc Newson designed welcome desk to the G-Star denim shark mascot that hangs from the ceiling. And as for Williams, he will be hands on in all areas of the business from its advertising campiagns to new creative collaborations.
For more information, visit the G-Star website (opens in new tab)

Photography courtesy G-Star