Stylish men's sportswear brands for channelling Olympic excellence
You might not quite be excelling at The Olympics, but these men's sportswear brands will enhance your energy, whether you're getting back to bench pressing in the gym or still lunging in your living room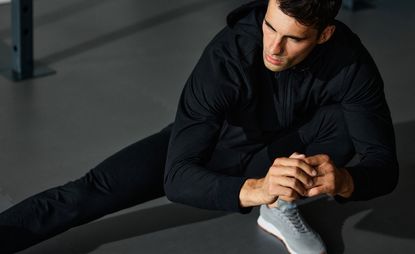 (Image credit: Sunspel)
Feel like your workout wardrobe is giving you the run around? Here, we present the men's sportswear brands that will guarantee you hit the ground running, whether you're aiming to beat your personal best or simply putting foot to pavement.
Sunspel
Fresh from its collaboration with Studio Nicholson, the British label continues to hit the ground running with the release of its first activewear collection. The offering, which assimilates the brand's classic styles, including Sunspel's Classic T-shirt, Riviera Polo and Loopback Trackset, features silhouettes imagined in 'drirelease;, a comfort fabric which performs to keep the body cool. For active wear aficiandos, look out for Sunspel's next release in November - an offering of base layers imagined in soft merino wool.
sunspel.com (opens in new tab)
Mr Porter and District Vision
Luxury men's retailer Mr Porter and LA-based holistic running brand District Vision have hit the ground running. The duo have announced the launch of an eleven-piece capsule collection of running apparel and accessories, which blend technical finishes with sartorial swerve, featuring colour blocked training tees and shorts, retro caps and sunglasses. The designs, which are breathable, moisture-wicking and have functional flourishes, including thumbholes to keep sleeves in place have been designed to enhance the practice of mindful running - a tenet of District Vision's design DNA. Synonymous with this spirt, the collaboration supports Mr Porter's Health In Mind initiative, which raises awareness around mental wellness through movement and performance.
mrporter.com (opens in new tab)
Adidas x Marimekko
Fresh from unveiling its prototype collaborative trainer design with Sillicon Valley sneaker brand Allbirds, Adidas has announced its latest link up with Finnish brand Marimekko. The label, renowned for its energetic take on prints and colours, has partnered with Adidas on its first men's and women's performance line, which features swimwear, outerwear and cycling gear, in a range of eye-catching patterns. This graphic cycling jersey has been imagined in a moisture-wicking Aeroready fabrication, made in part using Primeblue, a fabric formed from recycled plastic bottles, and has two-tone undulating print. High performance meets haute patterning for a style-meets-speed sensibility.
adidas.co.uk (opens in new tab)
Fila x MSGM
In celebration of its 110th anniversary – a milestone reveling in anticipated collaborations – sportswear behemoth Fila has teamed up with kaleidoscopic Italian brand MSGM, on a pattern and colour-splashed tennis collection. The offering, which will be showcased at the Paris Grand Slam's Roland Garros tournament, which starts on 24 May, features cloud-like tie-dye jackets and tees, in bubblegum shades and black, with a subtly retro flair. 'Fila, for me, is the tennis court,' says MSGM founder Massimo Giorgetti, of the winning collaboration. 'I wanted to give a romantic interpretation of it, echoing a cinematic world. My main inspiration for the short skirts came from Lea Pericoli, the Italian tennis champion whose fashion choices on the court turned heads in the 1960s. In visiting the Fila archives, I was surprised by how much they have done over the decades. I just had to remix and update it.' Game, set, style match.
Courser
Performance wear buffs are always on the lookout for fabrications that will enhance their activity. It's a common complaint for trainers to wear out over time, and for their toes to thin and degrade. But when it comes to the upper of Courser's designs, runners need not fear. The label's brightly toned trainers, glinting with metallic accents, are formed using a combination of buttery nubuck leather, bonded with an aerospace-originating lightweight fabric which is 15 times stronger than steel. The brand's unrippable designs, dreamt up by its fashion veteran founders and husband-and-wife duo Michael Petry and Laurie Spiro, are made in Italy, bringing a sense of artisanal luxury to the innovation-pushing silhouettes. Traditionally, a sports shoe is left to mold on its upper for less than 20 minutes. Courser's do so for 24 hours, achieving the ultimate in shape and comfort.
Pressio
Putting the sportswear industry through its paces, newly launched performance brand Pressio champions sustainable and transparent practices. Using recycled yarns sourced from the world's leading suppliers, the brand employs water-saving dye-free technologies to produce its knitted compression-focused designs, which include MAPP, a Muscle Alignment Power Print. The brand's New Zealand-born founder Jamie Hunt has a winning background, having previously founded renowned sportswear label 2XU (think collaborations with Yeezy) and raced as a professional triathlete for 13 years. Keen runners look to Pressio's All Sports and Run collections, aimed at high-intensity and endurance workouts, plus a range of swell-reducing compression socks, formed from waste Econyl yarns.
Boss x Russell Athletic
German brand Boss may be synonymous with suiting, but for spring, its chief brand officer Ingo Wilts has unveiled a casuals-focused collaboration. Boss has teamed up with American sportswear purveyors Russell Athletic – the Kentucky-based brand which invented the crew neck sweatshirt in 1926 – on an offering which features Nineties-inspired tracksuits, trainers, caps, backpacks and hoodies with a 'Boss Athletic' logo. Keen to take the collaboration further afield? Tailoring meets sportswear in an offering of relaxed suiting, which boasts a sporty side stripe detail.
hugoboss.com (opens in new tab)
Veja
It took sustainable French sneaker brand Veja four years to start competing with the sportswear world and develop its first post-petroleum running trainer The Condor. Now with launch of its sophomore design, The Marlin, the label has a new spring in its step. There's performance-enhancing punch behind the style, which is impeccably lightweight and breathable, and boasts a snug bootie tongue fit and a shock-absorbing and durable natural latex L-Foam cushion. Other eco-friendly fixtures? The upper inserts of the 'V' logo sneaker are made using Pebax – a fibre formed from 100 percent ricinus oil – which is both lightweight and supportive.