Silvia Venturini Fendi on fashion, family and the future
The third-generation matriarch of the Fendi family discusses the traditions and values that shaped her S/S21 womenswear collection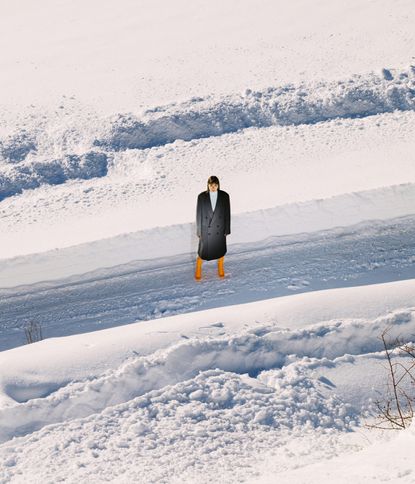 (Image credit: Stefanie Moshammer)
The most successful S/S21 collections straddle practicality and pizzazz, reflecting the requirements of our new indoor-focused world without forgetting the need for wow factor. The strongest silhouettes of the season are softer, with contours designed for ease and comfort, and just enough drama to encourage domestic daydreaming.

The fabrics that we drift off to sleep on were of particular inspiration to Fendi's creative director Silvia Venturini Fendi, who designed the brand's S/S21 collection from her home in Rome during Italy's first lockdown. 'Lace-embroidered bed linens reminded me of Karl Lagerfeld,' she says, referencing the designer who worked as creative director at Fendi for 54 years, until his death in 2019. 'He had a big collection.'

Bedding-inspired elements in the fashion collection include a loose linen shirt delicately appliquéd with silk flowers; a cushiony silk coat resembling quilted eiderdown; and a skirt formed from soft wisps of feathers. The collection has a lighter-than-air élan, imagined in freshly laundered whites and sky-blue shades, encouraging less lockdown lethargy and more cloud-nine living.
Venturini Fendi wasn't only taken with the softly protective nature of fabrics associated with the home, but with the sense of history interlaced within layers of bed linen, which are sometimes kept as treasured mementos. 'Linen is passed between generations at Italian weddings,' she explains. 'It represents values that are passed from generation to generation.'

Venturini Fendi is the third-generation matriarch of the Fendi family, whose lineage is intertwined with fashion. 'I believe it's important to talk about how values are connected to fashion,' she says. 'In my case, being raised in my family, fashion was meaningful and a special bond for us all.'

Venturini Fendi spent lockdown with her two daughters, her son-in-law and young grandchildren, and was taken by the sight of her children sporting her old dresses to modern effect. 'This encouraged me to think about how to marry the past and the future,' she says, a reckoning no doubt shared by millions across the world as the present became utterly banal.


RELATED STORY
Her focus on tradition is made more resonant by the appointment of Kim Jones as Fendi's artistic director from next season (Jones will also continue his role as Dior Men's artistic director). Lagerfeld, who had joined Fendi as creative director in 1965, invited Venturini Fendi to be part of his design team in 1994. Now, in a role reversal, Venturini Fendi will do the same with Jones, who will head the couture and womenswear departments while Venturini Fendi returns to her role of artistic director of accessories and menswear.
This spring offering is not just a symbol of sartorial need in a changed world, it's a motif of matriarchal design that has cross-generational value stitched into every seam.
INFORMATION
This article originally appeared in the March 2021 issue of Wallpaper* (W*263) (opens in new tab)