Nona Source: the deadstock resale platform pioneering circular fashion
Nona Source is giving a new lease of life to LVMH's high-end deadstock fabrics, in an attempt to encourage circular and sustainable fashion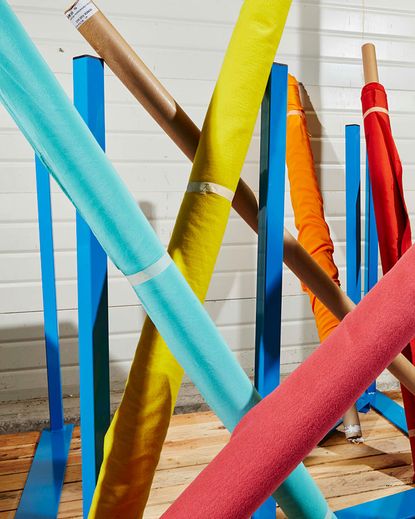 (Image credit: Florent Tanet )
Wallpaper* Newsletter
Receive our daily digest of inspiration, escapism and design stories from around the world direct to your inbox
Thank you for signing up to Wallpaper. You will receive a verification email shortly.
There was a problem. Please refresh the page and try again.
An ecological cave of wonder sits in Tours, the capital of France's Loire Valley, south-west of Paris. Its shelves are stacked with roll upon roll of exquisite fabrics: cloudy cloque in a delectable peach, a gauzy seersucker with vivid jacquard flowers, an undulating floral lace, a wool and silk Prince of Wales check in bold blues and reds. These bolts and bundles are all deadstock materials supplied by a single haute couture maison. They aren't destined to gather dust or mildew, as often happens with forgotten fabrics from a single clothing season. Instead, they are available as second-life materials to major and emerging clothing brands who are keen to use a circular economy model.

Welcome to the warehouse of Nona Source, a new sustainability-focused digital platform that resells second-life fabrics at competitive prices. Launched in April 2021, it was incubated by LVMH's entrepreneurial innovation programme DARE.
Nona Source and its model for circular fashion
'My idea was to create a platform that could connect designers with surplus fabrics or what I call "sleeping beauties",' says Romain Brabo, one of the three founders of the company, who is also its ready-to-wear industrial and operations manager. Brabo first began musing on how fashion houses' excess fabrics could be reincorporated into supply chains when working as a fabric buyer at the LVMH-owned Givenchy. In 2019, when working as ready-to-wear manager at Kenzo (also owned by the luxury conglomerate), he met Marie Falguera, the brand's CSR and material development expert, who shared a passion for 'circularity and environmentally friendly materials'. The pair met the final co-founder of Nona Source, Anne Prieur du Perray, a digital transformation manager at LVMH, as part of the DARE pitching process.
The trio's reuse and resell buying model reflects LVMH's LIFE 360 programme, an environmental roadmap that states 'creative circularity' as a priority. McKinsey's 2020 'Fashion on Climate' report estimates that today, 'less than one per cent of used products are recycled back into the fashion industry's value chain', and that 'by 2030, we need to live in a world in which one in five garments are traded through circular business models'.

'We're encouraging the creative use of existing resources,' says Falguera. 'We're also providing a clearance resource to fashion houses.' By July 2021, Nona Source had received 1,000 fabrics sourced from a LVMH-owned brand, ranging from crêpe de chine to cotton silk poplin and light Shetland wool. Branded patterns or exclusive prints were excluded from the donation. By 2022, it plans to have doubled this number.

Nona Source's main challenge was how to sell fabric – a process which often relies on in-person touch and feel and a certain level of subjectivity – through a digital platform. Through its website, designers can browse according to different categories, including fibre, weight and type; they can also search according to wear and pattern. Subcategories include viscose, shirting and textured. Nona Source has also invested in high-quality photography and film, and collaborated with material experts to represent colour fidelity and material composition correctly, so the browsing experience resembles 'feeling fabrics with your hands'.
RELATED STORY
Each fabric in every available colourway has been shot on a wooden mannequin, to highlight tone, transparency and drape. A close-up video sees these materials manipulated by hand, folded, stretched and scrunched together. Fabrics are also labelled according to the maximum amount of individual material available, ensuring brands are conscious of quantities before making purchases. A calfskin leather in rich teak is available as a single roll, while a grey diamond check jersey has a maximum quantity of seven rolls.
Nona Source doesn't just allow eco-minded brands to work using a second-life materiality model, it also gives them access to the highest quality fabrics at a reduced cost. 'This isn't about profit, it's about supporting creative communities,' Brabo says. 'We're selling materials at approximately a third of the usual price.' It's a mindset also echoed by Burberry, which announced its ReBurberry Fabric Initiative in December 2020, a project in collaboration with the British Fashion Council, donating deadstock fabrics to UK-based fashion students.

Nona Source was named after the Roman goddess of destiny who spins the thread of life. For the platform, the notion of creation today is twofold: 'We work with a paradox: you create new things, but you have to protect the planet, too,' Falguera says. Inspiring new creativity and encouraging a second-life circular manufacturing model, Nona's threads also ensure that fashion brands and designers alike are thinking of the long term.'
INFORMATION
This article appears in the August 2021 issue of Wallpaper* (W*268), now on newsstands and available for free download
Receive our daily digest of inspiration, escapism and design stories from around the world direct to your inbox