How the fashion world is championing creativity and community
Here, we present the labels innovating and creating for the greater good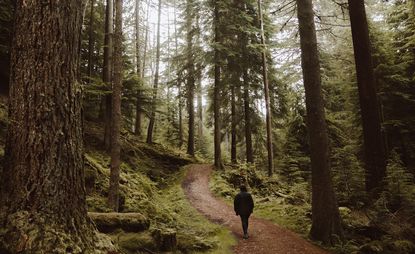 (Image credit: woolrich.eu)
As the creative industries come to terms with today's challenging times, a host of brands are bolstering their community and creative spirit, bringing both material and spiritual aid to those in need around the world.
Woolrich
Woolrich's outerwear has long equipped its wearers for the outdoors world, and now the American heritage label is doing its bit to protect the planet too. The brand has teamed up with 1% for the planet and launced the Woolrich Outdoor Foundation, which will see 1% of the brand's direct-to-consumer, e-commerce, and full-price sales dedicated to impactful environmental projects. These initiatives fall under three protective pillars: urban space renewal, protecting forests, and coastal maintenance, and Woolrich plan to donate 50% percent cash, and fifty percent in product services, volunteer hours, or advertising and communications activities to the projects. Woolrich estimates a combined total of $3M in contributions in the next three years.
Kenzo
Kenzo founder Kenzo Takada had such an affinity for the natural world that when he moved from Japan's Yokohama to Paris in 1964, he painted the walls of his first boutique Jungle Jap, with tropical scenes inspired by Henri Rousseau's The Dream (1910). Tiger motifs have long been part of the brand's design cannon, and now its creative director Felipe Oliveira Baptista has released a sophomore capsule collection intent on protecting the wild animal. The brand's collaboration with WWF sees US $10 from each of the collection's pieces donated to TX2, a pledge made in 2010 to double the number of wild tigers by 2022. The roar materials of the offering? Organic cotton t-shirts, vests and sweatshirts, all emblazoned with an abstract tiger print.
kenzo.com (opens in new tab)
Chanel
Chanel's newly launched Culture Fund is committed to a global programme of initiatives and partnerships that will support creatives across the arts in areas of innovation and representation. One element, The Chanel Next Prize, will see ten artists who working radically within music, dance, performance and the visual arts awarded €100,000 each. Secondly, Chanel has announced a range of partnerships with global cultural institutions, including The Underground Museum and LA and GES-2 in Moscow, to create new programmes that will support innovation in creative and cultural thinking. Flavia Frigeri has been appointed Chanel Curator for the Collection at The National Portrait Gallery, a role that will see the enhancement of the representation of women at the famed London landmark, when it reopens in 2023.
chanel.com (opens in new tab)
Alexander McQueen
The upheaval facing creative students at present is huge: undergraduates are weathering a pandemic, rising tuition fees and increasing future economic uncertainty. One brand hoping to make a difference to financial dilemmas is Alexander McQueen. The label has unveiled the second iteration of its fabric donation scheme, which sees the British brand's extensive archive of luxurious surplus materials, from womenswear taffeta to menswear tailoring cloths, redistributed across over twenty institutions and fashion education community projects throughout the UK.

'When times are so much more difficult for young creative people, taking action to share our resources and open eyes to opportunities has become a central in-house commitment at Alexander McQueen, which we all take very seriously,' says creative director Sarah Burton.
Givenchy at Dover Street Market
London may still be in lockdown, but that hasn't stopped Dover Street Market from designing inspiring in-store installations to uplift passers by at they stroll past its Haymarket location. Now, the renowned retailer has showcased an installation celebrating the debut collection of Matthew M Williams for Givenchy, which is available exclusively at the store. Hardware was an integral component of the collection, with Williams referencing chains and locks in his debut, and these elements are a focal point of an installation created in collaboration with British artist Ewan Macfarlane.

Here, a smiling central figure crouched on a polished metal plinth, sports a small hand mirror and a Givenchy leather jacket. Fragments of his figure are then repeated within the installation space as disassociated limbs, with wrists wearing chunky G-link lock bracelets and fingers dangling new Cut Out bags. 'The artefacts continue the idea of paying homage to an "original". Cross sections cast from the sculptures. Cut clean like digital dissections, framed, removed, isolated,' says Macfarlane of the design. If you're stationed in Central London, we suggest you stroll down for a glimpse of it.
Courrèges
2021 doesn't quite feel the year for unattainable new years resolutions, more a time to live according to positive, mood-boosting maxims. This is a mantra which Courrèges is standing by for the new year, with its recently apppointed artistic director Nicolas Di Felice commissioning two 'Courage' murals in the brand's home city of Paris, on walls in the Marais and Canal Saint Martin. The phrase also appears on the final page of the French daily newspapers Le Monde, Le Figaro and Libération. Let it allow your spirits to soar.
Tod's
In 2018, Tod's announced its innovative T Factory project, which encouraged designers from Alessandro Dell'Aqua to Mame Kurogouchi, to reinterpret its signature designs. Last July, the label also launched Tod's Academy, a talent nurturing collaboration with Central Saint Martins, allowing burgeoning students to bring new design codes to its styles. 34 young designers have been selected to give their interpretation of one of more of the Italian luxury label's design elements, from its signature pieces to its marketing campaigns, in a project led by course director of Central Saint Martins MA Fabio Piras. The final styles will be unveiled in February at London Fashion Week in a digital exhibition.
Burberry
In a bid to support emerging designers, Burberry has launched ReBurberry Fabric, a pilot programme in partnership with the British Fashion Council (BFC), which seems leftover materials donated to students most in need across the United Kingdom. The project has been launched with the support of journalists Charlie Porter and Sarah Mower, with the aim for it to be rolled out as an industry-wide programme, providing a blueprint for other brands and colleges to work together to provide practical support to future talent. 'We are delighted to work with Burberry, helping ensure students across the country have access to the best quality fabrics. Creative talent is at the heart of the industry and we are proud of our world leading colleges – being able to provide these students with such opportunities is a privilege,' says Caroline Rush, CEO, British Fashion Council.
Church's
A little aesthetically uplifting activity has helped us during today's lockdown period, so we've taken a shine to Church's shoe polishing-inspired social media challenge on Instagram. The #ChurchsChallenge, which runs until the end of May, invites opinion leaders to publish a video on Instagram highlighting their personal approach to polishing Church's timeless shoes. The brightest results will then be regrammed by the brand. What's more, all proceeds sales of Church's polishing kits – both its home and travel varieties – will be used to support the fight against Covid-19. Time to get buffing!
Dolce & Gabbana
Dolce & Gabbana celebrated the power of craftsmanship at the label's A/W 2020 show in Milan earlier this year, positioning la magliaia (knitters) and il calzolaio (shoemakers) at the entrance to its showspace. Now, the brand has launched DGFATTOINCASA - 'Made at Home' - a digital platform celebrating the power of craftsmanship during hardship. Dolce & Gabbana artisans and friends of the house will host a series of digital workshops from their homes, sharing their skills and expertise for creativity within domestic environments. Alongside, the project will support Fondazione Humanitas Per La Ricerca and Gabbana's 'Amore For Scientific Research' project, which was launched in February to aid medical research into Covid-19.
Sticker Archive
Across the UK, posters in windows have been drawn in praise and thanks of frontline NHS workers and volunteers. Now, Alex Powis of Sticker Archive (opens in new tab) and curator Francesca Gavin have found a wonderful way for us to symbolically stick together, creating a special set of supportive stickers to raise money for NHS Charities Together. A host of collaborators have produced imagery for the pack, including Adam Tickle, Arise Arise, NTS, and Peter Saville, and we recommend you paste them on your laptop, notepad and other at-home work bits, in celebration of those out there on the frontline.
Bulgari
Last month, the Roman jeweller – in collaboration with its fragrances partner ICR (Industrie Cosmetiche Riunite, Lodi), outlined its commitment to producing hydro-alcoholic gel. Bulgari has been manufacturing hundreds of thousands of 75ml recycled bottles of hand sanitizer in its Lodi factory, which has been distributed throughout medical facilities in Italy. Now, it has announced it will also be donating 160,000 units of its hand sanitizing gel to UK hospitals. 'Tackling coronavirus is a global effort. I'm grateful to Bulgari, who have turned their capability to making vital protective hand gel. They are playing their part, helping people stay safe in these challenging times, and no doubt saving lives. I salute their generosity and the part they are playing in winning the battle against this virus,' says Matt Hancock, the UK's secretary of state for health and social care.
Palace
The cult skate brand has launched 'NHS TRI-TO HELP' a capsule collection comprised of a t-shirt, crewneck and hoodie, which features a new version of its 'Tri-ferg' logo emblazoned with the words 'National Health Service.' All profits of the collection's sales will be donated to NHS Charities Together, in support of medical workers on the frontline, with pieces launching online on 1 May.
Ermenegildo Zegna
The Italian label has mobilized its production facilities in Mendrisio, Switzerland and Novara in northwestern Italy to create 280,000 protective garments for medical staff. 250,000 units will be distributed within Italy's Piedmont region and a further 30,000 pieces in Canton Ticino, Southern Switzerland. 'Each of us must do our part, in every way possible, to stop this global emergency', says Gildo Zegna, CEO of Ermenegildo Zegna.
Browns
The innovative London retailer has long had a sense of community spirit, nourishing burgeoning designers since its inception in 1970. Now, Browns (opens in new tab) has launched 'Family Affair' a digital platform celebrating a network of individuals from various creative disciplines, from image makers to activists, with bi-weekly guest editors. This week, London-based designer Charles Jeffrey, who set up famed East London club LOVERBOY, has created a series of ebullient illustrations on an iPad, which celebrate solidarity. 'When LOVERBOY was a club night, community played a large role. It was a specific group of people who all came together to not only get messy and have a good time, but also to contribute to the vision of the night and make work as a family. That really shaped me and my way of working now, and I miss how free those days were,' Jeffrey says. Stay tuned for more family-focused fun.
Live the Process
Comfort is integral to the brand's style DNA, which bridges the gap between easy daywear and sportswear. Now, the NYC-based label has announced that for every online purchase, it will donate three of its hair-staying Twisted Headbands, to female workers on the frontline. The initiative, which was announced on the brand's Instagram page has already generated excited interest, with nurses and health rehabilitation workers in New York and Seattle making comment. Live the Process' cloth headbands are thick, washable and reusable, and can be worn underneath surgical caps to keep flyaway hairs in place when most essential.
Louis Vuitton
The French maison has mobilised its production facilities in Marsaz and Saint-Donat (Drôme), Saint-Pourçain (Allier), Ducey (Manche) and Sainte-Florence, to create hundreds of thousands of non-surgical face masks, urgently required for frontline healthcare workers. Vuitton has teamed up with Mode Grand Ouest, a regional network of the textile industry which are supplying one of the main materials required for the protective item. Three hundred voluntary artisans are working across Vuitton's production facilities to cater to demand. 'As an important French House, Louis Vuitton wishes to commit at its level to producing many thousands of masks that will be distributed within the region, at no charge, to protect those who are most exposed,' says chairman and CEO Michael Burke.
Hermès
The French maison has made substantial donations to public hospitals in the Paris region. It has also mobilized its manufacturing facilities to produce essential protective supplies - Hermès' fragrance manufacturing site in Vaudreuil has already created 30 tonnes of antibacterial hand sanitizer, donated to the Assistance Publique – Hôpitaux de Paris, as well as 31,000 protective face masks, produced by the Hermès Groups' various facilities.
Alexander McQueen
Last November, the British label opened up the top floor of its Mayfair flagship, to host 'Roses' a creativity-focused exhibition exploring the visual history of the house's bloom-inspired creations. These included a swirling 3D rose dress from the label's A/W 2019 collection, and a gown from McQueen's S/S 2007 Sarabande collection, festooned with live roses which in purplish tones, tumbled onto the runway when in motion. Now, building on the concept of creative community, McQueen has launched 'Creators' a digital interactive space, allowing followers to respond to their favourite designs created by the house. This week, inspired by last year's 'Roses' show, fans are invited to sketch Burton's sublime A/W 2019 finale dress. A selection of submitted drawings will be shared on the brand's Instagram channel. Pencils at the ready!
Dior
For Dior's A/W 2019 (opens in new tab) womenswear show, creative director Maria Grazia Chiuri recruited Italian artist Tomaso Binga to recreate the 1976 'Alfabetiere Murale', a typographical alphabet with letters formed from nude portraits of Binga herself, as a tessellation of large-scale forms within its Musée Rodin showspace. Binga is infact a pseudonym, adopted by the octogenarian Italian artist and writer Bianca Pucciarelli Menna, who has adopted an alter ego to highlight the privilege awarded to male artists. This week she features on Dior Talks (opens in new tab), a weekly podcast dedicated to art and feminism, which has also featured Italian curator and Paola Ugolini and Tracey Emin. Consider it your self-isolation solace for the weekend.
Turnbull & Asser
The Royal Warrant holding shirtmaker – which created garments for British frontline troops during WW1 and WW2 – is mobilizing its UK workrooms to produce essential protective uniforms for NHS workers. A dedicated team of machinists in Gloucester are working according to social distancing guidelines, on new machines capable of producing utilitarian medical-grade scrubs. The first batch of 4000 pieces is in production now.
JW Anderson
The London-based brand has introduced JW(Q&)A on its Instagram, an interactive series, allowing fans to submit collaborators within the label's creative community, questions via direct message. First up is photographer and filmmaker Tyler Mitchell, who shot JW Anderson's recent S/S 2020 campaign, complete with energetic models skipping rope on trampolines in sorbet-shaded knitted dresses. Mitchell is taking your questions now.
Zeus + Dione
The Greek label, founded by Dimitra Kolotoura and Mareva Grabowski - the current First Lady of Greece - has, since 2012, used its brand to champion artisanal craft and heritage. Now, its founders have pledged to mobilize its optics factory to create 2,000 units of protective eyewear for Greek hospitals. These will be delivered to healthcare workers by 7 April.
Mackintosh
The British raincoat expert has mobilized its factory in Nelson to produce NHS nurses uniforms. The factory - which had originally closed and ceased clothing production - has reopened, and staff are working to create those essential items for protecting healthcare workers during the crisis.
Burberry
The British heritage label has announced a range of impressive measures to combat the deepening Covid-19 crisis in the UK. The label has committed to fast-tracking the delivery of over 100,000 surgical masks to the NHS and is also mobilizing its trench coat factory in Castleford, Yorkshire, to create non-surgical gowns and masks for hospital patients. What's more, Burberry is also funding research into a single-dose vaccine developed by the University of Oxford that is on course to begin human trials next month and is donating to charities including FareShare and The Felix Project, that are committed to tackling prescient food shortages across the UK.
Ganni
There's little chance of getting to the label's home city of Copenhagen, but thankfully the brand is curating the best of what is coming out of the city creatively straight to your mobile device. The Instagram Ganni Guide serves up a host of digital cultural treats to take in while in self-isolation, from a pop-up Face Time shop with Helle Hogsbro Krag - who designs the windows for the Copenhagen concept store Holly Golightly, to comforting domestic dishes divulged by renowned chef Frederik Bille Brahe (think chicken broth with beans and vegetables and porridge with sunflower seeds). The brand is also celebrating creative friends overseas, with a shoutout to London bakery Pophams (famed for its imaginative pastries and mouth-watering pastas), and currently delivering within a one mile radius from its Islington and Hackney outposts.
Loewe
Madrid-based brand Loewe is utilizing its Instagram account to celebrate the soothing power of craft. Dedicated to artisanal time-honed expression, the 'Loewe En Casa' series kicks off today with a live willow weaving demonstration by Galician Idoia Cuesta, who created astonishing basket designs for the brand at last year's Salone del Mobile, inspired by the structure of birds nests. In need of some weekend watching? Join live tomorrow to take in a tour of Italian jeweller and Loewe Foundation Craft Prize 2019 finalist Giovanni Corvaja's studio, and on Sunday, learn the art of Ikebana flower arranging from Watari Toru.
Boss
The German suiting expert is mobilizing its global headquarters in Metzingen, to manufacture 180,000 non surgical face masks. Created from a cotton-blend material, these can be washed and reused 50 times, and will be donated to public facilities, and used in nursing homes and in fire and police departments.
The Armani Group
Back in February, Mr Armani was one of the first to respond to the Coronavirus pandemic, presenting Giorgio Armani's A/W 2020 runway show at Milan Fashion Week behind closed doors at its HQ, without a live audience. Following significant donations to hospitals across Italy and the country's National Civil Protection Department, now the Armani Group has announced that all of its production plants have been mobilized to manufacture single use medical overalls for healthcare workers.
Bottega Veneta
The Italian label's newly launched 'Bottega Residency' platform aims to provide digital comfort and distraction during self-isolation. Each week, the #bottegaresidency will be occupied by a different collaborator or muse, across a variety of platforms, from Apple Music to Spotify, Weibo to Youtube. Expect inspirational, immersive experiences to include live music evenings, culinary how-to's from rising star-chefs and a Sunday film night with an industry insider. Kicking off the residency this week is creative director (and Wallpaper* Design Awards 2020 judge) Daniel Lee himself.
Coperni
#Makeyourownmask announced Coperni's Arnaud Vaillant and Sébastien Meyer on Instagram. 'It's very easy!' they reassured followers, 'All you need is a few pieces of fabric, a pair of scissors, thread, a needle and / or a sewing machine.' In a bid to ensure that FFP2 100 per cent protective masks are distributed to medical professionals and those most in need, Coperni have released a downloadable mask pattern – providing non-medical protection for when dashing for essentials – with an accompanying 'How to' Instagram video tutorial. 'We count on you,' their letter continued on Instagram. 'Let's be creative! Save lives!'
LVMH
The luxury giant is using its perfume production facilities to create hydro-alcoholic gel for French hospitals. Chief executive Bernard Arnault has instructed LVMH's production facilities outside Orléans to fill plastic 'CD' branded Dior cosmetic bottles with the anti-bacterial liquid, pledging to provide for the medical institution until further notice. 'The group and its Maisons are extremely proud and humble to do their part in the fight against COVID-19 and to help those whose mission it is to protect and care for others,' LVMH announced in an Instagram post last week.
Prada
Following a request for medical supplies in the Tuscan region of Italy, Prada has put its factory in Montone, Perugia into practical, protective use. Last week, it started producing 80,000 medical overalls and 110,000 masks which will be allocated to healthcare workers. Its production plan incorporates daily deliveries, which will be competed by 6 April. In the label's commitment to the crisis, Prada co-CEOs Patrizio Bertelli and Miuccia Prada and chairman Carlo Mazzi have also donated two new intensive care units to Milan's three biggest hospitals.
Sunnei
The avant-garde Italian label has opened its Instagram live function to its global creative community, enlisting artists to host a daily performance through its social media channel. So far we've seen sound artist Paolo Tocci – who creates Sunnei's show soundtracks – deliver a movement-inducing live DJ set, Milan's Insieme restaurant serving up chickpea hummus and kale chips to an Instagram audience and quirky ceramicist Onka Allmayer-Beck – who creates colourful, knobbly creations – presenting a tour of her Vienna studio.
Begg & Co
If the Scottish weavers' blankets and scarves weren't enough to snuggle into during self-isolation, Begg & Co has also launched the digital platform 'Comfort Blanket', a soothing space aimed at elevating self-care. Expect to find an online book club, tips on meditation, working from home and healthy living, recipes and a digital gratitude journal. We suggest you snuggle up and logon.
Salvatore Ferragamo
The Italian label has kickstarted a host of initiatives. Firstly, it is committed to producing and donating 100,000 TNT anti-bacterial masks, 3,000 FPP1 and 50,000 bottles of anti bacterial gel to healthcare units across Tuscany. Secondly, it is offering up some mental respite during self-isolation, with 'Trivia' a digital project across its social media channels dedicated to the illuminating history of the label. The brand's founder was remarkably creative during hardship - during WW2 he swapped scarce materials for tree bark, raffia and cellophane used in chocolate wrappers. Tune in to 'Trivia' each Wednesday and Saturday until April 4 for quizzes and anecdotes. You might just find some fodder for your next online Zoom quiz night.
Christian Siriano
'If @NYGovCuomo says we need masks my team will help make some. I have a full sewing machine team still on staff working from home that can help,' said NYC designer Christian Siriano on his Twitter profile in late March. Using deadstock poly-lycra-cotton blend fabric, Siriano is creating non-medical grade masks for residents of the hard hit city. The label has already produced thousands, seen in stacked piles in the designer's gown-lined studio on Instagram, and shows little sign of slowing down.
Hackney Mask
'It was a natural step for me to start thinking about what I could do using my skills as a fashion designer,' says London-based J JS Lee who – after making an essential face mask for herself due to an underlying health condition – has begun producing them for those in need. Hackney Mask incorporates generously donated deadstock fabrics, creating shells from merino wool, which can be purchased alongside antibacterial filters. These are being donated to those most in need and can also be purchased through the initiative's online shop.
INFORMATION
bottegaveneta.com (opens in new tab)
beggandcompany.com (opens in new tab)
coperni.fr (opens in new tab)
hackney-mask.myshopify.com (opens in new tab)
lvmh.com (opens in new tab)
sunnei.it (opens in new tab)