Paris Fashion Week Men's A/W 2022: Louis Vuitton to Loewe, Dior to Hermès
In this extended report, Laura Hawkins reveals 9 highlights from Paris Fashion Week Men's A/W 2022. Including: Virgil Abloh's final collection for Louis Vuitton; Rick Owen's riff on sleaze; elfin-inspired accessories; and a celebration of slouch and surrealism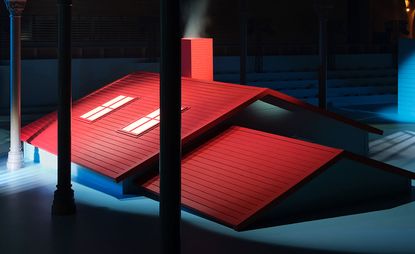 (Image credit: press)
Mid-pandemic and post-Brexit, most of us have become far more familiar with the ins-and-outs of our postal service. Bouts at home have led to an appetite for online purchases, a new allure in Amazon Prime and the fleeting adrenaline rush of opening an anticipated parcel. It's a fitting metaphor for our times that Glenn Martens held Y/Project's A/W 2022 show at Paris Fashion Week Men's in the cavernous warehouse of a DPD depot, where delivery vans could be seen lined up, ready to roll out packages to Parisian homes, straight from the catwalk.

Louis Vuitton's A/W 2022 show – the final chapter of men's artistic director Virgil Abloh's bildungsroman – had more of a fairytale flourish, with the label erecting a quintessential surburban street lined with sky blue 'dream houses', with red rooftops and inviting, warmly-lit windows. Virgil Abloh's first show for the Parisian maison eight collections ago, featured a rainbow catwalk recalling The Wizard of Oz's Yellow Brick Road, a symbol of a fairytale path about to be trodden, traced by not only Abloh's footsteps, but those of his diverse collaborators. This emotive setting, which showcased Abloh's final collection for the brand, completed by Vuitton's design team after his tragic passing in November 2021, was an emotive emblem of a dream fulfilled, the final familial location of a boyhood dream, which ended with him joining one of the world's most prestigious luxury brands. And it was journey marked over eight collections by coming-of-age symbols: a bouncy castle, a build-your-own-kite kit, a paper aeroplane.

Elsewhere, influences on the A/W 2022 menswear season in Paris were encyclopedic, including surrealism and sleaze, New Wave cinema, and chronophotography. But the city was not exempt from the complications suffered by the schedules at Pitti and in Milan, in the wake of rising Omicron infections in Europe, with the week in the French capital being marked by a quieter presence, with collections presented both physically and digitally. Still, the season saw the first Paris runway show of London designer Bianca Saunders, and welcomed womenswear shows from Paco Rabanne, Y/Project and Alaïa. Despite the circumstances, a swathe of A-listers were still in attendance - just look to the front row of Nigo's debut show for Kenzo, flanked by Pharrell Williams, Tyler, the Creator, Ye and Julia Fox. Over the week, they were treated to Rick Owen's riff on sleaze; elfin-inspired accessories; and a celebration of slouch and surrealism. And in this special report, we've collected the very best highlights from Paris Fashion Week men's A/W 2022.
Paris Fashion Week men's A/W 2022: 9 key takeaways
1. Embrace the eclectic
There was plenty of room for personal interpretation on the A/W 2022 catwalks, as designers embraced eclectic flourishes and finishes. At Acne Studios, founder Jonny Johansson took inspiration from a cartoonish floral button, the foundation of the brand's collection, resulting in a fancy dress box of designs, like sequinned shirting and textural abstract knits, patchworked trousers and crushed velvet blazers. For Bluemarble's Anthony Alvarez – who presented his debut show on the Paris schedule – the New York-born designer, who has Fillipino, Spanish and Corsican heritage, went on a whistle top world tour, drawing inspiration from the sails of Filliipino vinta boats, and seeming to stop off at skateparks, snowboarding runs and hippy trails. Models sported a mix of bright patchwork jackets, tie-dye track tops, frilled pyjama shirts, and baggy jeans, worn with fake fur-sprouting slip-ons, pointed knitted hats and reflective sports sunglasses.
2. Make mine a large
If Milan Fashion Week Men's made a case for large-scale silhouettes, Paris pumped up their proportions. Tel Aviv-based Hed Mayner was taken by 'capricous' silhouettes, that provide space between the wearer and clothing, the wearer and us. A fine grey chalk stripe double-breasted blazer, with voluminous slouch-shouldered proportions, was paired with a slim trouser, and a puffy, pointed-lapel tan leather coat layered with pants which would pool on the pavement. Technical ponchos offered tent-like protection. And quilted Liberty print scarves swathed the body.
3. Swat up on your cinema and surrealism
'Going along the streets of Nottingham, a rather dark town, I was struck by this really bright Jean-Luc Goddard film poster,' explained Paul Smith, in a collection preview of the cinematic New Wave tones that inspired his A/W 2022 offering. The designer – who presented a live collection film, streamed from Paris' Chamber of Commerce – thought back to the directors that inspired him in the Sixties, referencing not just Goddard, but Fellini and François Truffaut. 'With Goddard, you might have a shot with no colour, juxtaposed by a red balloon,' Smith said of the bold Technicolour that peppered the collection, which featured raspberry tailoring, glitch-print bowling shirts and checked outerwear. A chevron motif, seen in quilted coats and intarsia knitwear, nodded to the zig-zag floor in David Lynch's Twin Peaks, while outerwear silhouettes evoked the 'Director's jackets' that Smith used to sell in the early Eighties. Smith even created his own Hollywood starlet print - featuring the visage of a woman tesselated across overcoats and shirting.
'What is real today? Perfection is fabricated, imperfection is erased, illusion and displacement are the coordinates,' read the opening lines of the Loewe press release – which accompanied a collection that riffed on 'nonsensical' silhouettes, twisted, shrunken and surrealist shapes, and dramatic reinterpretations of archetypal wardrope pieces. T-shirts and shorts protuded with hula-hoop proportions; transparent coats, seemingly made of rubber, were imagined in see-through leather, or featured an imprint of a buttock in golden paint; outerwear was punctured with metal sink strainers; t-shirts and body suits were printed with trompe l'oeil figures. The onset of the Covid-19 pandemic has certainly catalysed questions regarding reality, as many of us have hunkered down inside, spending more time online, honing our digital personalities. And at Loewe, things are not what they seem. A Flamenco bag has a bottom formed from a conch shell or is shaped into a slouchy boot. Jackets are worn as shorts, knitted roll necks are rendered impossibly impractical, with inbuilt gloves swathed in dangling streamers.
4. Elf yourself!
Admitedly, an unexpected accessory trend on the Paris catwalks was unveiled: an intriuge in elf-like footwear. At Acne Studios, this came courtesy of beaked toe fishing boot. Ditto seen at Y/Project, with the brand's signature slouched thigh-high boots finished with a gently curling toe. Hed Mayner also made a case for a gnomic buckled shoe. Yes, a literal toe-curling trend.
5. Take note of tapestries
At the crux of Virgil Abloh's design DNA was a desire to reframe codes and symbols, bring new value to cultural, social and political signifiers, and design with a boyish charm, untampered by adulthood. For his final A/W 2022 show for Vuitton – Abloh had sought to bring new life to two paintings, The Painter's Studio (1855), by realist Gustave Courbet, and 1914's Souvenir d'Italie by surrealist Giorgio de Chirico. These were translated into rich tapestried silhouettes, like trenchcoats, cargo pants and hoodies, in an aim to cement Abloh's continued exploration of 'originality, provenance, reference and self-reference'.

Hermès' Véronique Nichanian was also taken with the symbolism of tapestry, staging the French maison's A/W 2022 show at the Mobilier National in Paris, against a series of resplendent wall hangings. She was fascinated by the idea of giving them new character, by models assimilating with their backdrop, becoming 'part of the landscape in which the collection's energy unfurls, and in which figures and clothing come into their own.' Against these tapestries, Nichanian created dandyish silhouettes, more rooted in a modern elegance and authenticity than dandyish figures of the past, typified by Beau Brummell or defined by Baudelaire, sporting trenchcoats in crispy technical canvas, printed silkscreen printed blousons, compact cotton serge cargo pants and driving jackets in Porosus crocodile.
6. Collaboration is key
In his exploration of archetypal silhouettes, Y/Project's Glenn Martens has reinterpreted the classic designs of a host of brands, including Ugg, Fila and Canada Goose. On the A/W 2022 runway, the brand unveiled its latest collaboration with Jean Paul Gaultier. The latter has enlisted Martens to explore his famed silhouettes, a profject which has already seen Sacai's Chitose Abe take up the roving seasonal creative director role. Martens transformed the cult trompe-l'œil prints from Gaultier's S/S 1996 collection (the original body illusion pieces pop-up on 1st Dibs and Vestiaire Collective), which have become cult items in Gen-Z's obsession with Nineties fashion, into figurative nipple and bare-chest revealing vests, dresses and tailoring.

Dior also added another hotly-hyped accessory to its collaborative cannon, in its team up with Birkenstock. The latter German footwear brand, which in recent years has celebrated sellout '1774' collaborations with luxury brands like Jil Sander, Valentino and Proenza Schouler, unveiled new styles on Dior's catwalk, riffing on the signature Boston and Tokio mule. Dior's haute grey and black styles in suede and felt – which complemented the comfort-focused hues in its A/W 2022 collection – have a robust rubber upper, industrial hardware buckle and feature delicate floral embroidery. After all, Monsieur Dior himself was famously green-fingered.
7. A lightbulb moment
Paint tin bags at Louis Vuitton; totes made from framed still life paintings at Casablanca; sink basket details at Loewe: everyday items were used to transform A/W 2022's silhouettes. Rick Owens had a lightbult moment, looking to the illuminated installations of American minimalist artist Dan Flavin, creating antler-like demonic headpieces, which also nodded to the helmets of Ancient Egyptian gods, and illuminated the designer's take on male sleaze. Owen's idiosyncratically dark collection, which looked to the underbelly of the male pysche, featured torso-exposing industrial chanmail vests, ballooning padded gilets that turned into face-concealing balaclavas, strong Pagoda-shouldered jackets and glam rock platform boots. The look was heavy and hardcore, riffing on draped Couture shapes and sportswear, a decadent dive into Owen's apocalyptic aesthetic.
Our physical lives have become inextricably linked to the digital, and it's a point that JW Anderson illuminated at Loewe, with silhouettes that shone on the runway with LED lighting. Body suits, wool coats and trenchcoats twinkled with fairy lights, the sleeves of double-breasted coats were illuminated with a warm glow, and conch shell accessories shone with light. Illumination was projected from the body, like a phone constantly lighting up with notifcations from a pocket.

Homme Plissé Issey Miyake was also inspired by illimunation for autumn. With a collection film, directed by Kyotaro Hayashi, the Japanese brand looked at the structure of a tent as its inspiration. One element of the offering, 'Lantern', presented pastel-drawn printed silhouettes inspired by a bulb glowing from inside a tent, featuring ponchos and relaxed suiting with abstract patterns in orange and ocean blue.
8. Wave 'hello' to womenswear
9. And...relax!
There was a sublime softness to silhouettes on the A/W 2022 runway, with brands taking some of that working from home hygge into the upcoming season. At Dior, Kim Jones looked to the lineage of Monsieur Dior – whose birthday on 21 January was the same date as the brand's show – bringing a sublime insouciance to its founder's famed 1947 Bar Jacket silhouette, imagined in seemingly chalk-etched tweeds, Prince of Wales check and even stone-wash denim. Jones also celebrated the maison's most loved hue – trianon grey – and teamed pared-back tailoring with slouchy trackpants in grey marl, chocolate and snowy white. The brand's Birkenstock collaborated cemented the collection's laid-back, luxurious lilt.

Jil Sander also used the word 'comfort' to describe its A/W 2022 offering, a luxurious, fabrication-focused collection, featuring enveloping suede and Japanese wool coats which secured around the waist with silk scarves, or swathed the body in mohair leopard print and striped tweed. Lucie and Lukie Meier employed artisanal flourishes, accenting tailoring with scarves and soft vests in floral crochet velvet and bringing flashes of bold colour in orange and turqouise.
Receive our daily digest of inspiration, escapism and design stories from around the world direct to your inbox