Paris Fashion Week S/S 2022: Loewe to Chanel
Fashion Week returns to form in the French capital. Here is everything you need to know about Paris Fashion Week S/S 2022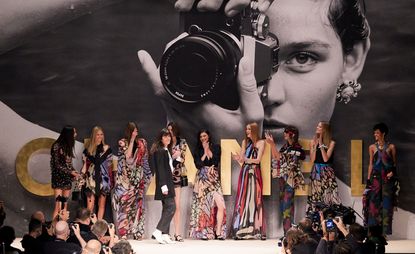 (Image credit: press)
The whistle-stop tour around fashion's major cities, New York, London and Milan continues. Paris Fashion Week kicks off with nine days of digital and IRL presentations, from behemoth brands including Dior and Chanel as well as upcoming talent, from Thebe Magugu to Kenneth Ize. It also culminates with a show dedicated to the late, great Alber Elbaz, featuring pieces celebrating the legacy of the fashion designer, by brands including Loewe, Louis Vuitton, Valentino and Comme des Garçons. As the city hosts the first major ready-to-wear season in 18 months, we present all you need to know about the S/S 2022 womenswear shows as they happen.
AZ Factory Love Brings Love
Paris Fashion Week closed with a moving tribute to the late Alber Elbaz, who passed away in April 2021. The spectacular show saw 45 of the world's leading fashion houses create homages to the designer, who was famed for his exuberant, colour-inflected silhouettes that celebrated the female form. Among those honouring Elbaz were Valentino's Pierpaolo Piccioli, Alexander McQueen's Sarah Burton, Viktor & Rolf, Dior's Maria Grazia Chiuri, Simone Rocha, and Bruno Sialelli, the current creative director of Lanvin, where Elbaz was creative director from 2001 – 2015.
The show, inspired by Théâtre de la Mode, a 1945 Parisian exhibition that brought together over 60 French couturiers, closed with a series of looks created by Elbaz's AZ Factory design team, featuring asymmetric silhouettes, voluminous ruffles, taffeta, soft satin, floral prints and an opulent and celebratory sense of frivolity and flou. As the show ended, Amber Valetta was illuminated by a spotlight, standing alone on the runway, wearing a suit, overcoat and velvet bow tie, a moving tribute to Elbaz's preferred uniform, and his longevity as a much-loved, much-missed designer, friend and fashion force.
Louis Vuitton
Time as we knew it, fast-paced, frenetic, whirring on a hamster wheel, ground to a halt last year. It's a concept that has long fascinated Nicolas Ghesquière, who approaches fashion like a century-spanning archaeologist, mining the past to create silhouettes that are always on point in their contemporaneity. For S/S 2022, Vuitton took guests to the ornate chandelier-lined Passage Richelieu in The Louvre, where models (plus an Extinction Rebellion protestor) walked down an ornate carpeted runway, ricocheting between the past and present, sporting pannier-proportion dresses embellished denim, frothing ruffle-collar capes, and chainmail dresses. Ornate sunglasses recalled spectral masked balls, satin tuxedo jackets and lace gowns hinted at parties past, and utilitarian khaki, leather and sporty footwear signalled the present. Huge chandeliers illuminated the wisps of the past that invoke Ghesquière's present, and allow him to forge, as ever, into the future.
Miu Miu
Fancy fooling about with your body parts on the office photocopier? Miuccia Prada just provided the perfect mini skirt to do it in. For S/S 2022, the designer offered up a range of corporate-focused uniforms with a twist: kilts spliced with scissors, sported with belted bandeaux, boyish low-slung chinos layered with ubiquitous cable-knit jumpers and blue shirts, sweaters traditionally saved for the gym or slouching at home, swathed with glamorous appliqué. Here, Miu Miu posited on the uniforms that, for many of us, have been missing from our wardrobes for so long – the kitten heel, the New Balance workout trainer tucked into a handbag, the versatile wool coat. Where, like many designers Mrs Prada made a case for body revealing forms – the flash of the navel, the micro mini skirt, the honing in on the hip bone – she also subverted notions of femininity with androgynous, boyish silhouettes, sure to get many Miu Miu menswear fans praying for its rebirth.
Chanel
As resale continues its rise, so the popularity of vintage Chanel pieces – 'CC' logo swimsuits from the 1990s, novelty-shaped accessories – continues to rise. Millennials and Gen-Z shoppers are only too happy to sift through pages of product to find the Chanel design they've lusted after, whether looking at archive catwalk shows or fashion images. It was with timely energy, therefore, that Virginie Viard served up a S/S 2022 show that recalled the optimistic, spontaneous and upbeat exuberance of catwalk extravaganzas in the 1980s, complete with a raised runway, flashing lightbulbs, photographers shooting delightedly at the end of the catwalk – in this case Inez and Vinoodh – and models swirling, twirling and pouting down the runway to Christine and the Queens' atmospheric take on George Michael's 'Freedom'.
The clothes were bold, sexy, sugary and celebratory: cheeky Chanel swimsuits paired with glittering mesh skirts, thong silhouette tweed skirts teamed with sporty crop tops, patent cut-out dresses, capes in flowing butterfly-motif chiffon. Swathes of 'CC' logo costume jewellery, camelia corsages, metallics, multicoloured tones, bags shaped as perfume bottles and vanity cases. Po-faced editors perked up and, for S/S 2022, your wardrobe will too.
Akris
Albert Kreimler's grandmother – the matriarchal founder of Swiss house Akris, which turns 100 next year – began creating aprons in 1922, pieces which were imagined in a variety of fabrics, and worn protectively over clothing. This shape was the central focus of the brand's spring offering, which translated the apron form into lean halterneck dresses, graphic knitted wrap skirts and trench coats. The label's subtle trapezoid motif was tessellated across fuchsia cotton dresses and reinterpreted as a retro futuristic motif, while panoramic vistas of the Swiss countryside – where Kreimler used to walk as a child with his grandmother, were presented as scenic photo prints.
Ludovic de Saint Sernin
Lashings of woven leather, laddered diamanté chainmail and denim, skin-revealing slivers of jersey, lace-up corsetry details: the silhouettes and forms in the Ludovic de Saint Sernin's characteristically outré collection are not for fashion's faint-hearted. The designer's take on sensuality subverts gender norms and conventional dressing codes and celebrates bold, body-baring seduction. For S/S 2022 – a season where skin has been a central focus – de Saint Sernin brought an insouciant ease to ostentatious dressing, sure to be a hit at sandy beach parties in Ibiza, pairing woven leather bodices with relaxed elasticated trousers and draping transparent shirting so it falls from the shoulder. Models strode down the catwalk sporting thong-silhouette briefs and flame motif-emblazoned boxer shorts – the bare bottom was also a surprise focus on the Andreas Kronthaler for Vivienne Westwood catwalk.
Paul Smith
'It's nice after the horror of the Covid-19 pandemic, to have a personal presentation face to face,' Paul Smith told a small audience at his brand's Rue des Archives HQ in Paris, where he forewent small S/S 2022 appointments in favour of a high-production fashion show. Here, the designer talked guests through a confident and optimistic collection, featuring the brand's signature tailoring, from androynous tuxedos and mannish Prince of Wales check suits, to stripe pyjamas and column dresses that celebrated the designer's signature colourful stripe motif. Bright sunflower prints referenced the golden fields that line Smith's Tuscan summer home, suiting was given casual flair when paired with polo shirts and ties, and Smith's past life as a competitive cyclist was alluded to in sleek biking vest silhouettes.
Lanvin
Cartoons: a surprise micro-trend on the S/S 2022 catwalks. Just look to The Simpsons at Balenciaga and Catwoman and Batman leading the way at Lanvin. Here, Bruno Sialelli brought a superhero-tinged, relaxed glamour for spring, for a men's and women's collection that mediated between streetwear and all-out ostentation. Lanvin's Marguerite motif translated into a Pop daisy print, swathed across body-con dresses, cycling shorts and crop tops; baby doll dresses were imagined in pastel silks; skater shorts ruffled with glittering tinsel; and relaxed suiting boasted figurative Batman prints.
Balenciaga
Balenciaga literally rolled out the red carpet for S/S 2022 with a show-cum-film premiere at the Théâtre du Châtelet, which saw hundreds of screaming fans stop traffic in the pouring rain outside the show venue, and the ever-innovative brand rip up the rulebook in terms of runway show convention, rollicking between the worlds of fashion, television and technology. Here, guests, whether journalists, buyers or A-list celebrities, including Isabelle Huppert, Cardi B and Elliot Page, entered the venue by walking the red carpet, a paparazzi-lined procession that was, in turn, screened to the accumulating audience inside.

Balenciaga's 'Red Carpet' event became the show itself, as friends of the brand also rocked up sporting its latest collection: hyperbolic evening gowns exploding in ruffles, oversized sportswear, and severe tailoring. As models seated themselves amongst the guests inside the theatre, the French maison treated the audience to a screening of a Balenciaga-focused episode of The Simpsons, featuring its stars hot-footing from Springfield to Paris and sporting the brand's idiosyncratic pieces on the runway. Riotous, rebellious, innovative, experimental, a performance seamlessly moving from fashion into other forms of entertainment. This is post-pandemic thinking at its finest.
Hermès
No one cemented the sense of escape served up on the S/S 2022 catwalks more than Hermès, which had a private plane land on the tarmac of its Le Bourget airport show location, an hour from Paris. Nadège Vanhee-Cybulski also worked with French artist Flora Moscovici, who created a series of 6m-high abstract panoramas, drenched in sunset tones, which moved as models navigated a circular show space, sporting easy but infinitely luxurious summer silhouettes: athletic crop tops worn with cross-hatched wrap skirts, halter-neck dresses and boiler suits, all in the softest leather, buttery caramel, black, mustard and yellow.

The S/S 2022 shows have seen brands navigate the physical and digital realms. Cue Moncler MondoGENIUS, which staged a physical event in Milan, hosted by Alicia Keys, and live-streamed films, circulated on billboards in cities around the world. Here, Hermès' show was streamed live worldwide and also broadcast on giant screens in several cities with their own Moscovici-created scenographies, including Busan, Kanagawa, New York, London, and Abu Dhabi.
Issey Miyake
Even Issey Miyake can't resist the allure of something a little sexy. The swimming costume silhouettes and rippling and circular shapes in the Japanese label's S/S 2022 collection – showcased via a film directed by Yuichi Kodama – were inspired by a tranquil descent into the ocean, one synonymous with seductive, fluid forms that undulate around and flatter the body. Spring saw the introduction of a new suite of innovative fabrications, including Fluidity Loop, a spiral-shape material in a two-tone weft that wrapped around the body in skin-revealing slivers; Wavelet, an elasticated fabric dyed to create ripples; and Swimming, a prismatic fabric in bold cerulean, magenta and slime green, that drapes around the body in fluid waves
Valentino
Creative directors are keen to reconnect with their audience on a personal level, after all these months of separation. Case in point, Gabriela Hearst greeting her guests at post-show drinks at Chloé, and Valentino's Pierpaolo Piccioli saying personal hellos to the audience gathered for the Roman brand's S/S 2022 show, which took over the restaurants, flower stalls and cafés at the marketplace Carreau du Temple, and saw guests enjoy a chat and a tipple afterwards.

Valentino's kaleidoscopic, densely embroidered, beaded, taffeta-swathed, sequined and feathered vision of the future for S/S 2022 also took note of its past, as Piccioli launched the Valentino Archive project, which featured silhouettes from the brand's illustrious past, like a white beaded dress worn by Marisa Berenson or high-waisted denim inspired by 1980s silhouettes. Piccioli's reinterpretation of the brand's ubiquitous Rock Stud accessories was also centre stage, with gladiator sandals and miniature bags swathed in XL pyramidal 3D studs.
Loewe
A Renaissance painting by Pontormo, depicting the 'whirling dance of the grief stricken' formed the starting point to Jonathan Anderson's S/S 2022 offering for Loewe, a collection of distorted, twisted, purist and surrealist silhouettes that emerged from a sparse pine-lined show space. Lean jersey dresses protruded with architectural forms, golden breastplates bulged from the décolletage, clipped onto deconstructed trench coats, or clipped into ribbed jersey, taffeta bandeau tops had voluminous proportions, denim was draped in ruffles, sculptural capes cocooned the body. 'I wanted something neurotic, psychedelic,' Anderson explained post show, seeing S/S 2022 as a post-pandemic new chapter for the Spanish house, revelling in sensuality, a Richter-inspired notion of the blurring of form, a sense of kitsch.
Anderson was also fascinated by notions of presentation, stripping back Loewe's new show space of 'bits and bobs', to 'resemble a blank piece of paper', allowing his silhouettes to take centre stage. Usually our eye is drawn to the end of an outfit, but here Anderson had models emerging from a trap door in the floor of the show space, head first, in a monastic procession. 'The silhouettes emerge,' he explained. As always, a surrealist surprise was in store. As the eye finally landed on the feet of Loewe's models, they sported stilettos with surprise heels, resembling bars of soap, a birthday candle, a red bottle of nail varnish, a cracked eggshell.
Rokh
Debutante drama and deconstruction. There was a gamut of glamour on show at Rok Hwang's S/S 2022 show, one which saw the designer take his brand's signature deconstructed silhouettes – synonymous with trench coats and tailoring – and present them alongside garments inspired by formal evening gowns. Hwang was inspired by 'creation of random identities', decoding shapes and reinterpreting them; evening dresses were reimagined as an upside down skirt and corset and paired with tongue-in-cheek accessories like elbow-length gloves and ostrich feather-trim cuffs. The designer also looked back to his time at Central Saint Martins, and his penchant then for PVC, using the fabrication in strapless gowns and voluminous skirts.
Raf Simons
The first major physical shows since the Covid-19 pandemic began have allowed designers the chance to entangle the style questions that have stuck over the last 18 months. Will we still wear heels? The answer is a resounding height-boosting yes. Will we embrace the body after lockdown's layers? Oui! Will we return to the gender-restricted conventions of office wear? Raf Simons suggests men get back to the boardroom in a slouchy jacket and dress. The designer's men's and women's offering subverted gender norms, delivering purist and oversized silhouettes, like back to front shirting paired with prim pleated skirts, rose print MA-1 jackets layered with knee-skimming dresses and Fair Isle knits teamed with kilts. The future for Simons isn't constricted by convention. Nor are the youth-focused shoppers who'll snap up these pieces come spring.
Chloé
Gabriela Hearst's first physical show since the Uruguay-born designer was appointed creative director of the French maison in December 2020 was held on the banks of the River Seine – open-air, in the heart of a city slowly returning to life – and was viewed not just by guests but delighted passers-by too. Post-show, Hearst also served up casual drinks and nibbles, mingling with and getting to know her new IRL audience, a symbol of integration and democratic intention. Community is pivotal to Hearst's new vision for Chloé, one which has always maintained a bohemian spirit. S/S 2022 offered the chance for her to launch Chloé Craft, an initiative dedicated to artisanal independent design, with a spiral as its symbol, and celebrate her inspiring dedication to sustainable and ethical initiatives and charitable causes.
Just a few noted details: 50 per cent of the S/S 2022 collection uses low impact fabrications; silhouettes incorporate deadstock fabrics and embellishments; the brand is slowly transitioning from cotton to lower environmental impact linen; and the soles of its footwear are produced in collaboration with Ocean Sole, a social enterprise that upcycles flip-flops that have been washed-up along the beaches and waterways in Kenya. True luxury today lies in brands closely analysing every manufacturing footprint in their business. Chloé's tread is one to follow.
Rick Owens
Plumes of smoke billowed from the courtyard of the Palais de Tokyo, where Rick Owens returned after 18 months of showing at the Venice Lido, near his Italian home. Like many brands, Owens was conscious of returning to the show season with a new sense of aesthetic or cultural understanding (his pandemic shows have posited on how we respond to ongoing apocalyptic upheaval), stating that S/S 2022 reflected on the 'pursuit of beauty'. His cultish troupe of models, led by Michèle Lamy, marched resiliently in cocooning, sculptural, Madame Grès-inflected pieces: organza gowns with fluted necks, layers of laddered mohair knitwear, structured like spider webs, Delphic draped gowns, all worn with armour-like platforms that buckled up to the thigh. Owens won't be a designer to block out the trauma of the Covid-19 pandemic: two female models stood from up high on the balcony of the Palais de Tokyo, scattering dried jasmine leaves into the air, collected from the ground of Owens' Venice Lido home, acted as a symbolic reminder of his design output during lockdown.
Coperni
In a nod to the fun-filled, optimistic future we're all fixated on, Coperni's Arnaud Vaillant and Sébastien Meyer named their S/S 2022 collection '2033'. Cue a decade's worth of escapist, utterly contemporary silhouettes – vibrant, insouciant and revealing slivers of skin – suited to sun-soaked adventures and hedonistic pursuits. Bikini tops paired with cargo pants and deconstructed tuxedo jackets, spandex neon rash vests sported with mini skirts, metallic bodysuits and body hugging rave print dresses teamed with thong sandals and Western boots. Glittering tribal print fabrics, retrofuturistic florals, sheer sequined crochet and clinking mother of pearl paillettes. The Coperni girl is not just giving it all for spring, but for the next ten years too.
Acne Studios
Experimentation was at the forefront of Acne Studio's S/S 2022 collection, one which revelled in juxtapositions and contrasts, fusing artisanal flourishes with futuristic silhouettes. Punky leathers and checks were paired with feminine chiffon and delicate knit and crochet: buckled mini skirts were teamed with sheer crop tops with curling hems and girlish bonnets; patchwork leather trousers were sported with transparent shirts; and distressed moto jackets were layered with short dresses and heeled boxing boots. The mood was maximalist and rebellious, skin-flashing and fierce, playing with lingerie details like corsets and suspenders and classic silhouettes like skirt suits and wrap dresses. 'The look is provocative and hard, yet is grounded in handcrafts that are then subverted,' said Jonny Johansson, creative director of Acne Studios.
Courrèges
Two seasons into his creative director role at Courrèges, Nicolas Di Felice staged his first physical runway show in a huge painted square on the grass of the Bois de Vincennes, a park on the outside of Paris. For Di Felice, the location is a symbol of freedom and liberation, the place where he reunited with his boyfriend after lockdown and where he has spent past summers dancing. His offering had an equally optimistic and emancipating spirit, drawing on signature silhouettes from the Courrèges, like capes from the 1960s and 1990s, 1964 dresses made from a single strip of fabric and the favourite colours of its founder. Silhouettes were lean and waist-cinching, sporty and scintillating: flared rib leggings were layered with cut-out vinyl dresses, stripe jacquard halter-necks paired with thigh-high boots, and crop tops teamed with pant-silhouette cargo pants. Clothing for dancing all night with abandon, whatever patch of grass you choose.
Saint Laurent
Anthony Vaccarello returned to Paris Fashion Week with a breathtaking show en plein air, featuring the Eiffel Tower as its twinkling backdrop and boasting a show set with a streaming waterfall at its centre. The creative director dedicated the show to Palomo Picasso, the red lipstick-clad, costume jewellery-swathed accessories designer who brought a glamorous, thrift-elevating modernity to Yves Saint Laurent's atelier when she began working with him in the late 1960s. Here, the silhouette was sleek, strong and sophisticated, oozing glamour, celebrating bold colour and the female form. Le Smoking was reimagined as a lean suit with leggings; cut-out spandex bodysuits twisted around the body; dresses were severe in the shoulder and imagined in bright oranges and lilacs; and stilettos were vertiginous in their silhouette. At the show's finale, water poured down onto the runway, illuminated by hundreds of dazzling spotlights, a symbol of vital hydration to the thirsty runway show-starved audience.
Thebe Magugu
Over the past 18 months, memory has acted as a powerful tool for relieving us from monotony. It's something that South African designer Thebe Magugu valued for S/S 2022, creating a collection based on the idea of 'memory as a reservoir for optimism', drawing on silhouettes in old family photographs, like his grandmother's pleated skirts and blouses from the 1950s, his mother's 1960s leg-of-mutton sleeves and 1970s mini skirts. The designer's Genealogy collection was showcased through a round-table discussion, with Magugu's family poring over old images, tiled against look-book video of hybrid, narrative-swathed and decade-spanning silhouettes featuring handkerchief-cut lilac dresses with seductive keyhole cut-outs, bright red playsuits with frothing feather trim, and skirts and jackets tessellated with family photos, inspired by regal portraits printed onto calico.
Kenneth Ize
Shimmering silk fringing, pleated tiger print, picnic blanket checks, optical stripes, the fabrics showcased on Austrian-Nigerian designer Ize's S/S 2022 catwalk were sumptuous and tactile in their finish. Spring sees an effusion of optimistic tones and patterns, a signature of the designer, who made his Paris debut for A/W 2020. Ize has a weaving factory in Nigeria, where the majority of his materials are crafted. Here, they translated into insouciant, easy and layered men's and women's shapes, from soft tailoring to sarong skirts, lean knitwear to fluid dresses, paired with sporty caps, slouchy shoulder bags and buckled sandals.
Marine Serre