Year in review: beauty & grooming editor Mary Cleary picks top 10 innovations in beauty of 2021
From ephemeral tattoos to virtual reality make-up, Wallpaper's Mary Cleary reveals her top 10 stories of 2021 exploring innovations in beauty & grooming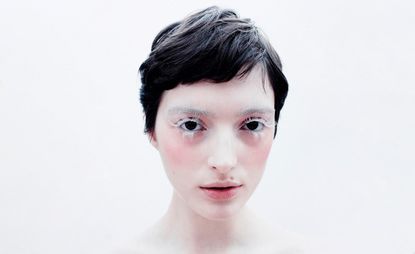 (Image credit: TBC)
When the Wallpaper* Beauty & Grooming channel launched in February 2020, we had no sense of the seismic shifts the beauty industry was about to undergo. Beauty is always an intriguing lens through which to view culture at large, and over the course of nearly two years we have tried to offer coverage that examines various definitions of beauty, the technology developed to achieve those definitions, and the creatives who challenge it.
Below is Wallpaper's Mary Cleary's pick of 10 stories from 2021 (in no particular order) that showcase some of the innovations in beauty and grooming over the past year, from make-up that looks different in physical and digital realities, to a new tattoo ink that lasts exactly one year, and skincare inspired by the reproductive biology of black widow spiders.
Top 10 beauty & grooming innovation stories of the year
01. What is the future of beauty post-Covid?
Wallpaper* imagined what beauty would look like in a post-pandemic world. In this theoretical cosmetic landscape, the ubiquity of mask-wearing, increased time indoors, and an obsession with health created an interest in both clinically minimal features and expressionistic applications of colour.
02. What will beauty look like in 2030? A new report investigates
We expanded our look towards the future of beauty in this article, using the insight report 'Absent Beauty' from Lucy Hardcastle Studio as the basis of our investigation.
What, we asked, does beauty mean in our post-2020 world? How has this period of illness and isolation shifted our understanding of what is desirable in ourselves and others? How will individuals manifest beauty in the years to come? Hardcastle posits that as we become more obsessed with our biology and more reliant on technology, we will continue to transform ourselves into data points. As our physical health and mental wellbeing become things we quantify and measure, we will, in effect, make ourselves into machines.
At the same time, we will also crave an escape from technology that will trigger the rise of 'physiological nostalgia' technology. These future devices will use tech to trigger peaceful, bodily sensations with new forms of audio escapism and aromatherapy becoming particularly popular.
03. New beauty brand challenges our perceptions of reality
For years, The Unseen has quietly been working on ingenious innovations in material science. A few years ago it created an environmentally responsive hair dye, which morphs from black to red depending on the surrounding temperature. It has also crafted a chameleon-like headpiece made in collaboration with Swarovski and a team of neuroscientists, which uses gemstones coated in temperature-sensitive, colour-changing ink that responds to the wearer's brain activity.
In 2021, The Unseen launched the first product in what will soon become a full-blown beauty line. Called 

Spectra, it is a reflective cream eye that transforms under a phone camera's flash so that what looks like a subtle grey in real life appears as a glittery black in photographs. Like all creation's from The Unseen, Spectra's dazzling appearance belies its examination of a larger philosophical question. In this case – how can we create a beauty product that caters to both our physical and digital existence?
04. Groom mates: innovative men's beauty brands
While the past few years have seen a flourishing of genderless fragrances and make-up for men, innovative, inclusive approaches to male skincare and wellness have remained few and far between.
In this piece we examined some of the most intriguing men's grooming brands from the past year, including Tracaris, a New York brand catering to 'a new wave of masculinity', and Asystem, a subscription-based line of skincare and supplements designed to work in tune with men's natural hormone cycles.
05. Vanishing tattoos? This is ink with commitment issues
Ephemeral Tattoo is a Brooklyn-based tattoo shop that has just changed the relationship status with your ink from a life-long commitment to a year-long fling. Opened in 2021, Ephemeral has revolutionised the industry with its unique fade-able ink that looks just like the real deal but only lasts for nine to 15 months.
In this piece, we examine the science behind Ephemeral's ink and explore the lasting impact this innovation will have on an industry that was once defined by permeance.
06. Are biomaterials the future of beauty packaging?
Sustainable packaging is one of the biggest challenges facing the beauty industry today. A report by the foresight consultancy The Future Laboratory notes that the cosmetics industry creates 120 billion units of packaging a year and predicts that by 2050 the beauty industry will have contributed up to 12 billion tonnes of plastic to landfill.
In this article addressing one of the most pressing innovations in beauty, we looked at some of the innovative plastic alternatives that beauty brands have developed in recent years – from boxes made out of mushrooms, to packaging that completely dissolves in water.
07. Discover nail art inspired by our September 2021 Style Issue
Our September Style issue is always a party in print, with pages bursting with the brightest talent that fashion has to offer. This year's edition, however, was a particularly riotous affair. Shoots focused on the possibility of roaring back into life post-lockdowns with a party-ready uniform that suits the occasion. To keep the celebration going, we rekindled our nail art collaboration with Paintbox NYC with a new set of designs inspired by the looks in Wallpaper's September 2021 issue.
Glitter, feathers, punchy colour palettes, and bold geometries are all on show within the issue's pages, and Paintbox's nail designs demonstrate a complementary exuberance while still being straight-forward enough to recreate at home.
08. Renowned architects design sculptural beauty packaging
Kengo Kuma, Oskar Leo Kaufmann, and Tokujin Yoshioka are three architects who have taken beauty packaging to new heights, applying their knowledge of structure and form to everything from skincare containers to facial rollers.
In this article we look at what happens when minds accustomed to create monumental structures try making objects for your bathroom shelf.
09. Chemical romance: this is lab-made beauty at its finest
Beauty and science have long been intertwined. Most beauty products are created in laboratories by researchers well-versed in the combination of chemicals used in skincare or the molecules that make up perfumes. However, in this article we examined a few scientists who are applying their technical insight to create uniquely groundbreaking products.
These include Wendy Ouriel, whose investigations into the reproductive biology of black widow spiders inspired the anti-aging formulations within her skincare line; and Christine Nagel, the in-house perfumer at Hermès who used her background in organic chemistry to develop a new molecule for the H24 men's cologne.
10. Hairstylist Issac Poleon on finding wigs and easy up-dos
'A perfectionist view of imperfection' is how Issac Poleon describes the style of his work, and it's true that this London-based hairstylist has a particular knack for creating flawlessly executed designs with an expressionist, sculptural flair.
In this article we asked Poleon – who has worked with Gucci, Burberry, Louis Vuitton and Browns – to talk us through all kinds of hair how-tos, from wearing wigs to managing extensions.
Receive our daily digest of inspiration, escapism and design stories from around the world direct to your inbox
Writer and Wallpaper* Contributing Editor
Mary Cleary is a writer based in London and New York. Previously beauty & grooming editor at Wallpaper*, she is now a contributing editor, alongside writing for various publications on all aspects of culture.