Kindred Black gives sustainable skincare a new look
Kindred Black's Slow Beauty line elevates sustainable skincare to new heights with handblown glass bottles and innovative ingredients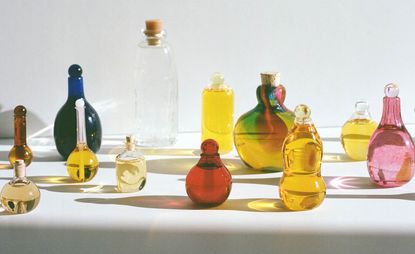 (Image credit: Kindred Black)
Environmentally focused retail project Kindred Black is revolutionising the look of sustainable skincare with a new line called Slow Beauty.

'We started the Slow Beauty line because we felt like there was this amazing focus on making beauty natural and organic and clean but that the focus was all on what's inside the bottle,' LA-based founders Alice Wells and Jennifer Francis told us. 'Most of the products come in heavy plastic with too much packaging for us to feel comfortable purchasing them over and over.'
An artful approach to packaging
Instead, the pair focused on finding a plastic alternative packaging that meant they didn't have to skimp on aesthetics for the sake of sustainability. The result is a line of glass vessels hand blown by master artisans around the United States, so exquisite in their designs that they elevate beauty packaging to the level of high art.

Wells and Francis understand the demands of a creative practice, which is why they've done their best to ensure the glassblowers are never made to feel as though they're working the factory line. 'The artisans are all very different people and have different skills and strengths, so we give them a lot of leeway during that process to do what they do best,' says the pair.

'Each run is limited edition because we're talking about one person painstakingly hand making each piece – it's time-consuming and it's a skill that we don't want to reduce to an assembly line feel. We often switch products out of one bottle and into another for our bottle collectors, but also so that we can keep up with demand without losing the handmade feel of the line.'
Surprising natural skincare ingredients
This considered, handcrafted approach is reflected in Slow Beauty's formulations as well, which use clean, responsibly sourced and all-natural ingredients sourced from growers and small family-run farms around the world.
'We're fascinated by what people used to harvest right from the earth to use as treatments and cosmetics,' say Wells and Francis. 'A lot of our problems now are because we've become so disconnected from the land – a slower, more mindful way of living would go a long way. '
'We usually start with an ingredient and try to find someone producing the most special version of it out there. Lavender, for instance, is quite common and there are a lot of farms growing it in a mindful way. We found a female-owned farm in France that partners with a school for troubled youth.'

'The hinoki we use is from a man in Japan who was a maker of traditional Japanese cypress tubs who, instead of discarding his leftover wood, learned to distill the oil from it. Our argan and prickly pear oils are from a women-owned and operated collective in Morocco.'
'While our lilac and jasmine perfumes are made by a woman who grows the flowers herself and is one of the last people still practicing the ancient art of enfleurage. We try to go beyond just pretty and organic if we can.'

Inspiration for the product formulations comes from the duo's keen study of cosmetic history. Asked if they've discovered anything surprising in the course of their studies, the pair responds; 'there are a lot of surprises when you start reading about what people have been willing to put up with for beauty throughout the millennia!'

'Wine infused with a drowned lizard as an aphrodisiac, the hair of oxen for thicker eyebrows, beetles for lipstick, crocodile dung for blush (don't worry, we won't go there). It's all so fascinating. Also that so many of the less shocking ingredients from thousands of years ago are still the foundation of many modern skincare lines – rosewater, olive oil, neroli. There's a reason these things have remained so steadfast, because in so many cases they work.'

All of Kindred Black's products are special, but our particular favourites are the multipurpose Unicorn Oil and the Hypocrites shimmer powder made from crushed mica. Also worth checking out are the brand's multi-purpose soap bars, which have been handmade by Navajo farmers in Arizona out of ingredients they've grown themselves.
INFORMATION
kindredblack.com (opens in new tab)
Mary Cleary is the Beauty & Grooming Editor of Wallpaper*. Having been with the brand since 2017, she became an editor in February 2020 with the launch of the brand's new beauty & grooming channel. Her work seeks to offer a new perspective on beauty, focusing on the pioneering personalities, product designs, and transformative trends within the industry.