Hæckels 2.0 is revolutionising sustainable skincare
Hæckels 2.0 is launching today. We explore how the brand is reinventing itself and what it means for the future of sustainable beauty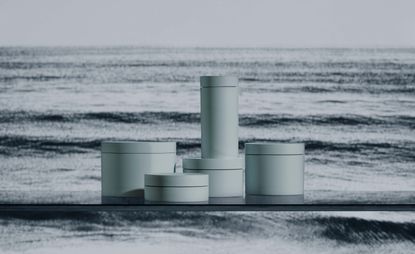 (Image credit: Ivona Chrzastek)
Wallpaper* Newsletter
Receive our daily digest of inspiration, escapism and design stories from around the world direct to your inbox
Thank you for signing up to Wallpaper. You will receive a verification email shortly.
There was a problem. Please refresh the page and try again.
Operating out of a betting parlour-turned-skincare laboratory in the English seaside town of Margate, Hæckels is behind some of the most innovative beauty launches in recent years, including biocontributing mycelium packaging, prebiotic face masks, and odour-eating mushroom and kelp deodorant.
Now the brand is preparing for its most radical launch yet. Hæckels 2.0 will roll out in three phases, with Hæckels Skin and Hæckels Home coming first. Skin will see the brand's signature skincare formulations, made from seaweed harvested on Margate's beaches, repackaged in compostable containers, alongside two new offerings – a Prebiotic Cleansing Balm and a lighter version of its Eco Marine Cream.
The balm is a gentle, hydrating cleanser, rich in sterols, ceramides and adaptive prebiotics that allow it to adjust to the specific needs of your skin microbiota. Meanwhile, the new Eco Marine Cream, a lighter version of its best-selling original, is designed to work for all skin types – packed with the brand's antioxidant seaweed extracts, it can be used as needed throughout the day. And although the packaging of these new products looks and feels exactly like petroleum-derived plastic, the Hæckels Skin containers are made by microbes that are abundant in soil and marine environments.
This revolutionary material, called Vivomer, can be thrown away like ordinary food waste and will decompose without leaving behind any microplastics. The most significant pillar of Hæckels 2.0 will debut in September. Hæckels Lab will introduce a range of laboratory-grown skincare products that challenge preconceived and inaccurate notions of what effective and sustainable beauty entails. Hæckels hopes to upend the misconception that 100 per cent natural ingredients are always better than lab-grown ones, as in reality, lab-grown ingredients tend to be less water- and labour-intensive.
'I think what makes Hæckels so amazing is that we're always self-evaluating,' says the brand's managing director Charlie Vickery. 'It's all about honouring the past, but we can't pay such respect to the past that we're unafraid to tear it up.' Estée Lauder's recent investment in Hæckels has made this reinvigoration possible and, according to Vickery, it will dramatically increase the impact of Hæckels' groundbreaking work.
'Everyone loves what is inside the box,' says Vickery. 'But before Estée, we weren't quite sure how to get that out to more people. If we expand as we are, then it becomes impossibly complicated. Having to manually apply all the labels on the bottles, having to create packaging with lower carbon emissions – all of that becomes difficult on a larger scale. Now that we have the fiscal support to expand, the production time for making Hæckels Skin can be 50 per cent less than our previous production times.'
It remains to be seen how any beauty brand can conduct itself in a way that is truly sustainable, especially when there is much debate over what being a truly sustainable brand really means. Brands can either pack it in, hide their failings behind misleading marketing and vague buzz words like 'clean' and 'eco-friendly', or they can keep questioning, probing and pushing, admitting they need to do better and continually working towards a solution. 'We need to present a viable alternative that's scalable and that's in stock, so we can succeed against our competitors when it comes to sustainable practices,' says Vickery. After seeing what it has in store, we're certainly betting on it for a win.
INFORMATION
A version of this article appears in the August 2022 Design for a Better World issue of Wallpaper*, available in print, on the Wallpaper* app on Apple iOS, and to subscribers of Apple News +. Subscribe to Wallpaper* today!
Receive our daily digest of inspiration, escapism and design stories from around the world direct to your inbox
Mary Cleary is the Beauty & Grooming Editor of Wallpaper*. Having been with the brand since 2017, she became an editor in February 2020 with the launch of the brand's new beauty & grooming channel. Her work seeks to offer a new perspective on beauty, focusing on the pioneering personalities, product designs, and transformative trends within the industry.