Sustainable skincare brands: subscriptions to help you and the planet
Need one less thing to think about? Try subscribing to these eco-conscious beauty and grooming services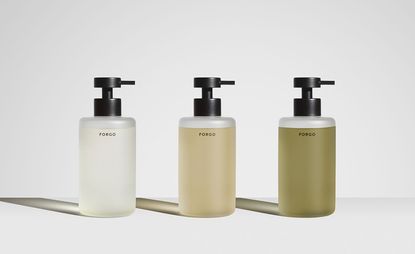 (Image credit: press)
These days, you'd be hard-pressed to find a skincare brand that didn't market itself as sustainable. Yet while many brands are devising more eco-conscious product formulations and packaging, there's still the oft overlooked problem of wasteful production and delivery practices to contend with.

And while subscription services don't entirely solve the problem, the best make some effort towards cutting down on the environmental waste of shipping – with bulk deliveries and refills, for example. They also mean you never have to think about buying skincare again, which isn't a bad deal either.
Ffern perfume
Ffern is a forward-thinking perfume brand that uses a subscription-based model to ensure its production practices are as sustainable as possible.
The brand releases four seasonal fragrances a year that are hand-crafted from organic ingredients by 5th generation perfumer François Robert and his protege Elodie Durande. All the fragrances are gender-neutral and are never recreated past their designated season, so that once their creation period has passed they will never be made again.
All members of the brand's exclusive 'ledger' can receive a bottle of Ffern. To ensure product is never wasted, the brand makes only one bottle of the fragrance for every name on our ledger, no more. The wait list is currently open and its certainly worth the wait. §
KanKan body wash
KanKan's mission is to make refills more mainstream. 'We hope that by making refills more convenient, it helps broaden the appeal and reduces our consumption for single-use plastics in the home,' says the brand's founders Eliza Flanagan and Mary McLeod.
The brand's refill system is as charming as it is convenient, with each refill coming in a recyclable aluminium can. Unlike most brands, KanKan decided to send their refills in aluminium cans because takes 95 per cent less energy to make a can from recycled materials, not to mention 75 per cent of all aluminium produced since 1888 is still in use today.
The soap itself is made with 100 per cent essential oils to nourish your skin and is palm oil and harsh chemical free.

kankan.london.com
Tata Harper's skincare
Tata Harper is one of those buzzy skincare brands that, along with Augustinus Bader, Dr. Barbara Strum, and La Prairie, really does deserve the attention it receives. Harper is the pioneer of farm-to-bottle skincare with a line of 100 per cent organic skincare that is made in small-batch quantities from her farm in Vermont.
Most of Harper's products can be purchased via an 'auto-replenish' system for automatic refills. It means you'll never have to worry about running out of skincare but, even better, you'll end up saving a good chunk of change with 15 per cent off recurring orders and free shipping.
For those just starting out with Harper's products, we recommend trying the silky-smooth Radiance Mask or Regenerating Cleanser, both of which leave skin feeling facial fresh after one use.
by Humankind shower essentials
Wallpaper* Design Award nominee by Humankind is a personal care brand dedicated to reducing the prevalence of single-use plastics with its refillable and recyclable solutions. Its shower products include solid shampoo, conditioner, and body wash designed to be suitable for all hair and skin types. Each bar is entirely plastic-free, with recycled-paper and soy-based-ink packaging that can be re-recycled at home.

To ensure the bars don't disintegrate in the shower, we recommend the brand's sleek shower dish. Made of diatomite, a sedimentary rock formed by fossilised phytoplankton, the quick-drying dish ensures you can get the most out of your bars. Subscriptions come as a two-pack refill every 12 weeks.
Haeckels cleanser
Haeckles has always been at the forefront of sustainable beauty with its products made from ethically sourced seaweed, grown-to-order face masks, and entirely compostable packing. Yet its latest launch, the 60%H2O Ocean Cleanse Concentrate + Allantoin, has proven to be its most innovative yet.

Almost five years in development, the Ocean Cleanse is a completely water-free body cleanser that consists of soap-producing tablets and a slate-grey milled ceramic dispenser for dissolving them in – 3 tablets will make 300ml of shower gel when mixed with water at home.

And while waterless beauty is nothing new, Haeckels has distinguished its design by considering every aspect of its environmental impact – from production to delivery and use – and worked out a way to minimise it.

While this is not a subscription-based product, Haeckles supplies an entire year's worth of tablets upon purchase, which means that – by the company's math – Ocean Cleanse avoids 94 per cent of carbon emissions in manufacturing and 95 per cent in shipping compared to its water-based counterparts.
The Nue Co skincare supplements
For those who suffer from problematic skin, the promise of a simple pill that makes blemishes disappear is a tantalising prospect. For a while, that promise was too good to be true.

The Nue Co founder Jules Miller grew up watching her grandfather work in the world of supplements as a pharmacist and member of the Cambridge University team that developed B12. Yet he was averse to taking the pills himself (principally, says Miller, because he knew exactly what was in them). Seeking to find a natural alternative, Miller created a line of food-based supplements that combines clinically proven ingredients with Ayurvedic and Chinese medicinal practices.

One of the brand's latest launches is Skin Filter, which is designed to dispel blemishes, improve skin luminosity, and reduce pigmentation. A natural alternative to ingestible retinol, Skin Filter uses Ayurvedic amla berry, the vitamin-packed Amazonian superfood camu camu, and anti-inflammatory zinc. Subscribe and your first order will come in a refillable glass jar, with refill packets of the supplement then arriving every month.
Forgo hand soap
Great design is often born from a problem with no satisfying solution. For Swedish design collective Form Us With Love, that problem was the staggering wastefulness of many beauty and grooming products.

'When we don't have a partner to work on a great idea with, we just start it ourselves,' says the studio's design manager Allon Libermann. 'We knew nothing about the personal care industry, we just knew it was very wasteful.' So what was their solution? Working with a lab in Canada, the studio designed a powder made of only six ingredients that, when mixed with water, creates a sweet-smelling hand wash. The powder comes in paper sachets without the un-recyclable plastic coating used by many brands, and can be mixed in frosted glass bottles designed by the studio.

Best of all? As a subscription-based service, the sachets will regularly be slipped through your letterbox to ensure you'll never be low on soap.
Akt deodorant
Akt was founded by two performers in London's West End, frustrated that no natural deodorant could combat the smelly effects of their gruelling physical performances under hot theatre lights. Their solution? A deodorant balm that uses natural botanicals such as moisture-absorbing fossilised algae, deodorising plant powders, and antimicrobial coconut oil for effective results.

The balm comes in plastic-free, 100 per cent recyclable toothpaste-like packaging decorated with bold typographic designs inspired by theatre marquees. 

For an added element of self-care, we recommend picking up the brand's gua sha-inspired applicator. Squeeze a small bit of the balm onto its cooling brass and massage around the underarms, chest and neck for a lymphatic massage.
Fussy deorderant
For a more traditional deodorant format, that is still sustainable and subscription based, look no further than Fussy. The vegan deodorant uses probiotics to effectively 'eat' that bacteria that grows under armpits and leads to body oder. The result? One of the few natural deodorants we know of that actually works.
The pebble-like case is made from recycled plastic and durable enough to last indefinitely. A refill subscription will deliver top-ups in plastic-free containers that are made from waste sugarcane and, once empty, will decompose in your garden or the bin.
Mary Cleary is the Beauty & Grooming Editor of Wallpaper*. Having been with the brand since 2017, she became an editor in February 2020 with the launch of the brand's new beauty & grooming channel. Her work seeks to offer a new perspective on beauty, focusing on the pioneering personalities, product designs, and transformative trends within the industry.