Are biomaterials the future of beauty packaging?
Explore the most innovative materials for sustainable beauty packaging, from magic mushrooms to dissolvable delights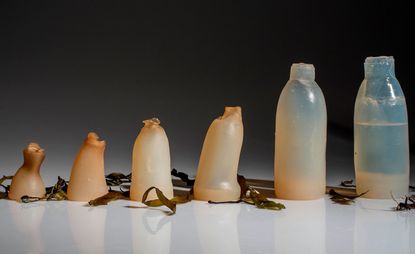 (Image credit: Hæckels)
We have been working to unpack the vast and complex world of sustainable beauty, as it relates to refillable products, vegan formulations, and subscription services. But one topic we're yet to look at more closely is sustainable beauty packaging, one of the biggest challenges facing the beauty industry today.

A report by strategic foresight consultancy The Future Laboratory, notes that the cosmetics industry creates 120 billion units of packaging a year and predicts that by 2050, the beauty industry will have contributed up to 12 billion tonnes of plastic to landfill.

In an effort to combat the plastic problem, a number of beauty brands are using innovative biomaterial alternatives. Below, we explore some of the most interesting solutions yet.
Magic mushrooms: mycelium packaging
Of all the biomaterials used by beauty brands, mycelium seems poised to become the industry mainstay. Hæckels won a Wallpaper* Design Award in 2020 for its boxes made from fungi and agricultural waste, with product information printed on recycled paper studded with seeds. Other brands, such as Amen candles and Bel Rebel fragrances, have also started packaging their products in the mushroom-based material.
As Hæckels founder Dom Bridges told us, mycelium is a 'living, breathing' material that can be grown, recycled and thrown 'out of the window' to readily decompose.
Trend forecasting agency WGSN cites the use of mycelium material as one of its key trends for 2021 and beyond in both the beauty and fashion industries. This year, Stella McCartney launched two garments made out of Mylo, a mycelium-based leather alternative, while heritage powerhouse Hermès released a prototype version of its 'Victoria' travel bag made from mycelium leather. To learn more about these and other sustainable fashion initiatives, read our comprehensive guide to eco-wear shopping here.
Super seeds: seed-embedded packaging
Launched on Earth Day 2021, British brand Loopeco is the latest proponent of eco-production practices within the beauty industry. The brand's vegan skincare products are held in 100 per cent plastic-free bottles that are shipped in compostable boxes embedded with chrysanthemum seeds. The boxes need simply to be covered with 3mm of soil, placed in a sunny spot, and watered often to produce a pretty patch of wildflowers.
Woody wonders: wood pulp packaging
CBD wellness brand Natureofthings is one brand experimenting with the compostable material Biotrē. The brand's Fortifying Magnesium Soak comes in bags made out of the material, which is 60 per cent biodegradable recycled wood pulp and 40 per cent polyethylene (a lightweight plastic) that contains an enzyme to make it degrade faster than standard plastic.
While Natureofthings admits the material is 'still to be perfected', the Biotrē bags can be placed in a home composting bin and will break down within a few months.
Disappearing designs: dissolvable packaging
Launched this year, Plus is a personal care brand with a revolutionary approach to sustainability. Its first product is a gender-neutral body wash in the form of 16 paper-like sheets. Each sheet is held in a dissolvable sachet that disappears when exposed to water, while the sheets themselves turn into a silky foam.

The sachets are made from wood pulp sourced responsibly from Forest Stewardship Council-certified forests and are shipped in compostable bags, making for an all-around innovative approach to beauty packaging.
Solid seaweed: agar packaging
In 2017 Japanese design collective Amam displayed its project 'Agar Plasticity – a Potential Usefulness of Agar for Packaging' at Salone del Mobile. Although Amam's agar, or seaweed, packaging has never been commercially used, the project offers a glimpse of what could be the next big thing in sustainable packaging.
Agar is a gelatinous material traditionally used for making sweets in Japan, but Amam experimented with the natural substance until it was able to make a solid version, durable enough to ship delicate products. Under the mentorship of Max Lamb, the Amam team developed the final form of the material and tested its effectiveness by shipping an agar-packaged perfume bottle from Tokyo to Milan. We're happy to say the eco-experiment worked.
Here's to many more that do the same.
INFORMATION
Statistics from 'Refined Refillable' by strategic foresight consultancy The Future Laboratory and '10 Key Trends for 2021 & Beyond' by trend forecasting company WGSN
Receive our daily digest of inspiration, escapism and design stories from around the world direct to your inbox
Writer and Wallpaper* Contributing Editor
Mary Cleary is a writer based in London and New York. Previously beauty & grooming editor at Wallpaper*, she is now a contributing editor, alongside writing for various publications on all aspects of culture.