Reimagining roses: experimental takes on rose perfumes
Rose perfumes – the most traditional of fragrances – are being given an unconventional edge by niche and big-name brands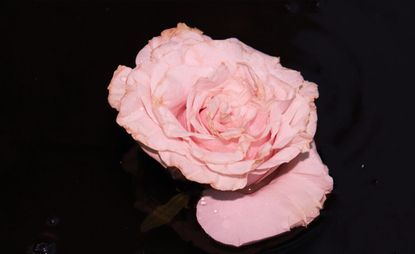 (Image credit: courtesy of Dries Van Noten)
Rose perfumes have traditionally been characterised as the olfactory equivalent to pop music – guaranteed crowdpleasers, easily accessible. Recently, however, a host of niche perfumers and big-name brands have been experimenting with rose fragrances, taking the ubiquity of the scent as a challenge to create perfumes that subvert exceptions and offer a new perspective on an old classic.
Here, we sniff out the best of these experimental rose scents.
Rose by Perfumer H
Perfumer H's Rose perfume is masterfully composed to smell exactly like its namesake. A high concentration of rose oil and absolute are combined with camomile Romaine, raspberry, geranium Egypt and a hint of iris and musk to create a luscious fragrance. Spraying it on your skin is probably the closest you can ever come to actually wearing roses.
perfumerh.com (opens in new tab)
Elisabethan Rose
Leave it to the quintessential English perfume brand, Penhaligion's, to create an exceptional rose fragrance inspired by the flower of England— the Tudor rose. Inspired by the union of the houses York and Lancaster, Elizabethan Rose blends its central fragrance with Red Lily, Hazelnut Leaf, and Vetiver. It's a light and airy floral perfect for those who prefer delicate fragrances.
penhaligons.com (opens in new tab)
Rosa Carnivora and Raving Rose by Dries Van Noten
Dries Van Noten's newly launched beauty line (which debuted in Wallpaper* earlier this month) includes two rose perfumes that embody the Belgian designer's penchant for 'impossible combinations.'
Rosa Carnivora, by perfumer Daphné Bugey, is a creamy blend of rose, vetiver, and patchouli, while Raving Rose, by perfumer Louise Turner, is a spicy take on the flower with a near startling infusion of pepper. The two fragrances 'are kind of a kick in your face', according to Van Noten with Rosa Carnivora a good match for those who prefer a more classically elegant rose fragrance and Raving Rose a good option for those who like more punchier, masculine scents.
driesvannoten.com (opens in new tab)
Odeur Du Théâtre Du Châtelet by Comme des Garçons
Conceptualism has always been at the heart of Comme des Garçons' fragrances, with scents designed to evoke the ink of a calligrapher's studio, lime soda, and 'grilled cigarettes teamed with town gas'. With Odeur Du Théâtre Du Châtelet – inspired by the Paris theatre – the brand once again presents an 'anti-perfume' that challenges common notions of what makes a smell pleasurable. 



The rose perfume was composed by perfumer Caroline Dumur in collaboration with Comme des Garçons' founder Rei Kawakubo, and the Théâtre Du Châtelet's then-artistic director Ruth Mackenzie (she left the theatre in August 2020). The aim of the project was to create a scent that captured the historic character of the theatre while hinting at its modern incarnation. The result blends the intensely rich, musky-floral notes of ambrette absolute with rose oxyd, black pepper oil, and coffee accord.
It's a curiously appealing fragrance, designed to evoke the theatre's velvet seats, infused with the powdery, floral perfumes of its 19th-century audience layered with the modern, spicy fragrances favoured by modern theatregoers. Like all Comme des Garçons creations, it's equal parts unexpected and beguiling.
comme-des-garcons-parfum.com (opens in new tab)
Eau de Parfum Eau Rose by Diptyque
Newly reformatted Eau Rose perfume features two of perfumery's mainstay roses – damascena and centifolia – alongside the fiard, an unusual third rose, in the form of an upcycled extract made from damascena rosewater discarded during the distillation process. More unexpected still is the inclusion of chamomile, artichoke and litchi, making for a bright, juicy rose perfume.
spacenk.com (opens in new tab)
Rose 31 by Le Labo
Le Labo's Rose 31 perfume aims to transform the traditionally feminine Grasse Rose into an 'assertively virile' fragrance by blending it with warm and spicy notes of cumin, cedar and amber. Most interesting is the inclusion of musty cistus which gives Rose 31 a distinctly animal note. It's an appealing alternative to Le Labo's iconic Santal 33 with a warmer, and much less ubiquitous, aroma.
harrods.com (opens in new tab)
Georgette by Vyrao
Wearing Vyrao's Georgette perfume is the olfactory equivalent of diving into a pool of rose petals. The fragrance is weighty with Turkish rose accords, violet leaf, sandalwood and patchouli, with grounding base notes of pink pepper and black tobacco.
What makes this perfume really stand out, however, is its use of Herkimer diamond crystals and integrative quantum medicine to take the healing principals of aromatherapy to a new level. The brand has 'energetically charged' each fragrance with the help of healer Louise Mita, whose practice combines Traditional Chinese Medicine techniques, Qi Gong, anatomical studies, and quantum theory to 'unblock' bad energies. While rose oil is meant to inspire enlightenment, violet leaf encourags self-expression, and guaiac wood clears energy.
selfridges.com (opens in new tab)
Young Rose by Byredo
Young Rose is the latest fragrance launch from Byredo. When creating the scent, Byredo's founder, Ben Gorham, was inspired by the work of young creatives working in China today, including photographer Leslie Zhang who shot the Young Rose campaign images.
The fragrance blends piquant notes of Sichuan pepper with Damask rose and Orris for a spicy take on a classic floral. 'The next generation always has an emotional obligation to rework the traditions of their predecessors,' says Gorham. 'It's their role to take that fearless dive into the unknown; to discover and develop what's next. Young Rose salutes that spirit.'
cultbeauty.com (opens in new tab)
Doll by Mondo Mondo
Mondo Mondo is perhaps best known for its gold and gem jewellery that looks ornate enough to belong on a Renaissance noblemen but with enough hearts and rhinestones that it appeals to a modern, cheeky sensibility. That baroque and playful spirit is on full display in the brand's line of perfumes as well.
Doll is a rose perfume that combines Bulgarian rose and rose de mai with saffron and musk to create a scent that verges on the overwhelming. It is a fragrance best suited to those who like to make a statement, 'a hot, sweaty, electric rose,' in the brands words. One that 'will conjure an undeniable nostalgia for being a little brat.'
mondo-mondo.com (opens in new tab)
L'Heure Osée by Cartier
Cartier's master perfumer, Mathilde Laurent, once again shows off her knack for artistry and innovation with L'Heure Osée. Laurent has spoken openly about her dislike of roses, what she calls 'an emblem of femininity withered before it blooms,' and so it is no surprise that her creation for Cartier is the antithesis of a typical rose perfume.
A heavy dose of citrus notes gives L'Heure Osée a powerful punch, while notes of musk and hints of wood create a heady undertone. It is, in the brand's words, a distinctly 'un-cute' rose fragrance.
net-a-porter.com (opens in new tab)
L'Homme À La Rose by Maison Francis Kurkdjian
Maison Francis Kurkdjian's L'Homme À La Rose is a is a masculine take on a scent traditionally typecast as one of the most feminine in perfumery. As such, it is a fascinating examination of the construct of 'masculine' and 'feminine' in fragrance.

As Kurkdjian told Wallpaper* last year, what makes a scent 'masculine' is ultimately a question of timing. 'What is masculine today may not have been masculine a decade ago and it may not be masculine two or three decades from now. The idea of masculinity and femininity, they are conventions and they are concepts that evolve with society.'

To create the essence of modern masculinity in this scent, Kurkdjian blends rose with citrusy grapefruit accord, heady amber woods, and fresh sage.
franciskurkdjian.com (opens in new tab)
Rose & Cuir by Frederic Malle
Rose & Cuir is the handiwork of Jean-Claude Ellena, the former in-house perfumer for Hermès and a longtime Frederic Malle collaborator. With his characteristic ingenuity, Ellena has created a rose fragrance that is on the surface a unique, but not altogether revolutionary, interpretation of the floral that blends rose essence with pepper and cassis.
Give it time, however, and the scent eventually takes on an earthy, almost leathery quality, thanks to the use of vetiver and cedar. Most exceptional of all is its incorporation of IsoButyl Quinoline, an intensely bitter molecule that has been little used since its heyday in the 1920s.
libertylondon.com (opens in new tab)
Unrequited by Bel Rebel
Ever wonder what those garish plastic roses sold on city sidewalks would smell like if they actually had a fragrance? Probably not, but if your curiosity is now piqued, pick up a bottle of Bel Rebel's Unrequited.
The scent has top notes of overtly synthetic-smelling rose oxide, and aldehydes, a chemical compound frequently used in perfumery. These are mixed with base notes of saffron and musks to create a smell that balances between plasticine and musky.
belrebel.com (opens in new tab)
Rose Prick by Tom Ford
Tom Ford's Rose Prick is a fragrance inspired by the flower's painful thorn as much as its exquisitely delicate blooms. It blends three rose types – May, Turkish and Bulgarian – to create a rich floral scent that is given a piquant edge with top notes of Sichuan pepper and turmeric. The unisex fragrance is one of the newest additions to the Tom Ford catalogue and, like it's forebears, it is designed to be a sensuous, all-enveloping scent that's hard to forget.
spacenk.com (opens in new tab)
Celtic Rose by Alexander McQueen
Leave it to the radical house of Alexander McQueen to design a rose perfume that eschews the classic simplicity of its counterparts. Celtic Rose draws its name from a traditional Celtic pattern, which weaves together multiple geometric forms to create a unified, perfectly symmetrical rose shape.

Both the pattern and the fragrance owe their allure to the complexity of their design. McQueen's Celtic Rose takes a classic, delicate rose fragrance and adds a punch of black pepper to create a spicy floral.
harrods.com (opens in new tab)
Mary Cleary is the Beauty & Grooming Editor of Wallpaper*. Having been with the brand since 2017, she became an editor in February 2020 with the launch of the brand's new beauty & grooming channel. Her work seeks to offer a new perspective on beauty, focusing on the pioneering personalities, product designs, and transformative trends within the industry.