Cloud bursting: Cartier and Transsolar imagine the scent of the sky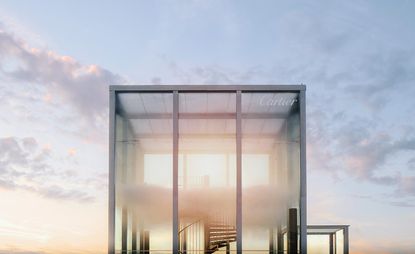 (Image credit: Quyen Mike)
OSNI 1 is not a scent launch. It's an installation that Mathilde Laurent has instigated as a 'window to olfactory art'. Maison Cartier's noted perfumer-creator has joined forces with the architecture-based Munich climate engineers Transsolar to create the piece.

It takes the form of a habitable glass cube, perched on The Pavillion at the Palais de Tokyo, a stone's throw from the Seine. Inside, a single staircase twists through a floating cloud, beckoning visitors up. As you emerge with your head above the fog, the air is clear but perfume-filled. 'You don't know what to expect,' says Transsolar engineer Sabine Gröger. 'The experience is so personal that everyone has a different feeling about it.'

It's just the response Laurent wanted. Billed as 'Unidentified Scented Object', the project is the first in a potential series and the perfumer, whose studio is also a glass box – at the Jean Nouvel-designed Fondation Cartier – has long harboured the idea of producing a scent-driven art work.
'I'm not an artist,' she says, 'but it's good to remember that Cartier has always considered and been close to contemporary art – from the creation of the Cartier Fondation in the 1970s. I feel that to create a piece like this is our duty as a house because it's important that we sustain olfactory art like all others. Sense of smell is very important.'

OSNI 1, then, is not a commercial endeavour. There is no new perfume to launch. Instead, the air at the top is infused with an existing Cartier scent for men and women, L'Envol (The Flight). It was while researching that fragrance that Laurent and her team were inspired by the idea of a sense of elevation, imagining 'the smell of the sky'.

They had heard that Transsolar was creating artificial clouds and got quite excited about the idea of highlighting the technological aspect of what they do, the chemistry that makes it possible. 'It works around the transition between cold and hot air,' says Gröger of the installation's pleasantly eerie effect. 'The cloud sits exactly in the middle, making the transition visible.'

Somewhat surprisingly, the project also reveals a natural correlation between perfumer and engineer: 'We realised we shared a similar vision,' says Laurent. 'Transsolar is in charge of the environment you are in, while we can be in charge of what that smells like. What we both offer are wonderful ideas of the space around you.'
INFORMATION
'Unidentified Scented Object' is on view until 23 October. For more information, visit the Cartier website and the Palais de Tokyo website
ADDRESS
Palais de Tokyo
13 Avenue du Président Wilson
75116 Paris
Receive our daily digest of inspiration, escapism and design stories from around the world direct to your inbox