Ben Gorham on evoking a city in a scent: Byredo's Mumbai Noise
In an exclusive interview, Byredo founder Ben Gorham discusses his Indian heritage, translating that personal history into scent, and why he feels it is important to champion the work of young artists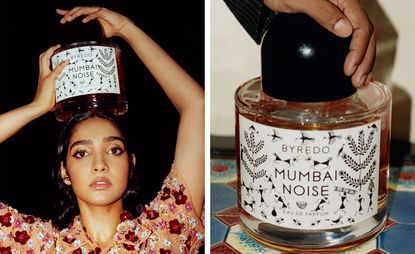 (Image credit: Ashish Shah)
The story of Ben Gorham and the founding of Byredo is an oft-told tale in the beauty industry. Born in Stockholm and raised in Toronto by his mother, who was originally from Mumbai, Gorham trained to be a professional basketball player before visa issues back in Sweden stunted his dream.
After a stint working in construction and earning a degree in fine art, he had a chance meeting with perfumer Pierre Wulff that sparked his interest in the ability of perfume to trigger memories and recreate moments in time.
From there, Byredo was born and quickly became an empire of cultural cachet that now spans leatherwear, jewellery, and a make-up line. Throughout it all, Gorham has used the brand as a platform both to collaborate with major names across various industries – musician Travis Scott, make-up artist Isamaya Ffrench – and to champion the work of up-and-coming creatives.
Now, Gorham has just launched one of his most personal creations yet: Mumbai Noise, a scent inspired by his childhood trips to visit his mother's family. And while the fragrance is an intimate portrayal of Gorham's own life, like all Byredo launches it also has a broader aim.
Ben Gorham on Mumbai: memories and modernity
To create the launch campaign, the brand enlisted the young photographer Ashish Shah to offer a vision of Mumbai's creative subcultures and contemporary youth movements, scenes that tend to receive little exposure in mainstream Western culture.
Here, Gorham discusses his Indian heritage, translating that personal history into scent, and why he feels it is important to champion the work of young artists.
Wallpaper*: Why did you want to create a fragrance that expressed your Indian heritage?
Ben Gorham: There are many of my memories and odes to India woven into our collections, but Mumbai Noise perhaps has the most overt link to my childhood trips to [the Mumbai suburb of] Chembur. It was a place I went to spend time with my grandmother and the memories are vivid. Mumbai hits you the minute you get off the plane, it's a sensory overload. The smells and the noise and the motion of the city as it moves at this intense pace. It has an overwhelming sense of place that you just can't escape.
W*: Why did you want to work with Ashish Shah on this campaign?
BG: I was drawn to Ashish because of the modernity and reality of his work and his distinct lens on his home country. Beyond the scent, I wanted the campaign to capture the hearts and minds of contemporary India. Mumbai has evolved at an astounding pace – it changed drastically in the years that I didn't visit – yet the way the rest of the world continues to depict India remains so clichéd.
The narrative has been stuck on poverty and mysticism for eons, yet when you visit, the city is brimming with young creatives, fashion designers, drag artists and contemporary dancers. There is a vivid counterculture and these are the people that Ashish photographs, this is the community he embodies in Mumbai. And that's what I wanted to capture and share with the world. Mumbai in all its fragmented modernity, never escaping its rich traditions but always evolving, always with its strong sense of place.
W*: What memories were you replaying in your mind as you made this fragrance?
BG: These are very warm memories, laced with a childlike haze. Mumbai will always be an experience rooted in family for me; time spent with my mother, my grandmother and my aunts. [Yet while] it was familial and welcoming, I felt small in this bustling metropolis, completely overwhelmed by the sights and sounds and cars and rain and colour. I wanted Mumbai Noise to capture that tension – tradition and innovation, familiarity and the unknown.
W*: What are the specific scents you used to translate those memories into a fragrance?
BG: The olfactive approach is one of contrasts and contradictions. Mumbai Noise is an amber fragrance that features rich, warm woods with brightness, plummy davana positioned alongside leather, bitter coffee stirred with sweet tonka beans. It's a fragrance that commands attention and envelopes your senses immediately.
W*: Beyond Ashish Shah's work, where else were you looking for inspiration during the making of Mumbai Noise?
BG: It's interesting to think that I was working on Mumbai Noise during a period of time when I couldn't travel, when the world really slowed down to almost a halt. And honestly, the place I took the most inspiration from was my journals. I write everything down somewhat incessantly, and I have pages and pages of notes from my time in Mumbai. Because my process in creating a scent is so personal, it's quite an introspective process. And finally I had this calm period in my life where I had the space to read and reflect, dig deep into the pictures and memories of my grandmother's house. It was an extremely inspiring moment in my life.
W*: Why is it important for Byredo to champion young artists?
BG: For me, creativity has nothing to do with age or experience. Just as my philosophy on fragrance has nothing to do with gender. I came into this very well-defined luxury industry as a total outsider, a basketball player who had just finished art school. I felt like I had something to offer, but the way the industry was structured made it difficult to get my message out there.
Then, when I did, I was lucky enough to have a community of people who got me. It was a small community, but they understood that luxury doesn't have to mean gilded and antique and over the top as it often did in 2006. That's exactly how I feel about artists and talents.
Their age or their level or fame doesn't mean they don't have something important to say. It's important to give these talents space to express themselves. And I just can't imagine this campaign being shot by anyone else but Ashish. This is his city, his community and his reportage, exploring my memories and my olfactive portrait of Mumbai. It's a collective experience that brought my contemporary vision of India to life, and I'm extremely grateful.
INFORMATION
byredo.com (opens in new tab)
Mary Cleary is the Beauty & Grooming Editor of Wallpaper*. Having been with the brand since 2017, she became an editor in February 2020 with the launch of the brand's new beauty & grooming channel. Her work seeks to offer a new perspective on beauty, focusing on the pioneering personalities, product designs, and transformative trends within the industry.
With contributions from