Future facing: Byredo makeup remodels modern beauty
Byredo founder Ben Gorham and make-up artist Isamaya Ffrench share the story behind their experimental new cosmetics line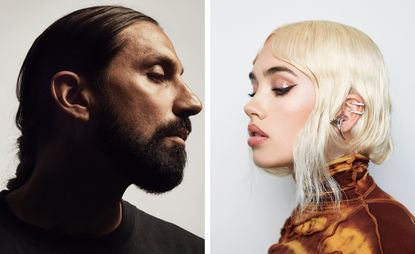 (Image credit: George Harvey)
Byredo is a brand that has always defied easy categorisation. Founded by former basketball player Ben Gorham in 2006 as a fragrance house, Byredo quickly gained a cult following for its sleek, minimal packaging and narrative-driven scents, with inspirations as far-ranging as First World War field nurses and an Inez & Vinoodh photograph. Since then, Gorham has expanded the Byredo universe to include clothing, eyewear, leather goods, jewellery and, from October 2020, make-up.
To bring his cosmetics project to fruition, Gorham enlisted the help of British make-up artist Isamaya Ffrench, who, in addition to working with the likes of Burberry, Yves Saint Laurent and Tom Ford, is known for subverting classic interpretations of beauty, instead exploring the mutable nature of the human face using prosthetics and digital technology. This includes working with an animatronics company to give a dinosaur-like beak to a model for a high fashion spread, and employing an AI system to analyse 17,000 Instagram images of 'beauty' in order to generate slightly disconcerting images that were then applied to a celebrity cover star's face. In these ways and more, she creates unconventional cosmetic looks within familiar commercial contexts to reveal how fragile and fabricated our perceptions of beauty are.
For Gorham, this true 'outsider perspective' made her well-suited to translating Byredo's idiosyncratic ethos into a cosmetics line. Colour, its variations and usages, served as a foundational element of Gorham and Ffrench's collaboration. 'I remember looking at a lot of editorial images, landscape photography, all sorts of creative imagery, and literally picking pixels of colour that I really loved,' says Ffrench. 'This then became the Byredo colour library. Ben and I would sit down together and see which colours resonated most with us and which would work for the make-up.'
Conceptualising the brand through colour allowed Gorham and Ffrench to rethink how certain shades are typically applied to the face. With tools like its 'colour sticks', which can be freely applied to any area and layered for stronger or lighter impact, the face becomes more of a canvas for an expressionistic application of colours rather than a paint-by-numbers grid to be filled in. The sticks are available in 16 shades, ranging from an electric candy floss pink to khaki green and kohl black. They suit all genders, skin tones and ages, and, depending on how they're worn, can be seen as experimental or familiar.
The colour sticks sit alongside the new line's lipsticks, eyeshadow palettes, mascara, eyeliner and lip balm, all of which share the colour sticks' playful shades and names (a neutral-tone eyeshadow palette is called Corporate and a fiery red lipstick is called Divorce). The space-age packaging also reflects the brand's designs for the future. 'I interpreted Isamaya's universe into these physical objects,' says Gorham.' She had a very clear idea of colour curation and I wanted these objects to look like a curation of objects. Not one design study, or one signature design, and not off the shelf. I started to apply the same process and theories that I've used previously in Byredo when developing products.'
The line's otherworldly appearance is mirrored in the campaign image by Jesse Kanda, which depicts a lone, multihued, alien-like figure. 'I found that in the beauty industry, it was very dictating, it was very linear in saying, "buy this or this, and look like this", which I didn't relate to,' says Gorham. 'So my idea was not just to go paint a picture of my peers. It was to be inclusive, to the point of saying that this can be anything to anybody. That's how we approached it from the start.'
INFORMATION
A version of this story appeared in the October 2020 issue of Wallpaper*, guest edited by Design Emergency. A free PDF download of the issue is available here
byredo.com (opens in new tab)
Mary Cleary is the Beauty & Grooming Editor of Wallpaper*. Having been with the brand since 2017, she became an editor in February 2020 with the launch of the brand's new beauty & grooming channel. Her work seeks to offer a new perspective on beauty, focusing on the pioneering personalities, product designs, and transformative trends within the industry.
With contributions from