We're waxing lyrical over these luxury candles
At a loss when it comes to finding the perfect indulgence or gift? Explore our edit of luxury candles for some bright ideas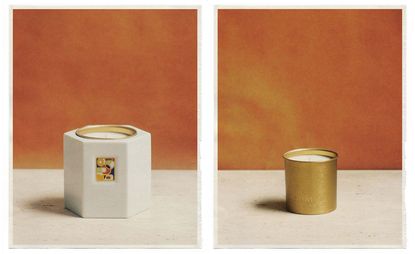 (Image credit: Ormaie)
Our edit of the best luxury candles includes something to delight everyone in your life, from sleek sophisticates (we suggest Celine), to colourful creatives (try Ginori 1735), soigné friends (Ormaie), and all those in-between.
Luxury candles
Hannah Jewett
The amorphic candle designs by New York based jeweller Hannah Jewett see her martian-meets-club-kid jewellery designs translated into wax. The candles, which come in colours that range from lime green to shimmery toast and neon orange, are pierced through with a silver bar to give them extra edginess.
Solange
Jewellery designer Solange has paired with one of our favourite nose's, perfumer Lyn Harris, to create a candle and accompanying perfume that evokes the vibrancy and playfulness of her jewellery designs. 'Like hot caramel sugar with a hint of lemon,' the fragrance is designed to evoke sweet treats on hot summer days with a blend of lemon, Sicilian bergamot, grapefruit, raspberry and musk.
Le Labo
A candle from cult fragrance brand Le Labo is a guaranteed crowd pleaser. Their three-pack discovery set is a great way to find out which is your favourite, but we recommend taking the plunge and buying the brand's new Ambroxyde 17 candle. Ambroxyde is the synthetic molecule that produces the scent of ambergris or 'floating gold,' a rare and prized substance that is formed in the digestive tract of sperm wales.
This strange 'can't quite place it' fragrance is paired with musks, woods, and jasmine for a heady, distinctive scent.
D'Orsay
D'Orsay was founded 200 years ago by French aristocrat (and inspiration for The New Yorker's top-hatted mascot) Alfred d'Orsay. The brand has carried on that legacy into today with a range of fragrances inspired by a romantic meetings, with names corresponding to the time and place for each— '02:45 Enfin Seuls' is a blend of incense, burned birchwood and rose inspired by is a fireside conversation that goes on until the early hours; 23:15 À l'abri des regards is a heliotrope and lavender fragrance that pays homage to late night meetings incognito; and so on.
Our favourite is '21:30 Sous les draps,' a spicy, floral blend of cumin, rose, patchouli and moss. But if you prefer a fresher scent then try '06:20 Où tu sais,' a linden flower, acacia wood, and hay fragrance designed by celebrated perfumer Olivia Giacobetti.
Boy Smells
The one and only Grace Jones has collaborated with Boy Smells to create a candle that is a love letter to her native Jamaica. A punchy top note of black pepper is mixed with water lily and salted musks to recreate the scent of the ocean on skin and the coastline after a rainfall. Bold but calming, it is an ideal scent to light up before or after a night out.
spacenk.com (opens in new tab)
Haeckels
We've been closely following the development of Haeckels 2.0 and now the rebrand of the Margate based company is entering its next phase with a new look for its cult fragrances. Classic scents like Dreamland, a singular mix of rose and charred wood inspired by the 19th century amusement park, or the ever popular Pluviophile, which evokes the smell of rain hitting coastal pebbles, have been repackaged in sandblasted glass container emblazoned with names and coordinates of the Kent coastline.
In keeping with the brand's dedicated approach to sustainable practices and supply chain visibility, Haeckels has utilised all UK glass manufacturers with aluminium lids manufactured just three miles from the brand's Margate HQ. This overall change means that 55 per cent less kg CO2e is emitted in the supply chain than the previous packaging iteration.
With cool packaging, intriguing scents, and ethical ethos they make an ideal gift for friends or yourself.
haeckels.com (opens in new tab)
Ormaie
Ormaie has already made a name for itself with some of the most beautiful perfume bottles (and perfumes) we have ever seen. It's no surprise, then, that their newly launched candles are equally as elegant.
Five of the brand's scents can be purchased in gold refill containers and kept in a white porcelain vessel. When it comes to choosing a fragrance, we have a soft spot for Pain Perdu, a blend of bran, cedar, and tonka beans meant to evoke the smell of an after school snack in a French kitchen.

ormaie.paris.com
Perfumer H
Perfumer H's candles come in elegant hand blown glass containers that can be endless refilled in store after purchase. Our favourite is Smoke, a deeply intense blend of burnt cade, smoking birch tar and frankincense that smells like scorched wood in a dense forest.

For a gentler scent, we recommend Hay, a blend of smoked hay over wild angelica, damp wood and wet soil that smells like the bright beginning of autumn.

perfumerh.com
Loewe
Loewe's candles are, like most things the brand does, is an expression of impeccable aesthetic taste undercut with by a cheeky edge. The plant and vegetable scents are inspired by Creative Director Jonathan Anderson's own garden with witty scents like honeysuckle, cannabis, pea, and beetroot, to name a few.
The candles come in terracotta pots based on a 5th century BC Greek mug and are available in a range of colours, from striking black to powder pink.
net-a-porter.com (opens in new tab)
Ginori 1735
Ginori 1735 launched its candle collection last year with a range inspired by the court of Catherine de Medici. Now, the Italian brand has paired with illustrator and designer Luke Edward Hall for a special addition of five new candles. Each of the candles is inspired by one of Hall's favourite locations- the Cotswolds, Marrakech, Rajasthan, Big Sur and Venice- and comes in a delightful range of containers decorated in Hall's signature style.
farfetch.com (opens in new tab)
Loro Piana
The first line of luxury candles from cashmere brand Loro Piana is made entirely from natural materials. This includes the fabric woven into the wax paraffin, essential oils used for the fragrance, and the cotton wick dyed with food-grade natural pigments.
These 'sculptures-in-progress' come in three different scents – Zibeline, Jacquard and Bouclé – which allude to materials used by the brand. Cashmere production scraps are melded into the wax as an innovative means of reducing waste.
loropiana.com (opens in new tab)
Mary Cleary is the Beauty & Grooming Editor of Wallpaper*. Having been with the brand since 2017, she became an editor in February 2020 with the launch of the brand's new beauty & grooming channel. Her work seeks to offer a new perspective on beauty, focusing on the pioneering personalities, product designs, and transformative trends within the industry.