New French fragrance maison Ormaie references modernist design greats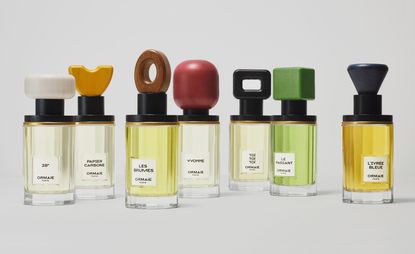 (Image credit: TBC)
'When we are developing a perfume, I can just tell Maman: this smells too much of grandma's soap in the kitchen, and she will know exactly what smell I am referring to. It also helps that my grandma has been buying the same products for 50 years…'. So muses Baptise Bouygues of Ormaie, the new maison du parfum he has co-founded with his mother, Marie-Lise Jonak.

Launching with seven unisex fragrances – meticulously crafted from nose to bottle top – Ormaie has all the makings of a key fragrance player, thanks to its melange of influences, each more fascinating and considered than the last.

Born in Thailand and raised in the French countryside, Bouygues formerly worked at Louis Vuitton (in Asia) and Givenchy (in Europe). Alongside his personal devotion to art and craftsmanship – and a particular interest in midcentury design – this blend of cultural and industry influences has become key to shaping his new label's multifaceted identity.
Every aspect of Ormaie is thoughtfully crafted by master artisans, overseen by Parisian creative director Jade Lombard, who cites graphic designer Jean-Paul Goude as a key inspiration. His visual witticisms can be read in Ormaie's newly created typography. For instance, the 'n' appears differently in 'Papier Carbone', than it does in 'Yvonne'. 'We wanted to be able to play with letters, and they each have slight variation, which adds a touch of fun,' explains Bouygues.

This lighthearted typography is given a sense of gravitas through the luxe labels its printed on. Each letter is hot-stamped on gold, micro-structured Italian paper with old Heidelberg machines, in Le Marais, Paris.

The glass bottles come from the only French glassmaker to recycle its own magmas; the wooden bottle toppers are hand-carved out of wood sourced from renewable Beech forests in France. In shape and finish, they nod to the work of Romanian sculptor Constantin Brâncuși, whose fluid, modernist forms are a key inspiration for Bouygues. Here clean geometrical lines, there symbolic allusions to representational art.
Bouygues' mother Jonak adds her time-honoured knowledge of fragrance-making into the partnership. A business person in another life, upon deciding parfum was her passion, she quickly ascended the ranks of various French fragrance houses. As a director of olfactive creation, her work has contributed to several FiFi awards, an honour of Oscar-esque prestige in the world of scent.

Because of their solely non-synthetic, fully traceable ingredients, each Ormaie fragrance tells its own story characterfully. Les Brumes speaks of Tuscan orange, lemon and bergamot fields in the morning. Papier Carbone writes notes on childhood memory, with liquorice highs and woody library-book lows. 'For us, it was important to have [a fragrance that is] entirely natural because we believe there is an elegance to nature that exists nowhere else,' Jonak explains. 'The link to the fields and to the people growing the flowers or the wood is so emotional, we feel that this translates to the perfume best when using only natural ingredients.'

A completely non-synthetic ingredient list remains a rarity in perfume, the team at Ormaie explain, due to its production difficulties. This selection of seven fragrances took two years, and 27 out of 30 other perfume houses advised them that the task was futile. Ormaie is on a mission to change this, reflecting its commitment to natural ingredients in all aspects of its product. 'We did not want any plastic,' Bouygues states. 'We wanted something elegant, unique and organic; something that lives.' And live this crafted-from-nature, inspired-by-art fragrance will, on your dresser and your wrist.
INFORMATION
For more information, visit the Ormaie website
Elly Parsons is the Digital Editor of Wallpaper*, where she oversees Wallpaper.com and its social platforms. She has been with the brand since 2015 in various roles, spending time as digital writer – specialising in art, technology and contemporary culture – and as deputy digital editor. She was shortlisted for a PPA Award in 2017, has written extensively for many publications, and has contributed to three books. She is a guest lecturer in digital journalism at Goldsmiths University, London, where she also holds a masters degree in creative writing. Now, her main areas of expertise include content strategy, audience engagement, and social media.