Jasmin Bonheur is a new perfume from Guerlain and Maison Matisse
Guerlain Jasmin Bonheur is the fragrance house's colourful collaboration with Maison Matisse. Perfumer Thierry Wasser tells us more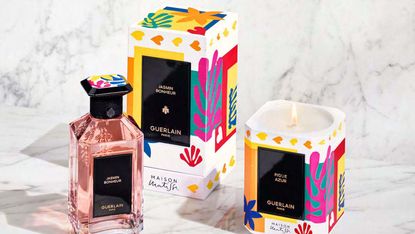 (Image credit: Guerlain)
French fragrance house Guerlain has launched new perfume Jasmin Bonheur, which takes the classic white flower and vivifies it with notes inspired by the colour palette of Henri Matisse.
We first spoke to Guerlain's Thierry Wasser 15 years ago, when he'd just taken over from his mentor, Jean-Paul Guerlain, as the brand's in-house perfumer. As the first Guerlain perfumer from outside the family, Wasser's appointment to one of the oldest and most respected fragrance houses was a watershed moment in the beauty world – one which we commemorated with the below portrait.
Since then, Wasser has continually showcased his talent for respecting the brand's legacy while preempting contemporary fragrance trends. 'People think the past is a burden – heavy,' Wasser says during a call from his office in Paris, 'but it's really like jumping on a trampoline.
'I have a catalogue of over 1,000 raw materials, with the oldest fragrance I produce dating back to 1853, so we have a huge catalogue with ingredients we've been sourcing since the 19th century. Having those raw materials from that time, it can inspire you tremendously. It's not a burden at all.'
Guerlain Jasmin Bonheur perfume
The brand's latest launch, Jasmin Bonheur, is typical of Wasser's innovative interpretation of traditional ingredients. It has been composed in collaboration with Maison Matisse, a design studio founded by Henri Matisse's great-grandson, and is the latest addition to Guerlain's L'Art & La Matière collection.
Wasser took Matisse's bold colour palette as the key inspiration for the new scent, which features a heart of brilliant white jasmine complemented by rose (red), iris (purplish blue), and apricot (orange). As with every Guerlain fragrance, it also includes the house's signature Guerlinade blend, which combines rose, iris, vanilla, tonka bean, bergamot and jasmine to give each perfume, no matter how different, a unifying element.
Jasmin Bonheur comes in a collectable 'Bee Bottle' (a brand signature, adorned with a bee), hand-painted with a motif from Matisse's La Musique painting. It is also available as a limited-edition luxury candle and in a perfume bottle decorated with Matisse cut-outs.
Guerlain is dedicated to sourcing all its ingredients itself, and Jasmin Bonheur is a prime example of this. 'The ingredients are really what set Guerlian apart from the rest of the flock,' Wasser explains. 'We never outsourced anything; every invention has been produced by Guerlain in its own factory. And if you produce your own fragrances, you need to source [ingredients]. I spend 35 per cent of my time in the fields.'
For Jasmin Bonheur, the brand sourced jasmine from the south of France and India, as well as Italy, where a rare Calabrian jasmine was replanted exclusively for Guerlain in the exact place where it bloomed more than 40 years ago.
guerlain.com (opens in new tab)
0
Beauty & Grooming Editor
Mary Cleary is the Beauty & Grooming Editor of Wallpaper*. Having been with the brand since 2017, she became an editor in February 2020 with the launch of the brand's new beauty & grooming channel. Her work seeks to offer a new perspective on beauty, focusing on the pioneering personalities, product designs, and transformative trends within the industry.