Hedi Slimane knows what he nose in Celine's Paris perfume boutique
The artistic director unveils his new fragrance collection for Celine with a perfume boutique in Paris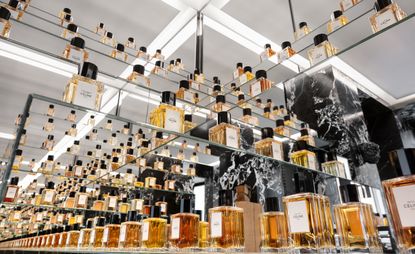 (Image credit: celine)
Renowned for his all-encompassing approach to artistic direction, Hedi Slimane has extended his vision for Celine into fragrance with the unveiling of 11 Celine Haute Parfumerie unisex scents; nine released this month with two more to follow in 2020. In-keeping with Slimane's vigilant approach to branding, the designer has created a standalone store to house them, located at 390 Rue Saint-Honoré in Paris. Celine's first real foray into fragrance (there was a short-lived dalliance in 1964 with Vent Fou), Slimane fans will delight in the brand's olfactory offering that tickles much more than just the nose.

The fragrance names recall a geographical and personal meander through Slimane's own life: Black Tie, Nightclubbing, Dans Paris, Eau de Californie, La Peau Nue (Naked Skin), and Rimbaud being just a few. In fact, Slimane implies the perfume itself should be 'nomadic', made to be carried — or worn — everywhere. Split into 'day' and 'evening' notes, the fragrances are intended to be worn at any time of day or night, and similarly, by either a man or woman.

Borrowing elemental notes from Parisian 60s and 70s parfums, rose, tree moss and iris are present. A powdery essence that runs through all eleven scents is said to evoke a veil placed on the skin, a memory captured in time.
The boutique itself tantalises the senses. Dramatic antique black and white marble, raw wooden square pillars and slabs of alabaster are offset with precision details characteristic of Slimane, such as polished brass faceted door handles embossed with the new Celine logo. Perpendicular mirrored surfaces are cleverly underlit so that they 'hover', creating an endless 'hall of mirrors' illusion on the eye. The space is punctuated with art work and sculpture, some specially commissioned, by artists including Luisa Gardini, Rochelle Goldberg, Camilla Reyman and Søren Sejr. The pieces have been fittingly curated for their use of raw materials that evoke a visceral sensation: wood, leather, paper, burnt earth, milled bronze.

Like specimens of unearthed amber, rectangular glass bottles — with sharp fluted edges and a black lacquer top — are displayed in formation on the mirrored shelves, filled with perfume ranging from golden syrup umber to stained glass yellow. Each bottle is attributed a leather case in top-stitched tan calfskin, or printed with the double C emblem and finished with polished brass hardware. An artfully curated fragrance destination worth sniffing out.
INFORMATION
celine.com (opens in new tab)
Tilly is a British writer, editor and digital consultant based in New York, covering luxury fashion, jewellery, design, culture, art, travel, wellness and more. An alumna of Central Saint Martins, she is Contributing Editor for Wallpaper* and has interviewed a cross section of design legends including Sir David Adjaye, Samuel Ross, Pamela Shamshiri and Piet Oudolf for the magazine.