The best perfumes for women take a cue from history
The best perfumes for women look to both historical and fictional figures to inspire their inclusive take on femininity. We share our selects here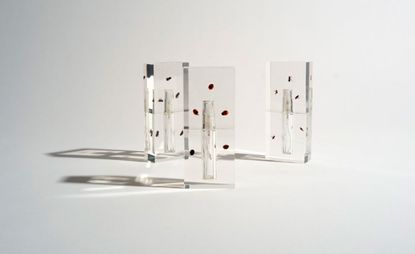 (Image credit: press)
The idea of 'best perfumes for women' is a bit tired these days, so much so that it seems on track to be practically irrelevant in a few years time. 'Feminine' scents have historically been florals – rose in particular – and gourmand notes like vanilla or caramel.

Yet what defines the feminine has shifted in our modern era, and so too have the scents attributed to it. More and more, contemporary perfumers are putting an experimental twist on classic scents, creating fragrances that are definitively genderless, and utilising synthetic ingredients to create previously unimaginable results.

Still though, when it comes to female fragrance, the traditional trends tend to dominate. As the conceptual artist and perfumer, Anicka Yi has said, 'in relation to fragrance, we have very stale and stagnant narratives about what the feminine is'.

So what really are the 'best perfumes for women'? We believe the answer lies in scents that challenge the norm, and to celebrate them we've featured Yi's work alongside other perfumes that offer a new take on feminine scent by drawing inspiration from real and fictional women of the past.
A Marvellous Entanglement by Folie À Plusieurs
Olfactive art gallery Folie À Plusieurs collaborated with artist Isaac Julien on A Marvellous Entanglement, a perfume inspired by Julien's work of the same name.
Julien's A Marvellous Entanglement exhibition was a multi-screen installation and photographic series that explored the work of Rome-born, Brazil-based modernist Lina Bo Bardi. Best known of her singular architecture, Bo Bardi was also a writer and editor (she worked with Gio Ponti at Domus before starting her own magazine Habitat), furniture designer, exhibition designer, costume designer, theatre designer, and jewellery designer, constantly creating work with the belief that art and architecture can inspire positive social change.
Julien's olfactive companion to his exhibition blends creamy floral scents with mineral notes to evoke the scent of white flower petals on the concrete floor of an industrial building in São Paulo.
Rōzu by Aesop
Aesop's Rōzu fragrance is inspired by the life of French modernist architect and designer Charlotte Perriand.
Perriand's career spanned many contexts, from her decade as an employee of Le Corbusier in the 1920s and 1930s to time spent in Japan in 1940, and later Vietnam. Her ability to translate diverse influences into innovative works of interior design has made her one of the most iconic figures of 20th-century modernism.
To translate this life, so rich in adventure and informed by so many cultures, into a fragrance, Aesop enlisted the innovative perfumery skills of Barnabé Fillion. (Fillion collaborated with Anicka Yi on the Biography fragrances covered in this article, see below, as well as his own fragrance line, Arpa, which we debuted last year.)
Fillion based the Aesop Rōzu fragrance on the smell of the Charlotte Perriand rose, developed and grown at Japan's Rose Farm Keiji in honour of Perriand and her work.
The scent is rounded out by a vetiver cord inspired by the perfume Perriand wore daily, while its shiso notes echo the Alpine environments she passionately explored throughout her life.
Miss Dior by Dior
The new Miss Dior fragrance is a modern reinterpretation of the classic 1947 scent, which Christian Dior created for beloved sister Catherine. Christian was inspired to design what he called his 'fragrance of love,' after Catherine's return home from the German death camp Ravensbrück where she had been interned for her work with the French Resistance.
Centifolia Rose, with it honeyed and peppery notes, is at the heart of the perfume aongside, lily-of-the-valley, peony, and iris. It is an uplifting, floral fragrance that pays homage to Catherine's unbreakable spirit and echoes the French gardens she loved and found refuge in.
For those interested in learning more about the story of Catherine Dior, we recommend picking up a copy of Miss Dior: A Story of Courage and Couture by former Harper's Bazaar U.K. editor Justine Picardie. The newly launched book traces Catherine's life from her childhood in the French countryside, to her heroic actions during World War II, and her role in helping her brother build the Dior empire.
Shigenobu Twilight, and Radical Hopelessness by Biography
Conceptual artist Anicka Yi often works with unconventional materials. Past projects have featured live ants, glycerin soap, dough, a ground-up Teva sandal, microbial matter (her 2015 show 'You Can Call Me F', which examined our fear of viral pathogens, now seems like an eerie precursor of our present reality), and scents.

Scent is a particularly important medium for Yi and in 2019 she collaborated with Dover Street Market and perfumer Barnabé Fillion to create Biography, a line of three fragrances that 'invokes characters buried in history for refusing the limitations [of their gender] and posits a future where all femmes are connected in a fluid network'.
Shigenobu Twilight is inspired by Fusako Shigenobu, the female leader of the Japanese Red Army who was eventually exiled to Lebanon. Radical Hopelessness is a tribute to Hatshepsut, the female pharaoh whose legacy endures despite posthumous attempts to erase her from history. While our favourite, Beyond Skin, imagines the 'body' odour of the hypothetical AI entities that will populate our future. In it, a cellophane-like scent mixes with animalistic notes of myrrh and seaweed to create a perfume that is equal parts plastic and fleshy.
Chanel No.5 by Chanel
When Coco Chanel created Chanel No.5 100 years ago, she was crafting both a signature perfume for herself and a revolution in the industry. In 1921, 'soliflores' perfumes, or fragrances that smell like a single flower, were the industry standard. Coco Chanel wanted to stretch the boundaries of perfumery and create a scent that could not be attributed to any one thing in nature.
As she told her perfumer, Ernest Beaux, No.5 should be 'an artificial fragrance like a dress, something crafted'. The result was a revolution in perfumery that blended more than 80 scents, including jasmine, ylang-ylang, sandalwood and May rose, with an unprecedented amount of aldehydes, the organic compounds that amplify a fragrance's olfactory profile.
Female Christ by 19-69
19-69 is a niche perfume brand dedicated to 'bottling counterculture', with a line of fragrances that commemorate different historical actions of rebellion. Female Christ pays homage to the moment in 1969 when artist Lene Adler Petersen walked through the Copenhagen Stock Exchange naked and carrying a cross.

Petersen performed the act a day before Denmark became the first country worldwide to legalise pornography and it earned her the name 'Female Christ'. The woody fragrance echoes the imagined scent of Petersen's cross with a mixture of eucalyptus and patchouli top notes and base notes of vanilla, amber, and cinnamon bark. Heart notes of wintergreen and red thyme evoke the Scandinavian setting.
Although the scent is dedicated to the memory of one extraordinary woman, it is specifically designed for all genders.
Portrait of a Lady by Frederic Malle
Inspired by the novel of the same name, Portrait of a Lady is a perfume as beguiling and complex as Henry James' protagonist Isabel Archer. The fragrance is heavy on the rose – there are 400 Turkish roses per 100ml bottle – but the delicacy of that scent is undercut with heady base notes of patchouli, sandalwood and frankincense. For an added element of mystery, it is bound by sharp notes of clove, blackcurrant and raspberry.
La Victoire de Samothrace by Buly 1803
She has no head but she's one of the most recognisable women in art history, that's just how impressive The Winged Victory of Samothrace is. To commemorate the Ancient Greek sculpture of the goddess of victory, French apothecary Buly 1803 has created a fragrance of the same name for its Louvre-inspired beauty collection.
La Victore de Samothrace fragrance is a delicate mix of tuberose, magnolia and myrrh that connotes precious offerings worthy of the goddess. Drawing scent from a stone is no easy task, but with this fragrance Buly 1803 has managed to create something that is equal parts delicate and majestic, just like its namesake.
Diana Vreeland by Diana Vreeland
Never one for subtly, Diana Vreeland once said, 'if someone has to sniff around to find the fragrance, it's not enough'. If that's the case, then the former editor of Harper's Bazaar, Vogue, and consultant to the Metropolitan Museum of Art's Costume Institute would no doubt be satisfied with the line of perfumes her grandson Alexander Vreeland created in her honour.
Each of the fragrances has a name plucked from Vreeland's bombastic syntax – Devastatingly Chic, Simply Divine – and recalls, through scent, her exuberance. The piquant, if occasionally odd, fragrances feature combinations like orange blossom and oud, and coriander and amber, that make them unforgettable and sharp enough to snap anyone to attention. They exude the kind of style of which Vreeland said, 'it helps you get down the stairs. It helps you get up in the morning. It's a way of life'.
Rosalia by Monom
Roslia is a scent from Italian fragrance house Monom that is inspired by the patron saint of Palermo, Santa Rosalia. This tribute to the Sicilian saint is a heavenly blend of Bulgarian rose blend, pink pepper, jasmine, cloves and geranium. It is a delicate, fresh take on a classic rose fragrance.
Rosamunda by Laboratorio Olfattivo
Another rose fragrance from an Italian fragrance house, Rosamunda is Laboratorio Olfattivo's ode to the female characters of Gabriel Garçia Marquez's literature. Constructed to be as provocative as the roses that decorate young women's hair in Marquez's novels and short stories, Rosamunda blends Bulgarian and Turkish roses with saffron, patchouli, and musk for a heady floral fragrance.
Receive our daily digest of inspiration, escapism and design stories from around the world direct to your inbox
Writer and Wallpaper* Contributing Editor
Mary Cleary is a writer based in London and New York. Previously beauty & grooming editor at Wallpaper*, she is now a contributing editor, alongside writing for various publications on all aspects of culture.