Contemporary artists are creating conceptual perfumes
Artists Isaac Julien, Anicka Yi, and Linder foray into fragrance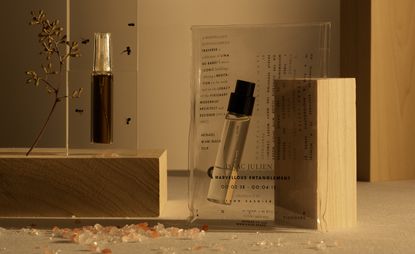 (Image credit: Adam Barclay)
In our post-Duchamp world, where everything we see has the potential to be art, perhaps the most radical move for an artist today is to make something that can't be seen at all.

Isaac Julien, Anicka Yi, and Linder are three artists who, already renowned for their visual work, are diffusing their talents into fragrance. The packaging of each is beautiful, particularly Julien's tiny bottle suspended in a clear plastic casing and Anicka Yi's fossilised particles in a solid glass box. But what is truly special about these fragrances are the scents themselves, and the very artistic ambition they share: to use an invisible medium, scent, to reanimate women that were made invisible by history.

For A Marvellous Entanglement, filmmaker and installation artist, Isaac Julien worked with perfumer Yann Vasnier and the Galerie Folie shop to create a scent inspired by Julien's 2019 work by the same name. Consisting of performance, film, and photography, the piece is an expansive meditation on the work on the Italian-born, Brazilian-based multidisciplinary architect Lina Bo Bardi. Bo Bardi sought to create a uniquely Brazilian design vernacular that expressed modernist forms through local materials. Her wide-ranging, innovative works made her one of the most prolific female architects of her time and yet, as with so many female artists, she has largely been overlooked by history.

By staging performances in Bo Bardi's buildings and filming it for people around the world to see, Julien has asserted her enduring importance despite her relative obscurity. Creating fragrance was the next step in this process. By procducing a portable, dispensable version of A Marvellous Entanglement, Bo Bardi can, in a sense, inhabit spaces beyond the ones she created. Notes of florals and musks evoke the concrete and open-air spaces of her structures. As Vasnier said, 'I tried to articulate the sensuous movements of the dance sequences on the concrete floor with spicy, musky petals seducing the waxy, musky cement.' The effect is a fragrance that is as distinctive and enticing as the buildings Bo Bardi created.
Anicka Yi's 'Biography' fragrances likewise use scent to evoke the essence of nearly forgotten women. Designed with the perfumer Barnabé Fillion and distributed through Dover Street Market, the limited edition line consists of three scents. 'Shigenobu Twilight' is inspired by Fusako Shigenobu, the female leader of the Japanese Red Army who was eventually exiled to Lebanon. Top notes of yuzu fruit, shiso leaf and black pepper transform into thyme and frankincense, creating a personal fragrance that echoes Shigenobu's own transcontinental journey. 'Radical Hopelessness' is a tribute to Hatshepsut, the female pharaoh whose legacy endures despite posthumous attempts to erase her from history.

As memorable as its namesake, the fragrance conjures up the sensual, oblique glamour of Ancient Egypt with heart notes of iris and Angelica root and a lush sandalwood and patchouli base. Rounding out the collection is 'Beyond Skin' which, taking the conceptual in conceptual fragrance to a new level, is the 'body' odour of the hypothetical AI entities that will populate our future. In it, a cellophane-like scent mixes with animalistic notes of myrrh and seaweed to create a perfume that is equal parts plastic and fleshy. Curious as they may sound, 'Beyond Skin' and the other fragrances in the 'Biography' actually smell good. Leave it to Yi, who in the past has worked with scents extensively in her gallery work, has created a perfume that is simultaneously thought-provoking and pleasurable.
Linder's perfumed bath salts are part of the 'House of Helen' line, created by the multidisciplinary artist for her first UK survey exhibition. Opening at Kettle's Yard 15 February, the exhibition will chart the artists career, from her start in the Manchester punk scene of the 1970s to her recent large-scale public commissions. The bath salts, made in collaboration with Join, are a tribute to Helen Ede, the wife of Kettle Yard's founder Jim. Helen's role in the development of Kettle house has been largely glazed over and any material remnants of her presence are mostly absent form the space. Linder's House of Helen line is an attempt to recall Helen's presence and assert her role in the formation of Kettle House. Sold in the Kettle's Yard gift shop, the bath salts are a characteristically cheeky solution to the problem of Helen's obscurity. While Jim may be all over Kettle's Yard, it's Helen visitors will be going home with.

Sight, the primary sense associated with 'art', has always had a special primacy in our culture. Scent, on the other hand, has always been a secondary and delegated to the realm of 'beauty'. Julien, Yi, and Linder's olfactory artworks suggest that there's no place for these distinctions anymore. Sight and scent, beauty and art are all one and the same. It only takes a spritz to prove it.
INFORMATION
A Marvellous Entanglement, folie.studio/studio
Biography, biographyfragrance.com
'Linderism', until 26 April, Kettle's Yard, kettlesyard.co.uk
Receive our daily digest of inspiration, escapism and design stories from around the world direct to your inbox
Writer and Wallpaper* Contributing Editor
Mary Cleary is a writer based in London and New York. Previously beauty & grooming editor at Wallpaper*, she is now a contributing editor, alongside writing for various publications on all aspects of culture.