Hermès debuts its first men's fragrance in 15 years
Hermès blends biotechnology and botanicals for its new men's fragrance, H24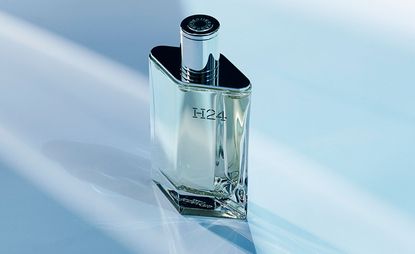 (Image credit: Hermès )
It might seem far-fetched at first, but it's true that fragrance is, in essence, the popular taste of a particular time and place distilled into a bottle. Take for instance YSL's Opium. A potent blend of spices and flowers, musk and patchouli, it quickly became the defining fragrance of the decade when it was launched in 1977. Yet to most contemporary noses the original is an overwhelming scent and has since been reformulated by the brand to suit modern olfactory tastes.

Or take the emergence of 'gourmand' fragrances in the 1990s. Synthetic, good-enough-to-eat smells, like vanilla, caramel, or honey, were rarely used in perfumery before then and only really became popular as people started to consume more sweet and sugary snacks.

In short, every fragrance is a product of its particular milieu. And it's with this point in mind that Hermès' in-house perfumer Christine Nagel created the brand's latest fragrance, H24.
On the one hand, Nagel had to create a scent that would be timeless. A fragrance that could become a permanent staple of the brand's scent catalogue. Yet, as the first men's fragrance from Hermès in 15 years, H24 also had to be a particular expression of its moment, something innovative and modern.
To find inspiration for the fragrance, Nagel looked to the work of Véronique Nichanian, artistic director of the Hermès men's universe. There, Nagel saw how the natural and the technological could come together to create an object of beauty. In fashion, there is always a delicate interplay between the physical tactility of a fabric and the technical manipulation of that fabric to create an item of clothing that is 'stylish' in one way or another.
To create H24, Nagal translates that dynamic between the organic and the constructed into a fragrance that blends natural botanical elements with new, scientifically produced scent molecules. 'I like to go towards natural, very classic raw materials,' says Nagel. 'And work them using technologies that give them other renderings, other textures.'

The dominant natural ingredient in H24 is clary sage, a freshly-cut-grass smell that is distinguished by a slightly animal amber base. Nagel then added an element of narcissus absolute, a naturally crisp floral that she co-distilled with another, secret molecule to temper its sharpness.
The third element of H24's structure is rosewood essence, a scent that, until now, was banned in perfumery because of its unethical harvesting. 'I chose it for its simple and natural botanical freshness,' say Nagel. 'We were lucky enough to be able to source it from producers in Peru whose eco-responsible initiative, supported by the house, involves harvesting it and replanting the species in a way that respects the environment.'

The final, and perhaps most impressive, element of H24 is the 'molecule of the future'. Called sclarene, this unique synthetic molecule was inspired by the aroma of hot irons against fabric in the Hermès workshops. Nagel, with her keen interest in biotechnologies, included the lab-developed molecule in H24 in order to give it a singular, almost metallic, edge.

The end result is a fragrance that is a masterpiece of the form, a scent that manages to walk the tightrope between the natural and manmade, the timeless and topical. H24 is certainly a perfume that captures the tastes of our moment, but we have no doubt it will continue to be relevant for generations to come.
INFORMATION
Receive our daily digest of inspiration, escapism and design stories from around the world direct to your inbox
Writer and Wallpaper* Contributing Editor
Mary Cleary is a writer based in London and New York. Previously beauty & grooming editor at Wallpaper*, she is now a contributing editor, alongside writing for various publications on all aspects of culture.