Hermès' new fragrance is inspired by a secret garden on Venice's Giudecca island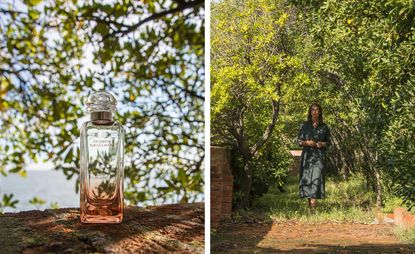 (Image credit: press)
Concurrently floral, fresh and woody: such is the unconventional olfactory cocktail of the latest bud from the Garden family of Hermès' fragrance collection. The scent's name – Un Jardin sur la Lagune – gives the story away. Christine Nagel, creative director of perfumery for Hermès Parfums, dreamt of a garden as a place of inspiration. Research led her to the Garden of Eden, which sounds otherworldly, yet actually exists on Venice's Giudecca island. According to L'Altana ou la Vie Vénitienne, a tale by early 20th-century poet Henri de Regnier, the private garden was conceived by English Lord Frederic Eden a century ago.

'I pushed the door of a secret garden; a garden on shores of the lagoon. There I felt the odor coming from the sky,' says Nagel, recalling the emotion at her very first visit to the Giudecca garden. Returning to the site several times since, she combined memories of its seasonal aromas into the new fragrance.
Un Jardin sur la Lagune unfolds as an olfactory timelapse; the fact that the oasis lived through different ideas of gardening under its various owners intrigued the perfumer. Of course, the real landscaper is nature.

The final composition features Salicornia to symbolise the salt water of the Laguna, sweetly scented Pittosporums and citrusy Magnolia blossoms; the most odorant of the flowering trees growing in the garden. Madonna lilies enhance its floral intensity, while musk adds a faint woody note. In its orange-tinted bottle, the light air of the ambrosial garden is captured, ready to spread like a maritime breeze.
INFORMATION
For more information, visit the Hermès website (opens in new tab)
Minako Norimatsu is a Japanese journalist and consultant based in Paris. Extremely curious about everything creative, her field ranges from fashion to art, dance, hospitality and travel. She has interviewed many Japanese fashion designers and artists for Wallpaper*, as well as non-Japanese creatives whose inspirations are drawn from Japan.