Hermès gallops in with a new equestrian themed fragrance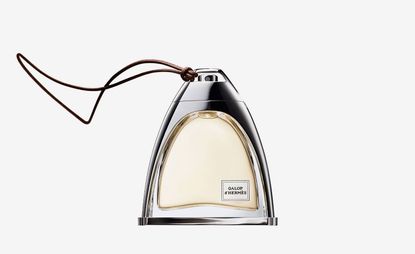 (Image credit: Hermès)
Horses and Hermès go together like... well, like a horse and carriage, you might say. So the latest full-scale launch from this most refined of French luxury brands marks a return to the company's equestrian heartlands.

'Galop d'Hermès' is the second scent that perfumer Christine Nagel has created since she took over as in-house 'nose' from the much-lauded Jean-Claude Ellena (her first was 'Eau de Rhubarbe Ecarlate', launched in February 2016), and it's an attractive fragrance based on the unusual combination of leather, the Damask rose (Rosa x damascena) and an ingredient not much used in perfumery – quince.

These large, hard, slightly velvety fruits, as you'll know if you've ever bought and cooked them, have a delicious fragrance of their own, and to me at least it's the quince element that dominates 'Galop d'Hermès', giving it a fruity freshness that, at least initially, masks a smooth, refined leather smell. The rose seems somehow to blend the quince and leather together, though it doesn't dominate the mix.

Hermès has really pulled the stops out for the bottle, too: based on the shape of a rider's stirrup, it's inspired by bottles in its archive that were given out at the opening of the first Hermès store in New York in 1930. A heavy metal armature frames a glass container, with a chunky clip-on cap through which you can thread a braided Hermès-orange leather cord (in a nice touch, the cord comes in its own separate envelope).

The bottle, the off-centre label (again, based on the 1930 design) and the cheerily coloured box are all carefully considered, and make a pleasing contrast to the often trashy packaging that all too many big brands are guilty of. Let's hope it's a galloping success.
INFORMATION
'Galop d'Hermès', £183. For more information, visit the Hermès website