'Muguet Porcelaine': Jean-Claude Ellena's sparkling swansong for Hermès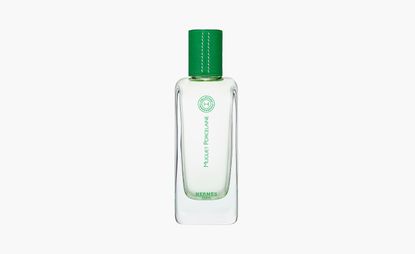 (Image credit: press)
One of nature's sweetest smells comes from lily-of-the-valley, a low, spreading plant with pointed leaves and sprays of small white flowers that grows wild in European woodland. Convallaria majalis, its Latin name, refers to the fact that it generally flowers in May – and in France little bunches of the flowers are given as keepsakes on the first of the month.

Flower scents form one of the foundation stones of perfumery, but many people are surprised to discover that there's more to creating a floral perfume than grabbing a phial of rose or jasmine extract and pouring it into a posh bottle. Virtually all floral scents are recreations or reinterpretations of the flowers that they reference, for a variety of reasons, and that's very much the case when it comes to lily-of-the-valley.

First, while we can all call to mind the smell of 'rose', 'jasmine', 'lavender' and so on, the smell of real flowers is actually very variable, depending on the particular species or cultivar as well as where and when they're grown. Some roses smell heavy and lush; others smell light and fresh and quite cool. Lavender grown at low altitudes smells less refined than lavender grown higher up, and other conditions affect flower scents just as much. Even if they're grown in the same place, one year's crop may smell quite different from the following year simply because of different weather. In other words there isn't just one 'jasmine' or 'rose' essence for perfumers to choose from: there are hundreds.

Second, there's a huge variation in quality of perfume extracts, from unpleasantly crude (and generally cheap) to exquisitely refined (and usually expensive), depending on which supplier they're purchased from. And third, even the most refined floral extracts rarely capture the full depth and complexity of flowers in their natural state.

Fourth, professional perfumers love a challenge, and while recreating the smell of a particular flower is often a challenge in itself, it's rare for them not to add some personal twists of their own; otherwise you could say that all they're doing is copying from nature.

Fifth – and this is where 'Muguet Porcelaine' comes back in – some of the most beautifully scented flowers have the odd property of being almost impossible to capture, and that includes lily-of-the-valley. Perfume oils and essences are generally extracted using wax (in the past) or solvents (today), but try doing that with lily-of-the-valley or violet flowers and you get hardly any scent at all. Flowers like these are referred to as 'mute'.

So when it comes to recreating the sweet, slightly lemony scent of lily-of-the-valley – which resembles a fresher, less cloying version of jasmine – perfumers have to be very clever indeed, using combinations of other scents. It's a bit like a painter having to mix red without having any red paint to work with. Making a perfume smell convincingly like lily-of-the-valley is a technical achievement in itself, but it takes a perfumer of outstanding talent to give it an appealing extra twist.

Luckily Hermès can call on Jean-Claude Ellena, widely recognised as one of the leading perfumers of our time. He describes his approach thus: 'I don't recall ever having challenged a scent in this way. Firstly, in a physical, hedonistic way, because I wanted to snatch the fragrance of these flowers from the dawn sky, together with that of the foliage that envelops them. And then, in a cerebral way, I worked on the coolness of its aura, the delicacy of its opalescence and the ethereal nature of its existence.'

The result is a deliciously fresh, true scent, with hints of lemon, jasmine and fresh hay, but also with 'greener' notes that give it an intriguing touch of extra depth and individuality. That green-ness is reflected in its heavy glass bottle, suffused with green, and the leaf-green leather-bound cap.

Sadly, 'Muguet Porcelaine' is Jean-Claude Ellena's final perfume as Hermès' in-house perfumer, but it's a sparkling swansong: this is what we call going out on a high.
INFORMATION
'Muguet Porcelaine' eau de toilette, £260 for 200ml, from Hermès stores worldwide. For more information, visit Hermès' website