Francis Kurkdjian on creating a rose perfume for men
The master perfumer discusses l'Homme À la rose, what makes a scent 'masculine,' and the future of perfume post-Covid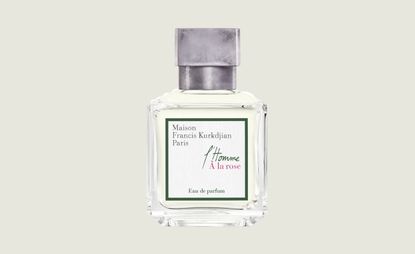 (Image credit: press)
This month Maison Francis Kurkdjian debuts its latest perfume, l'Homme À la rose. The rose-based fragrance is a masculine take on a scent traditionally typecast as one of the most feminine notes in perfumery.

Ahead of the launch, the ever-fascinating Kurkdjian spoke to us about the construct of 'masculine' and 'feminine' in fragrance, the history of rose in perfumery, and how months of lockdown will change our olfactory landscape.

Wallpaper*: You've said before that every one of your fragrances has a story, what is the story behind l'Homme À la rose?
Francis Kurkdjian: [l'Homme À la rose] just started with the name. In 2014 we launched a scent called A' la Rose, and my business partner, Marc Chaya, and I were talking about how we could highlight that scent again. While we were brainstorming together, I threw out, 'Oh we could even say something like l'Homme À la rose.'
Both of us thought that was a good enough name. When I say good enough I mean I always start with a name and I thought that that name was very evocative and very straightforward. It spoke for itself.
It's interesting that you start your scents with words or around the name, why is that?
Because I need to anchor my inspiration into something tangible. Way back when I started as a young perfumer, I was working for different brands and would have multiple projects on my table. Sometimes I had up to 20 different projects, and giving them a specific name allowed me to jump from one project to another without reading the brief again. If the name speaks for itself, it's very easy to go from one to another.
So, at first, it was about efficiency. Then I think if the name is evocative enough it helps me to create a universe around the scent and not step out of my playground.

You worked closely with Fabien Ducher, owner of the famous rose breeding farm Roseraie Ducher, for your past rose fragrences and for l'Homme À la rose. Can you speak a bit more about that collaberative process?

You have to understand there are hundreds and hundreds of different rose varieties that you can grow in your garden. However, perfumery only has two varieties that you can use. There is the Damask rose, which is the most ancient rose used in perfume. Then, towards the middle of the 18th-century, there came a new variety called the May rose, which was a hybrid between damask and another species.
[I work with Fabien] because even though [his] roses can't be used in perfume, I like to smell them.

There are so many different rose varieties with so many different olfactory facets [that can be used to inspire the perfumes]. They can go from green foods, like pear or apple, to something juicier like strawberry, raspberry, lychee.

For example, there is a great rose named 'Rose Piaget,' named after the jeweler Piaget. That rose is very fruity, one of the fruitiest roses ever invented, and it has facets strawberry and lychee.
Going back to this idea of making rose in a masculine scent- what do think distinguishes a masculine scent from a feminine scent?

It's a question of timing because what is 'masculine' today may not have been 'masculine' a decade ago and it may not be 'masculine' two or three decades from now. The idea or 'masculinity' and 'feminity,' they are conventions and they are concepts that evolve with society.

When I started working in perfume 25 years ago, fruity notes were not appealing for men. What I mean by fruity notes- it could be pineapple or pear or apple, which are very commonly used in male perfume now but were not popular in male perfumes 25 years ago.

Taste has evolved since then. It's like silhouettes in fashion. When Hedi Slimane started to slim down the waist of men's outfits and the shoulders, and there was a kind of 'feminisation' of the masculine silhouette with the tight pants and the narrow waist. You see that, in a very natural way, in perfume when it translates femininity into a scent because fragrance is a translation of the time you live in.
It's true, sometimes I smell perfumes that a few decades ago were marketed towards women, say in the 1970s or so, and they're so musky or oud-heavy that the same scent now would likely be something marketed to men.
Totally, and even the concept of femininity has evolved in the same way. 25 years ago we never would have said that a fragrance could be 'girly,' because the idea of girly fragrance didn't exist. We could have said 'sexy,' 'glamorous,' but 'girly' was not a name we would have been using.
Something similar is the 'gourmand' category of perfume [which consists of synthetic, edible smells like vanilla, caramel, or honey]. It's a rather a new category in the history of perfume, in part because it was not as popular to consume sweet and sugary snacks as it is nowadays.
So our cultural consumption of sugar as a food has fed into our desire for it as a scent?
Yes. So for instance, Angel by Therriy Muligar in the early 90s was disruptive because it was using a very edible, strawberry, chocolate-like scent. Now, when you smell Angel compared to new creations, you almost can't smell the edible notes anymore because we have multiplied by almost 10 the quality of sugary and edible notes in most perfumes made today. We've gotten so used to [sugary notes] and can handle more and more, it's almost like a drug.
So when a new scent comes into a market, it's a game-changer, it's disruptive, until little by little it becomes a normality.
So what do you think are the most disruptive fragrances now?
To be honest, the thing about disruption in perfume is that at some point it as to smell good. Disruptiveness for the sake of being disruptive is not enough. At some point, it must be seductive, must be pleasant because it's a perfume, not just a scent.
But scents that are disruptive- I think l'Homme À la rose is one in terms of offering a fresh rose scent for men. Fresh roses have never been played into ascent at that level and quantity of roses.
And your artist collaborations are quite disruptive as well.
Yes, but that's art. It's not commercial work, and there is a line between commercial work and artistic work. When it's about artistry of course you can be disruptive. The scent doesn't have to please, the scent has to provoke an emotion. Good or bad.
Do find those artistic collaborations give you a bit of freedom then?
Totally, they are my artistic playground and I have no boundaries to create.
If perfume is, like you said, a reflection of our contemporary consciousness, how do you think the past few months of lockdown will change the way we use perfume?
I think there will be a more selfish use of perfume in a way. People will use perfume more for themselves than for pleasing other people because we have less interaction with other people and strangers.
How do you think the fragrances you make might change in response to this?
Scent can be comforting and it can be appealing. Since physical interactions with other people are hard to handle right now, scent becomes something that is comforting and reassuring. So maybe the new normal will be a scent that reassures you and makes you feel safe.
How can I translate that? I would say one way is by using musky scents. Because has that kind of soft, clean, detergent related aroma.
That's interesting because I often think of musk that's something that's quite animalistic and sensual.
This is the traditional musk, but what we call the 'white musks' are what are used in toiletries and laundry products. Those musks are very comfortable. They are very sheer, white, clean.
Also, sweet notes will be more used because there is something very calming about sweetness. It can be a reference to childhood or sweetness it can be a mirror of a situation when you were feeling secure and at a peace. All those peaceful notes, I believe will be a more and more popular direction for scents.
As a perfumer, do you see this change as something exciting or challenging?
From a creative perspective, it's kind of interesting to see that there is a new parameter that what you have learned as the norm has changed.
INFORMATION
Receive our daily digest of inspiration, escapism and design stories from around the world direct to your inbox
Writer and Wallpaper* Contributing Editor
Mary Cleary is a writer based in London and New York. Previously beauty & grooming editor at Wallpaper*, she is now a contributing editor, alongside writing for various publications on all aspects of culture.