Anicka Yi awarded the 2016 Hugo Boss Prize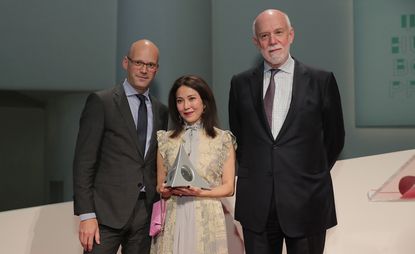 (Image credit: Press)
Hugo Boss chairman and CEO Mark Langer and Guggenheim Museum director Richard Armstrong named artist Anicka Yi as the recipient of the biennial Hugo Boss Prize in New York last night.

'The Hugo Boss Prize marks a highlight in our partnership with the Guggenheim Museum and we are proud that it has now been at the core of our arts program for twenty years,' said Langer. 'We would like to extend our sincerest congratulations to the winner and express our gratitude to the jury and the Guggenheim Museum for their dedication and support.'

Yi will receive the prize, which awards the winner $100,000, administered by the Solomon R Guggenheim Foundation, and a solo exhibition at the Guggenheim that will open April 2017. The New York-based conceptual artist often involves the themes of scent and tactility in her work, working with fragrance and creating sculptures out of scented soap.

She has created soap paintings that comment on luxury consumer culture, and she has also boiled shredded Teva sandals, recalled powdered milk, thermal clay, a steeped Swatch, and a cell phone jammer, among other things as a commentary on, according to Yi, 'industries that constitute our identity.' Yi beat out a shortlist of five other finalists, who included Cuban performance artist Tania Bruguera, British artist Mark Lecky, American artist Ralph Lemon, American painter Laura Owens and Egyptian artist Wael Shawky.

Several of the past winners — who include Matthew Barney (1996), Pierre Huyghe (2002), Rirkrit Tiravanija (2004), Tacita Dean (2006), Danh Võ (2012) and Paul Chan (2014) — have gone on to have major careers in art.
INFORMATION
For more information, visit the Hugo Boss website