Sonia Boyce's Golden Lion-winning Venice Biennale show opens UK debut in Margate
From 4 February-8 May 2023, Turner Contemporary, Margate will host British artist Sonia Boyce's 'Feeling Her Way', which won the Golden Lion for Best National Participation at the 2022 Venice Biennale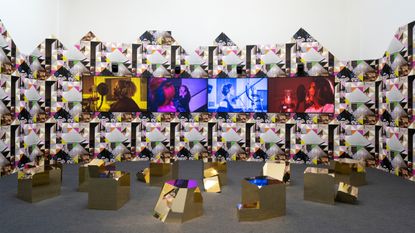 (Image credit: © British Council)
British artist Sonia Boyce's Venice Biennale 2022 exhibition 'Feeling Her Way' – commissioned for the British Pavilion – made both literal and figurative waves. The show was awarded a Golden Lion Award for best national participation and celebrated the expression of five female musicians.
From 4 February-8 May 2023, Turner Contemporary will become the first UK institution to host Boyce's acclaimed show. The Margate show will mark the first leg of the exhibition's tour, which will later move to Leeds Art Gallery from 25 May – 5 November 2023.
Sonia Boyce: 'Feeling Her Way'
Boyce's exhibition brought together singers Jacqui Dankworth, Poppy Ajudha, Sofia Jernberg, and Tanita Tikaram. Guided by Belize-born British composer Errollyn Wallen, the group of singers staged an improvisation session aimed at curating expression in song. 'Wallen was asking them to do certain things that both get them warmed up but also get them to play with their voice,' Boyce noted. 'I think there's something immediately connective about singing a song.'
The filmed sessions took place over a short space of time, with the video footage cut and overlaid in the exhibition to create harmony across four screens. 'It's about exploration,' she says, 'trying something out and seeing how it goes and then playing with it,' about 'seeing what unfolds.'
After the singers had warmed up and allowed their improvisational flows to play out, each performer was then left unguided, given space to perform 'something that was improvised or something that they had in mind, that they wanted to bring to that day'. The two portions of the day are displayed in separate rooms. Alongside the videos, a geometrically laid out mosaic of stills from the production is displayed on the walls, with a selection of gold, irregularly shaped seats configured across the floor.
'It's very intimate what we're seeing, and one of the things we're talking about is a trust in the creative process and trust in the project,' explains Emma Ridgway, Shane Akeroyd associate curator 2022. The resulting exhibition is an explorative display of creative feeling, encompassing audio and visual art. Boyce explains her vision for the show, utilising 'the combination of a visual element of the exhibition as well as the emotion of the singing, I wanted the viewers to feel embraced by the show'.
The concept for Boyce's show runs in line with what Ridgway describes as 'an ever-growing archive' by the artist. In the 'Devotional Collection', Boyce is documenting a history of Black British female singers in visual art and sound, establishing a much-needed archive of Black musical history in the UK.
The exhibition will run from 4 February – 8 May 2023, before touring to Leeds Art Gallery from 25 May – 5 November 2023.
soniaboyce.net;turnercontemporary.org
Receive our daily digest of inspiration, escapism and design stories from around the world direct to your inbox
Martha Elliott is the Junior Digital News Editor at Wallpaper*. After graduating from university she worked in arts-based behavioural therapy, then embarked on a career in journalism, joining Wallpaper* at the start of 2022. She reports on art, design and architecture, as well as covering regular news stories across all channels.