Dominique White wins Max Mara Art Prize for Women 2022 – 2024
Artist Dominique White has been crowned winner of the ninth edition of the Max Mara Art Prize for Women, presented in a ceremony at Whitechapel Gallery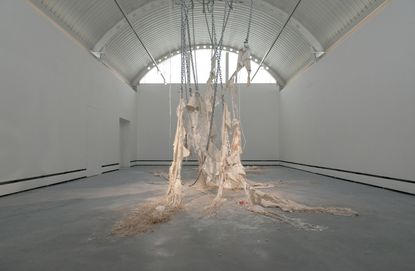 (Image credit: Photo credit: Wilf Speller Courtesy VEDA Firenze, Wysing Arts Centre and the artist)
Max Mara, Whitechapel Gallery and Collezione Maramotti have announced Dominique White as the recipient of the Max Mara Art Prize for Women 2022 – 2024. The biennial award, now in its ninth edition, was set up by Iwona Blazwick and established in 2005 with the Max Mara Group, with further participation of Collezione Maramotti. Its aim is to support and nurture women-identifying artists at a pivotal stage in their careers.
White was chosen from a shortlist including Rebecca Bellantoni, Bhajan Hunjan, Onyeka Igwe and Zinzi Minott, by a panel comprising gallerist Rozsa Farkas, artist Claudette Johnson, writer Derica Shields and collector Maria Sukkar. The panel was chaired by the Prize's guest curator, Bina von Stauffenberg, in collaboration with Whitechapel Gallery director Gilane Tawadros.
White's practice focuses on both the cultural, metaphorical and environmental potency of the sea. Her large-scale, ethereal installations use discarded nautical objects, including old sails, masts, chains and rope to explore imagined worlds, nautical legends and Afrofuturism.
'It is truly an honour to be awarded this year's Max Mara Art Prize for Women and I'm thrilled to have been the recipient of an award that not only enables the development of seemingly unattainable skills and ambitious areas of research but also (quite literally) supports the emergence of a new body of works,' says White, who is based between Marseille and Essex. 'I'm so grateful to have shared this space of distinction with Rebecca Bellantoni, Bhajan Hunjan, Onyeka Igwe and Zinzi Minott and I would like to express my deepest gratitude again to the jury, Whitechapel Gallery, Max Mara and Collezione Maramotti for this once-in-a-lifetime opportunity.'
White's winning proposal is titled Deadweight, a body of work that takes 'deadweight tonnage', a maritime industry term used to calculate how many units of weight a ship can take before it sinks. During a six-month residency in Italy as part of the prize, White will have the opportunity to develop the idea and interrogate the meaning and exploitation of 'deadweight tonnage', tracing its relevance to the historical slave trade and its contemporary forms in the Mediterranean. White intends to build and then submerge elements of the final work in the Tyrrhenian Sea off Italy's west coast, which will become the foundations for her solo exhibition in 2024, launching at Whitechapel Gallery and touring to Collezione Maramotti, Reggio Emilia, Italy.
'On behalf of the jury and Whitechapel Gallery, I want to congratulate Dominique White on being awarded this year's Max Mara Art Prize for Women,' says Tawadros. 'The youngest of the shortlist, Dominique's winning proposal showed a maturity, rigour and consistency of creative approach that is entirely in keeping with the aims of the Prize, which is ultimately to enable women-identifying artists to develop and create projects that speak of and to the world around them. The themes she explores in her work feel especially timely and relevant today, and we are delighted to be able to support her over the course of her residency and through a solo exhibition. At a time when the need for refuge and safe space is so acute and the passage of individuals and communities by sea poses such risks to lives and exposes so much injustice, the interrogation and exploration of both the historical and contemporary systems that control movement and identity seem especially urgent.'
As Luigi Maramotti, chairman of Max Mara, said, 'I am delighted that the Max Mara Art Prize for Women continues to be such a special project for all partners and stakeholders and that it is enthusiastically supported by Gilane Tawadros, the new director of Whitechapel Gallery. This award offers the winners a rather unique opportunity to focus on their artistic research, to develop an idea and create an ambitious project in relation to their long residency in Italy. I am confident that Dominique White will be able to make the most of this opportunity.'
The Max Mara prize for Women, for UK-based female-identifying artists, is the only award of its kind. Previous winners have included Emma Talbot (2019 – 22), Helen Cammock (2017 – 19), Emma Hart (2015 – 17), Corin Sworn (2013 – 15), Laure Prouvost (2011 – 13), Andrea Büttner (2009 – 11), Hannah Rickards (2007 – 09) and Margaret Salmon (2005 – 07).
whitechapelgallery.org; maxmara.com
Harriet Lloyd-Smith is the Arts Editor of Wallpaper*, responsible for the art pages across digital and print, including profiles, exhibition reviews, and contemporary art collaborations. She started at Wallpaper* in 2017 and has written for leading contemporary art publications, auction houses and arts charities, and lectured on review writing and art journalism. When she's not writing about art, she's making her own.